(Minghui.org) Falun Gong practitioners held a rally in front of the Prime Minister's Office in Warsaw to condemn the Chinese Communist Party's (CCP) persecution on July 20, 2023. They appealed to the Polish government to pay attention to this human rights persecution in China. They called on people to work together to stop the unprecedented brutality.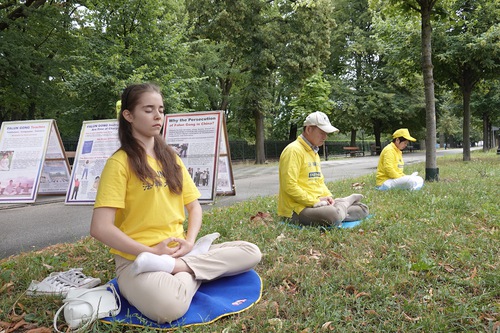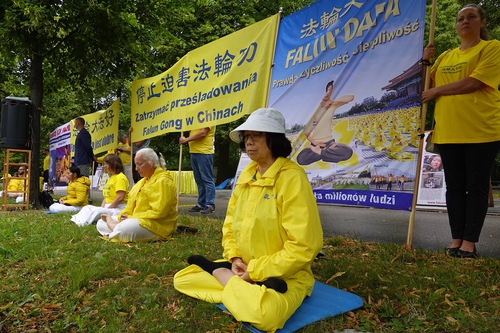 "The gathering here today marks the 24th anniversary of protesting the persecution of Falun Gong," said Maria. "It reminds me of the massacre under the communist regime. The brutality is ongoing. Learning about the persecution helps people to know the nature of communism and its ultimate goal. This also helps to disintegrate the CCP and stop the genocide of Falun Dafa."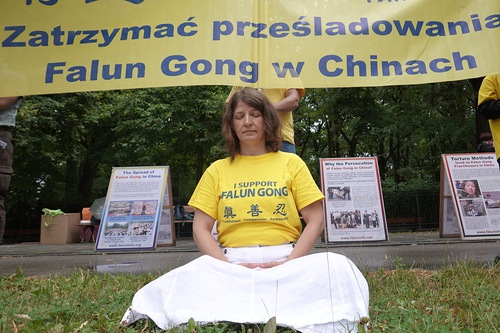 Safeguarding Freedom Is Our Right
Mr. Arkadiusz Gołębiewski, a well-known Polish cinematographer, director, producer, and screenwriter, happened to pass by the rally. He read the information about Falun Dafa, made videos as the practitioners demonstrated the exercises, and listened carefully as a practitioner explained.
He said, "Human rights and freedom are important rights for everyone. Poland, like other European countries, not only respects and protects human rights, but also understands the connotation and significance of human rights and freedom. I am shocked that something like this is happening in China now. I support your courage to uphold the truth and defend human rights. This is our natural human right. Good luck to you."
He took a flier and said he wished to know more about Falun Dafa.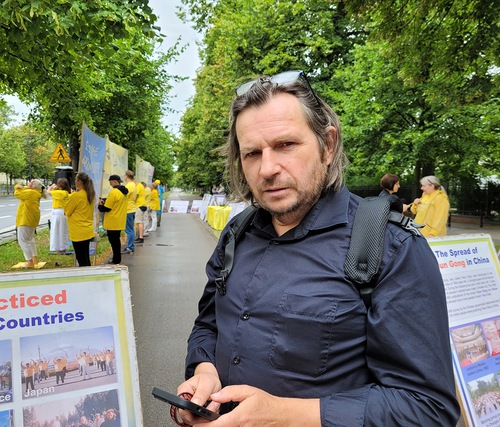 A young Polish man, Benjamin Gawiński, stood before the display board and carefully listened as a practitioner explained the facts. He went to the stand and signed the petition to end the persecution.
He said, "I am 18 years old and have just stepped into society. Although my strength is small, I am willing to support Falun Dafa with my heart. We should live in a clean and peaceful world and not allow the evil to run rampant. I will learn more about Falun Dafa. I wish you success!"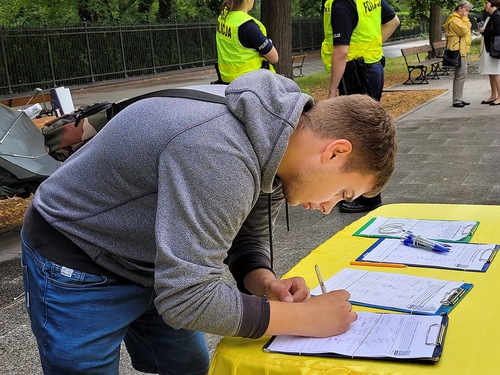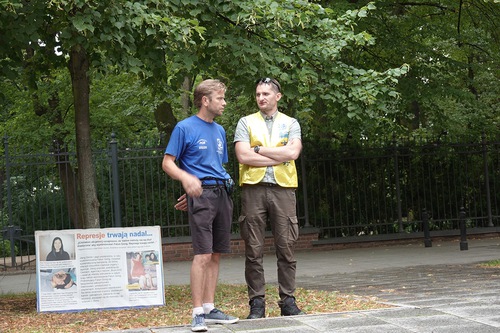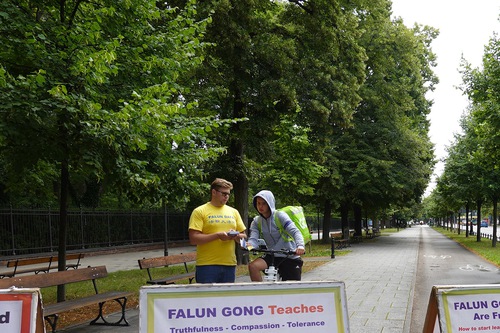 Chinese version available
(Clearwisdom)
Poland: Practitioners Hold Parade to Celebrate Falun Dafa Day and Thank Master