(Minghui.org) Falun Gong practitioners and supporters from all over the United States held a rally, march, and candlelight vigil on the National Mall near Capitol Hill in Washington, D.C. on July 20, 2023, calling for an end to the Chinese Communist Party's (CCP) persecution.
On July 20, 1999, Jiang Zemin, former head of the CCP, launched the persecution of Falun Gong. This persecution has continued to this day, and for 24 years practitioners have peacefully exposed it.
Members of the U.S. Senate and House of Representatives recorded videos or sent letters of support to Falun Gong practitioners, condemning the CCP's persecution and calling for it to end.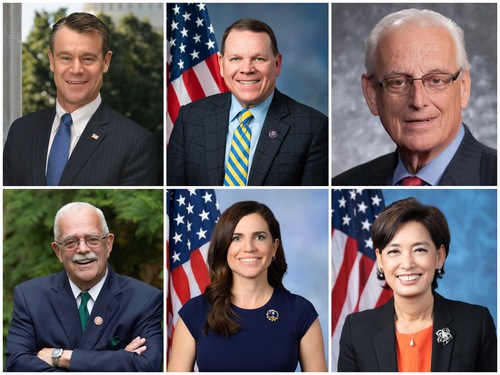 Senator Todd Young: The CCP Wages a War of Terror Against Culture and Religious Belief
Senator Todd Young commented, "The CCP has systemically persecuted ethnic and religious minorities in China for decades, deploying scare tactics and restricting the freedoms of Chinese people. Groups like Falun Gong have encountered slavery and endured unspeakable human rights abuses in the hands of the CCP. And all this injustice, brutality and abuses occurred under the legal umbrella of the communist laws. The associated practice of faith and culture with extremism and terrorism, in short, the CCP is waging a war of terror against the very ideas of expression of culture and religious belief."
He said what Falun Gong practitioners experienced is beyond words and he sympathised with them.
"As a United States Senator, I firmly believe that America has a moral imperative to stand up and defend basic human rights at home and abroad," he said. "This includes holding those responsible, especially the CCP, accountable to the abuses and atrocities they commit, ensure that these actions don't go on unchecked any longer, and encourage nations around the globe to pursue liberty and justice."
Congressman Sam Graves: I Stand in Solidarity with You in the Fight Against the Persecution
Congressman Sam Graves stated in his letter, "I am proud to publicly support your efforts to address the continuation of the cruel and unjust actions of the Chinese Communist Party (CCP) against practitioners of Falun Gong. Freedom of religion is not only a constitutional right, but a human right that should be enjoyed by all.
"The CCP routinely commits human rights abuses such as murder, organ harvesting, mass false imprisonment, and unconscionable torture. These actions make it clear that the goal of the CCP is to eradicate an entire religious movement in order to advance their communist ideology. These genocidal acts are irredeemable and have no place in today's world.
"Please know I stand in solidarity with you in the fight against persecution and I look forward to the work we can accomplish together to bring justice for the Falun Gong. I am steadfast in my commitment to policies that secure religious freedom and human rights above all else. Your bravery and dedication in this fight against tyranny are wonderful examples of the right to freely practice your religion and serve as an example to Americans everywhere."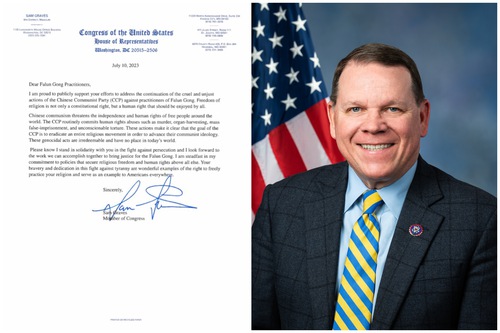 Congressman Bill Pascrell Sent Falun Gong Practitioners a Letter of Greeting
Congressman Bill Pascrell wrote a greeting letter to welcome Falun Gong practitioners from New Jersey who are going to participate in the July 20 events in DC.
He stated in the letter, "The Chinese Communist Party's persecution of religious communities and all those who seek to freely assemble and express themselves should end immediately. The diversity of opinion and religious practice has never been the weakness of an honorable nation. The Chinese Communist Party's systematic oppression of its people and the people of Hong Kong are a stain on our world causing a deep pain in us all.
"No person should face persecution for their sincere religious beliefs, especially when those beliefs are practiced peacefully.
"Your advocacy and the awareness you are raising in protest of the profound discrimination of the Chinese Communist Party is honorable."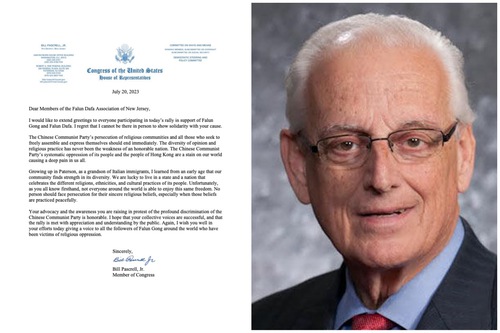 Congressman Gerald Connolly Supports Practitioners
Congressman Gerald Connolly stated in his letter, "Despite a 24-year campaign to eradicate Falun Gong (Falun Dafa), millions of people in and outside of China continue to exercise their basic rights and practice Falun Gong. I would like to express my unwavering support for your advocacy on behalf of universal human rights and religious freedom.
"Falun Gong emphasises the moral principles of truthfulness, compassion, and tolerance, and is practiced in at least 70 countries worldwide. Nevertheless, the Chinese Communist Party launched a nationwide persecution in July 1999, and since then we have witnessed increasing reports that Falun Gong practitioners have been targeted and repressed by the Chinese government.
"Victims of the persecution have come to my office to give their real-life narratives of torture, suffering, and damages experienced by their families. Some of my own constituents are themselves refugees of this persecution. I understand that Falun Gong practitioners have responded to the state-sanctioned violence using entirely peaceful means. They have persistently educated Chinese citizens and people across the globe about the nature of their practice and the persecution against it."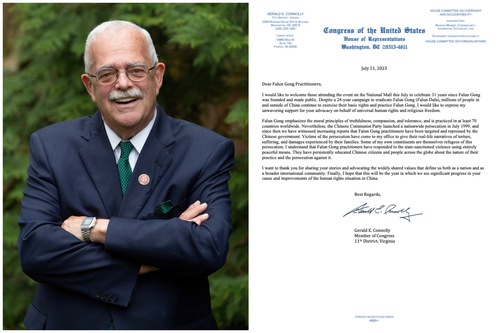 Congresswoman Nancy Mace Commends Practitioners' Courage
Congresswoman Nancy Mace stated in her letter, "The persecution inflicted upon the practitioners of Falun Gong by the CCP is not just a violation of human rights, it's a brutal assault on the values of truthfulness, compassion, and tolerance embodied by this spiritual practice. In the past two decades, the oppression of Falun Gong by the CCP has been more severe than what is faced by any other group. Millions of practitioners within China have been unjustly imprisoned, brutally tortured, and tragically, many have lost their lives.
"While the reality is undoubtedly grim, we are here today because we believe in the power of resilience and the indomitable spirit of truth. Despite enduring two decades of relentless persecution, the Falun Gong community has not been silenced. Instead, they have embarked on what is the largest information freedom campaign in modern Chinese history.
"We want to assure you your voices are heard in the halls of Congress. Let us remember the courage of the Falun Gong practitioners who have stood up against the tyranny of the CCP. Their resilience and their fight for freedom are an inspiration to us all, a beacon of hope in our common endeavor for a future free from oppression."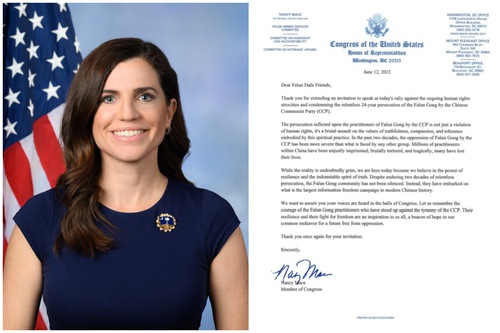 Congresswoman Young Kim Supports Practitioners
Congresswoman Young Kim commented that we rally together for human rights and against CCP's horrific human rights abuses like we saw begin 24 years ago against Falun Gong practitioners.
"We always know that there is growing evidence that CCP is even harvesting the organs from the religious and ethical minorities around the world. I'm proud that I recently supported in committing a bill to empower the administration to identify and punish CCP members involved in such heinous acts.
Chinese version available
(Clearwisdom)