(Minghui.org) Practitioners held a Falun Dafa Experience Sharing Conference in Rome, Italy's capital, on July 23, 2023. Mr. Li Hongzhi, the founder of Falun Dafa, sent greetings to the event.
Thirteen practitioners talked about their cultivation journeys while following the principles of Truthfulness-Compassion-Forbearance. Some described how their faith in Master Li and Falun Dafa helped them remain steadfast when they encountered difficulties. Others talked about how they overcame challenges to get things done. Some new practitioners were also able to overcome illness tribulations while improving themselves and focusing on cultivation. Many who attended were touched by these sincere stories and said they learned a lot.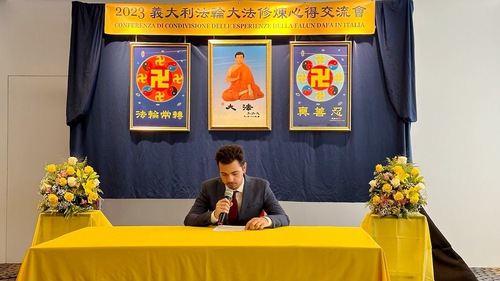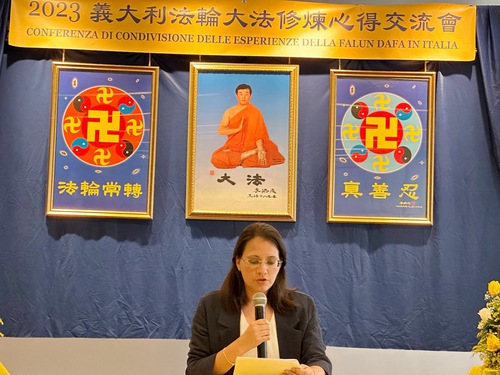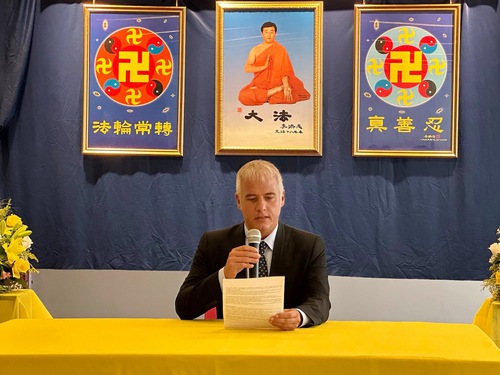 Overcoming Difficulties with Righteous Thoughts to Bring Shen Yun to Rome
Katrina talked about how she and other practitioners found a theatre for Shen Yun in Italy. This was in 2017, and only the Rome Opera House met the company's criteria. When the Opera House refused to sign a contract for Shen Yun to perform, she and other practitioners contacted different institutions. "We realised that many people in Rome have predestined relationships with us practitioners, and they could help open the door to the Opera House," Katrina said.
Their hard work won support from VIPs, people in the arts, and some of the nobility, who all said they looked forward to seeing Shen Yun perform in Rome at the Opera House. In the end, they were able to secure a one-day booking in 2018. It took a long time for the contract to be signed, however, so tickets were not available for advanced purchase, and the practitioners had no brochures to distribute. They could only show people the promotional videos. Despite these obstacles, they did not give up.
The contract was finally signed two months later—just two weeks before the performances. As soon as the brochures were printed, practitioners began promoting Shen Yun in earnest. In just two weeks, the tickets were sold out! The theater asked practitioners how they were able to accomplish that and how they promoted the show. The practitioners said they were just volunteers helping with the promotion but they did it with sincere hearts.
Katrina said that two weeks before the show, the Shen Yun promotion coordinator in Italy said another performance would be added since many people were waiting to be saved. Tickets for the newly-added show also sold quickly and the event was very successful. The Opera House thanked the practitioners and said they looked forward to working with them again.
Improvement in Cultivation—Breaking Through a Negative State of Mind with Fa Study
A practitioner from a northern industrial city realised that supporting Shen Yun performances was part of her cultivation. In the past, whenever the Shen Yun tour was over, she felt relieved, both mentally and physically. She wanted a break. "But after the shows ended this time, there were all kinds of things for me to do and I was exhausted," she said. "So I asked myself what was wrong."
By focusing on reading Falun Dafa's teachings, she realised that, as cultivation came to an end, it would be seen in which areas practitioners haven't cultivated well. When she endured hardship in the past, her karma was eliminated. She knew she needed to improve her xinxing and expand her heart's capacity.
"I sometimes just forced myself to forbear on the surface, but I still had negative thoughts and I couldn't calm down. I've learned to accept everything calmly," she said. "When I am able to maintain a peaceful mindset and remind myself that no matter what I encounter, it is a good thing, the situation changes."
Overcoming Interference to Group Fa Study
Massimiliano reflected on how he read the Falun Dafa teachings with other practitioners. He had difficulty focusing on what he was reading. He sometimes just read as though he was fulfilling a responsibility. As a result he was absent-minded. He eventually stopped attending the online group Fa study sessions. His excuse was his work schedule and laziness.
When other practitioners asked him about this, he had all kinds of excuses. He said that he was able to focus better when he read by himself.
Massimiliano tried to overcome these thoughts and join the group Fa study sessions. He explained how he was finally able to attend the online Fa study sessions. "When there were interfering thoughts, I did not acknowledge them since they were not part of me. Although my mind was not very calm, I continued and focused on listening to others read," he said. "After some time, these interfering thoughts were gone and now I am happy to join group study every day."
Although the experience-sharing conference ended at 5 p.m., practitioners lingered and reflected on their cultivation over the past 20-plus years. Some said they'd had many touching experiences and even witnessed miracles. They said they were very fortunate to be practitioners and thanked Master Li for this compassion. They said they would do better on their remaining path of cultivation.
Chinese version available
(Clearwisdom)