(Minghui.org) A total of 133 cases of Falun Gong practitioners sentenced to prison for their faith were reported in May 2023.
Among the newly confirmed cases, 40 took place between 2016 and 2021, 8 in 2022 and 85 in 2023. The delay in reporting was caused by the strict information censorship under China's communist regime, which essentially keeps the persecution underground to avoid international scrutiny.
The sentenced practitioners are from 23 provinces, centrally controlled municipalities and autonomous regions in China. Liaoning topped the list with 19 cases, followed by Shandong (18), Heilongjiang (11) and Hebei (10). The remaining 19 regions reported sentencing cases between 1 and 9.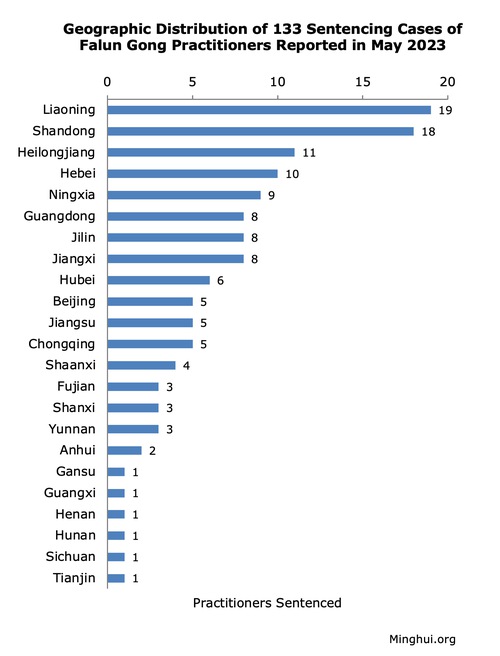 Among the 43 practitioners whose ages are known, ages ranged between 39 and 85 at the time of sentencing. Twenty-six were 60 or above, including 12 in their 60s, 12 in their 70s, and 2 in their 80s.
The prison terms ranged from six months to eight years, with an average of two years and ten months. In particular, a 62-year-old man, who is the father of a U.S. resident, was given eight years and fined 100,000 yuan. Another practitioner who was sentenced to two years was also given a 100,000-yuan fine. Thirty-six other practitioners were fined between 2,000 yuan and 50,000 yuan, for a total of 405,000 yuan and an average of 11,250 yuan per person.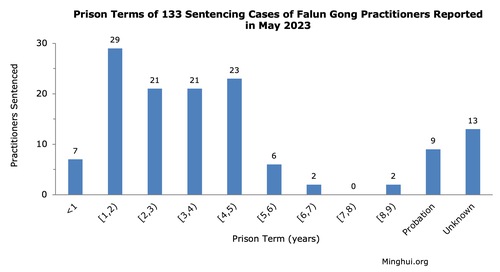 Many of the practitioners were sentenced for raising awareness about the persecution, including talking to people face to face, putting up informational materials, or writing articles online.
Several practitioners were secretly sentenced to prison and their families were never informed of their trials nor did they have the chance to hire lawyers for them. This includes a former police academy instructor who received two years after already serving 1.5 years of forced labor and 14.5 years in prison, as well as a Beijing woman who was given two years. A Jiangsu resident was recently convicted, but because most of her family lives in the U.S., the family hasn't been able to verify the length of her sentence or where she is currently detained.
A Beijing resident's family was told by the judge that their loved one had been sentenced to 3.5 years, but the judge refused to provide a copy of her verdict. A Guangdong woman's family didn't find out about her 2.5-year prison term, handed down in late 2021, until recently.
Several practitioners developed medical conditions while in custody. In one case, a Hebei resident contracted tuberculosis and developed high blood pressure during a previous detention. He was most recently sentenced to 4.5 years in May 2023 following his latest arrest a year ago. He was ordered to have a tuberculosis test and await the results at home. As soon as the results came back negative, he was taken into custody to serve time.
A Heilongjiang man is now in serious condition after staging a hunger strike since his arrest in April 2023. Despite his having a heart condition and high blood pressure, the detention centre still admitted him, and the local court sentenced him to 4.5 years in mid-May.
A 73-year-old woman was diagnosed with late-stage lung cancer in early May 2023, only one month after she was admitted to prison to serve a five-year term. She had already exhibited symptoms in the local detention centre, but the prison nonetheless admitted her and denied her family visitation.
The following are snapshots of selected sentencing cases. The full list of sentenced practitioners can be downloaded here (PDF).
Heavy Terms and Fines
Senior Geological Engineer and Father of U.S. Resident Sentenced to Eight Years and Fined 100K Yuan
A senior geological engineer employed by the Shengli Oilfield in Dongying City, Shandong Province, was sentenced to eight years with a 100,000-yuan fine on April 22, 2023.
Mr. Zhou Deyong was arrested on April 23, 2021. His arrest came six months after he returned to China from a trip to the U.S. The police kept his family in the dark concerning his whereabouts and also denied his lawyer's request to visit him for two weeks.
Florida Senator Marco Rubio, Representative Gus Bilirakis, as well as eight other Florida Representatives, have written multiple times to U.S. President Joe Biden, Secretary of State Antony Blinken and Chinese Communist Party Chairman Xi Jinping regarding this case.
The Dongying District Court held two hearings concerning Mr. Zhou's case, on August 25, 2022 and January 14, 2023. On April 22, the judge announced an eight-year sentence with a 100,000-yuan fine.
During a briefing on "Religious Persecution of Falun Gong by the CCP (Chinese Communist Party)" held by the U.S. Congressional International Religious Freedom Caucus on May 23, 2023, Mr. Zhou's son, Mr. Zhou You, recounted his father's ordeal.
"My father is 62 years old. He has lost all of his teeth and is unable to eat meat, vegetables, or even rice. His diet is limited to soup every day," said Mr. Zhou You. He added, "Please help my father and all Falun Gong practitioners who are being persecuted in China."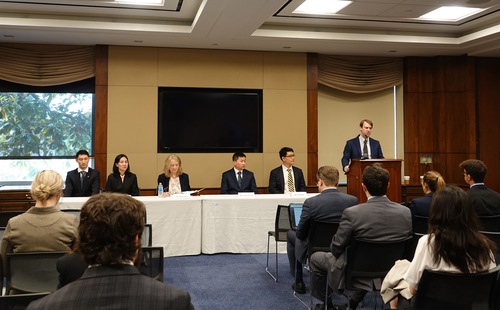 Communications Engineer Sentenced to Two Years and Fined 100K Yuan
A 35-year-old resident of Harbin City, Heilongjiang Province has lost her appeal against a two-year sentence for practicing Falun Gong.
Ms. Wang Jian, an assistant communications engineer for the Harbin Railway Bureau, was arrested on July 11, 2022, on her way to work. Her laptop, printer, Falun Gong books, and cell phone were confiscated. The police revealed that they had been monitoring her for a long time before the arrest.
Ms. Wang was detained at the Harbin City No. 2 Detention Centre. Her arrest was approved by the Yilan County Procuratorate on July 20. The police submitted her case to the procuratorate on August 26, and she was indicted on September 26.
The Yilan County Court scheduled a hearing for Ms. Wang's case for December 2, 2022, but canceled it due to a local COVID-19 outbreak. The judge rescheduled the hearing for March 6, 2023, and convicted her three days later. In addition to the two-year sentence, the judge also fined her 100,000 yuan. Ms. Wang filed an appeal with the Harbin City Intermediate Court on April 18.
Ms. Wang's family received an express mail from the intermediate court on May 25, notifying them that the court had rejected their request to have an open hearing for her appeal and that they'd ruled to uphold the original verdict.
Convicted for Speaking Out for Their Faith
Jilin Woman Given Second Prison Term for Her Faith
Three years after a 57-year-old Tonghua City, Jilin Province resident finished serving a four-year prison term, she was sentenced again to three years for her faith in Falun Gong,
Ms. Yan Shufang was arrested on September 22, 2022 for writing an appeal letter to the local Social Security Bureau against the suspension of her pension in December 2021.
Instead of addressing her appeal, the Social Security Bureau turned the letter in to the police, resulting in her arrest on August 16, 2022. The police interrogated Ms. Yan with the excuse that the letter mentioned the words "Falun Gong." She was later placed under house arrest, and taken back into custody on September 22.
The police later submitted Ms. Yan's case to the Liuhe County Procuratorate, which then indicted her and moved her case to the Liuhe County Court.
Deeply shaken by Ms. Yan's persecution, her mother-in-law passed away in early December 2022.
Ms. Yan's family had a video call with her on February 10, 2023. She told them that she was suffering from high blood pressure, a heart condition, kidney failure, as well as a stroke. Her family hired a lawyer for Ms. Yan, but the local justice bureau barred the lawyer from visiting her.
Presiding judge Lu Xu of the Liuhe County Court summoned Ms. Yan's husband to the court on February 26, 2023. Lu questioned him as to who had prepared the defense argument and bail release application for Ms. Yan. Lu threatened to arrest and sentence him if he insisted on seeking justice for his wife.
On March 7, 100 days after the passing of Ms. Yan's mother-in-law, the police arrested her husband and questioned him regarding how he hired the lawyer for her. The police later harassed the lawyer as well, and pressured the justice bureau of his city to force him to drop Ms. Yan's case.
Ms. Yan's family recently confirmed that the judge sentenced her to a three-year prison term in early May.
Ms. Yan has been arrested multiple times since the onset of the persecution and spent 13 months in a forced labor camp and 4 years in prison for upholding her faith. She was subjected to electric shocks, tied up in a spread eagle position, force-fed, and forced to ingest toxic drugs while in custody.
Liaoning Man Sentenced to Four Years for Publishing Articles on Overseas Falun Gong Websites
A Huludao City, Liaoning Province resident was recently sentenced to four years with a 20,000-yuan fine for publishing over 200 articles about the Falun Gong spiritual cultivation practice on overseas websites.
On January 21, 2022, nine days before the 2022 Chinese New Year, Mr. Gong Yubo, 45, returned home from working out of town to spend the holiday with his family. Plainclothes police and village officials descended on his home, arrested him and confiscated his Falun Gong books, computer and cell phone, without showing a search warrant. The license plate of their car was covered by a surgical mask.
Mr. Gong's wife said his arrest left their family in a dire situation. With him being the sole breadwinner, she struggles to provide for their college-age daughter and one-year-old son. Her bedridden father, who lives with them, also relies on her for care.
The Liaozhong District Procuratorate indicted Mr. Gong on December 6, 2022. The prosecutor accused him of publishing 208 articles on the PureInsight website (a site for Falun Gong practitioners to share their cultivation experiences) and 3 articles on the Minghui website, between 2002 and 2022, with various pen names including "Xiao Lian," "Shi Fangxing," "Lan Xin" and "Yu Bo." He was charged with "undermining law enforcement with a cult organisation," a standard pretext used to criminalise Falun Gong.
On May 18, 2023, the Liaozhong District Court announced that Mr. Gong had been sentenced to four years with a 20,000-yuan fine.
Guangdong Woman Detained Incommunicado, Secretly Sentenced for Raising Awareness about the Persecution of Her Faith
After two years of incommunicado detention, a Foshan City, Guangdong Province resident was secretly sentenced to 2.5 years in late 2021 for her faith in Falun Gong. Ms. Tan Meiguang's family didn't find out about her sentencing until recently.
Ms. Tan, 53, was reported on February 21, 2021 for distributing informational materials about Falun Gong. The police followed her for a month and arrested her on March 18, 2021, while she was buying fruit using paper currency printed with information about Falun Gong. [Due to strict censorship in China, many Falun Gong practitioners use creative ways to raise awareness about the persecution, including printing information on paper currency.]
After arresting Ms. Tan and raiding her home, the police refused to provide her family with any updates about her case or allow them to visit her. The family recently learned that Ms. Tan's arrest was approved on April 23, 2021 and the Chancheng District Court sentenced her to 2.5 years with a 3,000-yuan fine on November 12, 2021. It's still not clear where she is currently incarcerated.
This isn't the first time that Ms. Tan has been targeted for her faith. She was previously incarcerated four times, including serving a 15-month labor camp term, a 5-year prison term and two brainwashing center detentions.
Shandong Man Deceived by the Police and Prosecutor, Wrongfully Sentenced for His Faith
A 55-year-old man in Linyi City, Shandong Province, was transferred to a local prison in early 2023 to finish serving the last few months of his 1.5-year term for practicing Falun Gong. From his arrest to the trial, the police, the prosecutor, and the judge have continuously deceived him, his family, and his lawyer.
Mr. Ji Yongcheng was distributing informational materials about Falun Gong on September 26, 2020, when he handed a copy to a plainclothes officer. The officer pretended to be interested in Falun Gong to prevent Mr. Ji from leaving. He paged more officers to come and arrest Mr. Ji.
Mr. Ji refused to go with the police. He kept telling them that Falun Gong was being unjustly persecuted. The police didn't want to cause a scene and draw a crowd, so they lied, saying, "We won't do anything to you. If you just come with us and tell us more about yourself at the police station, we will let you go." Mr. Ji believed them, agreed to get into the police car, and was taken to the Xijiao Police Station. When they found out his name and address, the police ransacked his home.
Mr. Ji was interrogated all day. When the police took him to the detention centre the next day, the guards there refused to admit him due to the pandemic. At his family's insistence, the police released him on bail. They then deceived him and his family, saying that his case would be dismissed after one year of bail.
After that, the police went to Mr. Ji's home twice in an attempt to arrest him. But he wasn't home either time.
The police went to Mr. Ji's home again on February 15, 2022. His family was helping him escape by scaling the wall around the home when the police saw him and said, "Why are you running away? We were just checking to see if you were home or not. We won't arrest you. You'd better get down off the ladder."
Mr. Ji again believed the police and climbed down the ladder. As soon as he reached the ground, the police arrested him.
The Lanshan District Procuratorate approved Mr. Ji's arrest on March 1, 2022. Mr. Ji initially refused to sign the case document and demanded that the prosecutor dismiss his case. The prosecutor lied to him, saying that they would release him if he signed it. Mr. Ji signed it, only to be told months later that he was scheduled to be tried by the Lanshan District Court.
After the hearing, the judge told his lawyer that the hearing went well and promised that he would be released in a week or two. But in September 2022, Mr. Ji's family was devastated to learn that he had been sentenced to a year and a half in prison.
When the family went to the detention centre to make a cash deposit for Mr. Ji, the authorities didn't approve it. Because there was less than a year left on his term, his family expected that he would finish serving time in the detention centre, as that was how the cases were usually handled. But in early 2023, after the zero-COVID policy had been lifted, they were shocked to find out that Mr. Ji had been secretly transferred to the Shandong Province Prison without their knowledge.
Older Practitioners Sentenced
78-year-old Woman Sentenced to Three Years
A 78-year-old woman in Yingtan City, Jiangxi Province, was sentenced to three years with a 20,000-yuan fine on May 6, 2023, for refusing to give up her faith in Falun Gong.
Ms. Zhao Longying had been repeatedly harassed by the police and local officials over the past three years before her arrest. Hu Xiongping, the deputy village secretary, went to her home on October 15, 2022, and seized her Falun Gong books. When Ms. Zhao tried to get her books back, she was arrested. The police collected her fingerprints at the police station before releasing her later that day.
The police harassed Ms. Zhao two days later and took her to the hospital for a physical exam. They claimed to be following up on her previous arrest months earlier after she was recorded by a surveillance camera putting up information about Falun Gong. Due to the pandemic, the police didn't detain her back then but now sought to prosecute her.
The mental distress caused Ms. Zhao to suffer dangerously high blood pressure. Yet the police still took her to the station for interrogation and released her in the late afternoon.
The Guixi City Procuratorate indicted Ms. Zhao in December 2022 and moved her case to the Guixi City Court. The authorities had people stay outside of her home to monitor her and prevent her from going out. She was taken into custody at the Yingtan City Detention Centre on January 31, 2023, and sentenced three months later.
75-year-old Woman Loses Appeal Against Three-year Wrongful Sentence
A 75-year-old woman in Beijing recently lost her appeal against a three-year sentence for practicing Falun Gong. As Ms. Wang Junping failed the physical examination required for admission to prison, she has been released. It's not clear whether the judge has allowed her to serve time at home.
Ms. Wang was arrested in June 2019 for talking to people about Falun Gong. Her home was ransacked that same day and her media player and MP3 were confiscated. Due to poor health, Ms. Wang was released on bail immediately.
She was arrested again in November 2020 after being reported for talking to a parking lot attendant about Falun Gong. The police confiscated her Falun Gong books, computer, printer, DVD and memory cards. She was taken to a detention centre the next day, but was denied admission after she failed the physical examination. She was again released on bail.
The police later submitted Ms. Wang's case to the Fengtai District Procuratorate, which indicted her and moved her case to the Fengtai District Court.
Judge Hu Chunsheng held a hearing on Ms. Wang's case on May 13, 2021. Her lawyer Liang Xiaojun entered a not guilty plea for her, and Ms. Wang also testified in her own defense. She said that she practiced Falun Gong to improve her health and didn't violate any law or harm anyone through her practice. She also said that it was her freedom of speech to talk to people about Falun Gong. The judge constantly interrupted Ms. Wang during her testimony.
The court informed Ms. Wang on December 28, 2022 that she had been sentenced to three years with a 3,000-yuan fine. She appealed with the Beijing City No. 2 Intermediate Court, which ruled to uphold her original verdict.
76-year-old Ailing Woman Sentenced to Four Years
A 76-year-old resident of Fushun City, Liaoning Province was recently sentenced to a four-year prison term for practicing Falun Gong. The local prison declined to admit her due to her poor health, but the police still refused to release her and kept her in the Nangou Detention Centre.
Ms. Sun Wenwen, a retired factory worker, was arrested on May 17, 2022, while talking to people about Falun Gong at a farmers' market. The police raided her home the same day and confiscated her Falun Gong books. She was released on bail at around midnight, after her family was forced to pay an 8,000-yuan bail bond.
The police kept harassing Ms. Sun for the next several months, while submitting her case to the procuratorate.
Ms. Sun was indicted on August 8, 2022. When she found out she was scheduled to appear in the Dongzhou District Court on September 15, she decided to leave home and hide from the authorities. She was arrested months later and held in the Nangou Detention Center. The Dongzhou District Court later sentenced Ms. Sun to a four-year prison term.
Medical Conditions Induced by Detention and Imprisonment
Heilongjiang Man Sentenced to 4.5 Years, in Serious Condition After Two-Month Hunger Strike
Mr. Wang Jiwu, of Harbin City, Heilongjiang Province, has been on a hunger strike at the Shuangcheng District Detention Centre since his arrest on April 4, 2023. The guards are force-feeding him every day. He is currently emaciated and very weak.
Mr. Wang's ordeal stemmed from an earlier arrest at 2 a.m. on October 28, 2019, after he was reported for putting up informational posters about Falun Gong. Also at the Shuangcheng District Detention Centre, he held a hunger strike to protest, and was force-fed. He was released on bail on November 8 that year and the police continued to monitor him on a daily basis after that.
Mr. Wang was arrested again on September 11, 2021 and released three days later.
Several officers showed up outside of Mr. Wang's home in the early evening of April 4, 2023 and took him to the hospital for a physical examination. He was found to have a heart condition and high blood pressure, but they still detained him.
The police submitted Mr. Wang's case to the Shuangcheng District Procuratorate in late April. The Shuangcheng District Court held a video hearing of his case on May 9. His family attended the hearing in the courthouse. They didn't see his image, but heard his weak voice saying "I haven't committed any crime," when the judge tried to press him to plead guilty.
Mr. Wang's family received his verdict on May 18. He was sentenced to 4.5 years with a 10,000-yuan fine.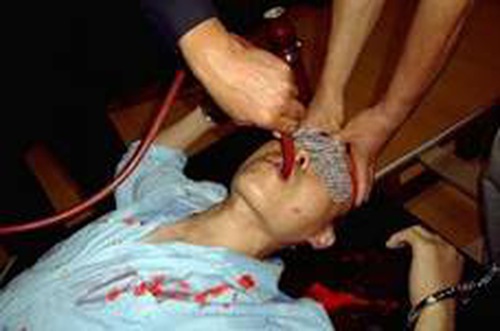 Hebei Man Contracted Tuberculosis in Custody, Taken Back into Detention After Test Result Becomes Negative
A Qinhuangdao City, Hebei Province resident was notified on May 18, 2023 to report to the local court the next day. He went there as required and was handed down a 4.5-year prison sentence with a 10,000-yuan fine, for having Falun Gong books at home.
As Mr. Shi Keqin contracted tuberculosis during a previous detention, he was taken to the hospital for a physical examination after being convicted and then allowed to await the result at home.
His test result was negative, so the police took him to the police hospital on May 22 for another physical examination, before detaining him at the Qinhuangdao City No. 1 Detention Centre.
Mr. Shi's latest prison sentence stemmed from an arrest last year. Shortly after he went to visit a friend on the morning of May 17, 2022, a police officer showed up at the friend's home and asked him some questions. The officer then left. When Mr. Shi left his friend's home, he was stopped by the residential complex's security guard, who asked for his address and phone number.
Around the same time, officer Chen Teng went to Mr. Shi's home but did not reveal the reason for the unexpected visit. He returned with a group of officers at 3 p.m. that afternoon. As Mr. Shi refused to open the door, they threatened to call a locksmith. Mr. Shi relented and let them in. Without showing their police IDs or search warrant, they confiscated over 140 Falun Gong books, and his computer and printer. The police threatened Mr. Shi, saying that the confiscated books were enough to get him sentenced. Another officer added that his "crime" would implicate his children and grandchildren.
The police attempted to take Mr. Shi to a local lockup the next day. But due to the pandemic, the lockup refused to admit him directly but demanded he undergo quarantine first.
After 21 days of quarantine at the police hospital, the lockup still refused to take Mr. Shi on the grounds that he hadn't had the COVID-19 vaccine. The police thus took him back to the hospital for a vaccine. But during the pre-shot examination, Mr. Shi was found to have extremely high blood pressure, as well as having contracted tuberculosis during his latest detention. The doctor said he couldn't give him the shot. Without taking Shi to the lockup, the police released him on June 9, after 23 days of detention.
Mr. Shi stood trial at the Funing District Court on April 19, 2023. The judge said he would sentence him because he had Falun Gong books and printed Falun Gong materials at home. Mr. Shi argued that the books and materials were his lawful possessions and that he didn't violate any law in having or printing them. He challenged prosecutor Wang Qi to present and read some parts of the books in court to see whether they contained harmful information as alleged in the indictment, yet Wang said that he had destroyed those books. Despite a lack of evidence, the judge sentenced Mr. Shi on May 19.
Repeated Persecution
After Two Previous Prison Terms Totaling 10.5 Years, Liaoning Woman Given Another 5.5 Years
A Shenyang City, Liaoning Province resident was sentenced to 5.5 years in late January 2023 for her faith in Falun Gong.
Ms. Li Fangfang, around 50 and a former general manager of a McDonald's in Northeast China, was arrested on August 3, 2022, after being reported for talking to people about Falun Gong. She was held at the police station overnight and transferred to the Shenyang City No. 1 Detention Centre the next day.
The Economic Development Zone Court held a hearing on Ms. Li's case in early January 2023. Although she indicated that she didn't want a court-appointed lawyer, the judge still appointed a lawyer to enter a guilty plea against her will. She defended her innocence, as no law in China has criminalised Falun Gong.
The judge handed down the verdict weeks later. Ms. Li appealed with the Shenyang City Intermediate Court, which ruled to uphold her original sentence. Her family was never informed of her trial or appeal hearings.
This is the third time that Ms. Li has been sentenced for her faith. Her latest arrest came only 15 months after she was released from serving a 7.5-year term. She was also sentenced to 3 years, along with her mother Ms. Yang Shuqing, in 2009.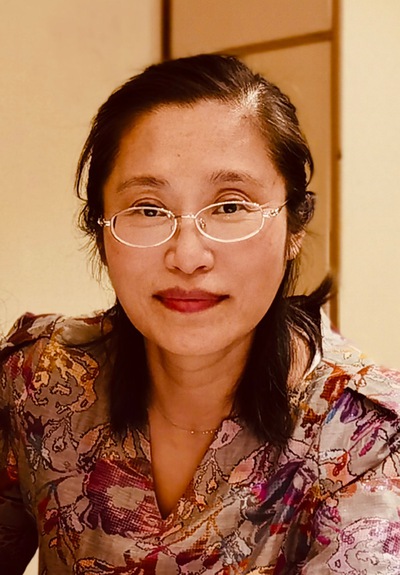 Once Imprisoned for 16 Years, Former Police Academy Instructor Secretly Sentenced Again
It was confirmed in May 2023 by Minghui.org that a Leshan City, Sichuan Province resident was sentenced to three years for practicing Falun Gong. It has been two years since Mr. Chen Anjun was admitted to the Jiazhou Prison, but details about his arrest and sentencing aren't clear.
Mr. Chen, 52 and a former instructor at the Tuqiao Police Academy, previously served 1.5 years of forced labor and 14.5 years in prison for raising awareness about the persecution of Falun Gong.
Mr. Chen went to Beijing in 2001 to appeal for the right to practice Falun Gong. He was arrested, taken back to Sichuan, and given 1.5 years at the Xinhua Forced Labor Camp. He also lost his job as a result. The authorities monitored him on a daily basis after he was released in late 2002.
Mr. Chen was arrested again in early 2003 and taken to the Bi County Brainwashing Centre. He held a hunger strike in protest and was in serious condition as a result. He was taken to the hospital for treatment on March 31, 2003. The authorities arranged people to stay near his hospital bed to monitor him and each of those people received a daily compensation of 100 yuan.
Mr. Chen was taken back to the brainwashing centre in mid-April 2003. He held another hunger strike and was again in critical condition. He was again sent to the hospital. His family demanded his release but their demand was refused.
After working with other practitioners to tap into a local TV signal to broadcast information about Falun Gong, Mr. Chen found himself being followed by the police in June 2005. He managed to escape from the police's attempt to arrest him and was put on the wanted list. After six months of hiding, Mr. Chen was arrested at an internet cafe on December 12, 2005. He endured relentless torture and interrogation at the Shizhushan Detention Centre. The Leshan City Court sentenced Mr. Chen to 14.5 years on May 18, 2006.
As he refused to recite the prison rules, the guards constantly beat Mr. Chen, hit his head against the wall, deprived him of sleep, and restricted his restroom use, shower times, and laundry privileges. They once ordered the inmates to press him on the ground, take off his pants and scrub his private parts with toothbrushes. He was also forced to wear heavy clothes and a tight, thick cotton hat during the heat of summer.
Chinese version available
(Clearwisdom)