(Minghui.org) The eight touring companies of the New York-based Shen Yun Performing Arts are touring globally, sharing the beauty of China before communism with audiences around the world. While Chinese nationals inside mainland China are still unable to enjoy this artistic performance, many outside of China have been able to see it and voiced appreciation for the company's efforts in reviving the almost-lost culture.
"Shen Yun Represents Our Real Traditional Culture"
Mr. Wang, a former aesthetics researcher at the Chinese Academy of Social Sciences, saw Shen Yun with his wife in Linköping, Sweden, on May 7.
"The artistic design is first-class. I've seen so many performances, both inside and outside of China, but I've never seen one this good," Mr. Wang said.
"The content of truthfulness, compassion, and beauty presented is in the same vein as China's traditional culture… The costumes, the performances, and the content expressed… All beautiful!
"Many performances in China are all propaganda that is full of communist culture, how great the current political situation is, etc. But Shen Yun's performance is purely promoting kindness, without any political agenda or the opinion of a certain faction or political party. It is guiding people toward kindness through the beauty of human nature and beauty of the entire society.
"Shen Yun represents our real traditional culture… It restored China's original look… and serves the function of correcting everything from the roots.
"[The traditional culture presented in Shen Yun] is not only China's but also the world's… Shen Yun dug out true traditional culture and presented it in front of audience members. This is we Chinese people's pride… I feel very proud," he said.
"They Are the World's Top-class Performers"
"Very uplifting, so beautiful! It blends stage, dancers, and music all together – it's completely perfect," said Ms. Jiang, an alum of Beijing Dance Academy, the nation's top dance academy, at the Shen Yun performance in New York City on April 13.
"The energy and everything are entirely benevolent," she said.
Regarding the dancers' skills, Ms. Jiang said. "Very excellent. I think their basic skills are great and the overall coordination was uniform. The quality of the performers is very high. It can be said that they are the world's top-class performers."
She said she hopes to let more people know about Shen Yun, because then "the world will become a more beautiful place."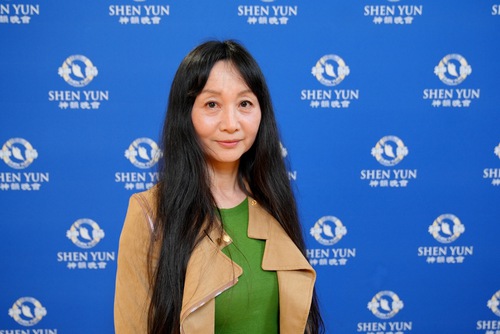 "Beyond Our Expectations"
Dr. Sun, an ophthalmologist, and her husband Mr. Ruan, who works in the bioengineering field, saw Shen Yun in Linköping, Sweden, on May 7.
"I feel very touched. It's beyond our expectations. Didn't expect it to be this appealing," Dr. Sun said.
Mr. Ruan also shared his thoughts. "Just touched. I pretty much watched the first half in tears… If you've never lived in China or lived under the enslavement of the communist party, you would not realise the evilness of this communist party," he said.
Regarding Shen Yun's performing in Sweden, Mr. Ruan said, "For Sweden, first, it allows people to know about China's traditions; second, it lets people know that Chinese people do long for freedom; and third, it lets people know that the Communist Party is not a good thing."
"We Very Much Admire These Artists"
"We very much admire these artists. Very much appreciate them. From an artistic angle, they were all excellent," said Ms. Jiang Ping, former assistant researcher at Princeton University, who saw Shen Yun in Newark, New Jersey, on May 6 with her husband Bill Stahlin, former professor at Stevens Institute of Technology.
"Very glad to see such an excellent performance… The music, colors, performance, and dancing were all very beautiful," she said.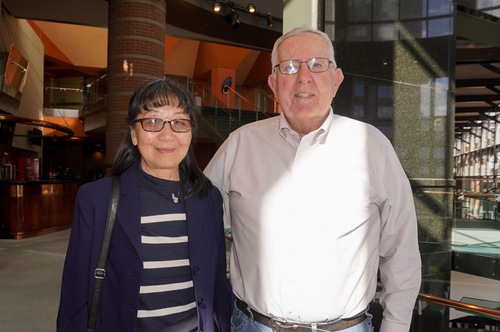 "My Inner Soul Was Triggered"
"After seeing Shen Yun, my entire person is very calm. I feel that Shen Yun's dance is dancing for the divine. I feel that I was also respecting and worshipping the divine while watching. I feel that my inner soul was triggered. I feel refreshed and enlightened after seeing the performance. It's hard to describe in words," said Ms. Zhi from China, who saw Shen Yun in Detroit, Michigan, with her husband.
"Shen Yun artists' love for [traditional culture] makes me very touched. My eyes even welled up.
"Blending China's traditional culture and content of religious faith together, Shen Yun did very perfectly. It makes people moved after watching," she said.
Ms. Zhi would like to say to the artists: "You're very excellent. Very amazing. You're truly our top-notch dancers, top-notch classical Chinese dancers."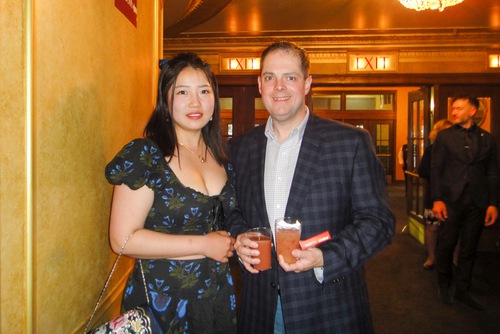 "I Will Be Coming Every Year"
Ms. Ouyang from Beijing saw Shen Yun in Baltimore, Maryland, on April 29. This was her fourth time seeing Shen Yun.
"[Shen Yun] every year has its different excellence. I mainly think that they have a new show every year and upholds the traditional culture. From the aspects of composition, music, costumes, etc., it completely displayed to us every ethnic group['s culture] and [stories] from different angles," she said.
"Shen Yun performers' dance techniques were very good and very in sync. The costumes and arts were also flawless.
"I will be coming every year to support them!" she said.
"I Felt as if I Returned to My Childhood"
Li Meiling, a retired engineer, is originally from Anhui, China. She saw Shen Yun in Newark, New Jersey, on May 7.
"Seeing China's culture, I feel very proud. I felt as if I returned to my childhood," Ms. Li said. She was brought to tears while watching the performance.
"I think the dance skills, singing, and the emcees were all very good. [The backdrop] made it seem like people were actually flying, very realistic.
"Chinese people should not let Chinese culture be lost and should promote China's traditions more… There should be this kind of programs [like Shen Yun] to explain [Chinese culture] more and let foreigners know that we Chinese are traditional. For thousands of years till today, we're still like this and we Chinese are consistent. We should be very proud," she said.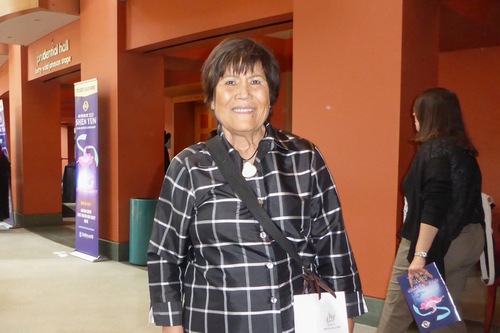 "I Was Elevated Right Away"
"Very astounding. [Shen Yun] stimulated the kindness on the bottom of the humankind's human nature," said Li Wei from Beijing, who saw Shen Yun in Newark, New Jersey, on May 6.
"We encounter many unpleasantries and hardships in life. After seeing the program, I felt that I was elevated right away – there are still very important things in life that need us to do and we have to pass Truthfulness-Compassion-Forbearance onto the next person. We have to do well at Truthfulness-Compassion-Forbearance ourselves first and then influence other people and let everyone do it.
"The props, costumes, and lighting were all really good. The professional quality of the performers was very high… Can't see this kind of performance [in mainland China].
"There's an ancient Chinese saying, 'what's on the outside comes from what's on the inside.' The facial expression of everyone was very kind," he said.
Mr. Li was also moved by the steadfastness of the Falun Gong practitioners portrayed in Shen Yun's modern-day piece. "Feel like there's still a righteous path and justice in the human world," he said.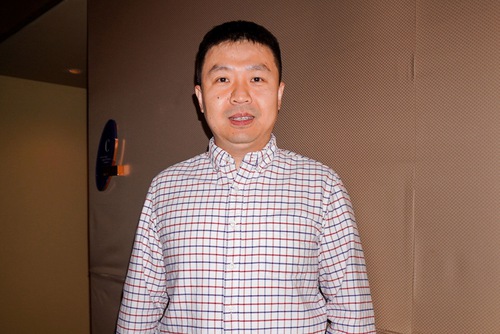 "Everyone Was Able to Resonate with the Performance"
Mr. Ma, a Chinese student studying in Germany, and his girlfriend Ms. You saw Shen Yun in Paris, France, on May 6.
"The layout of the performance, the production, and the performance were all very good," Ms. You said.
Mr. Ma noticed that the western audience members were as moved by the stories in the performance. "Everyone was able to resonate with the performance quite a bit," he said.
"They Make More People Wake Up"
"Because I have faith, I felt very in awe. God created everything. This made me very moved… [Shen Yun artists] believe in the existence of a Creator and believe that there's a truth. This is what the CCP is most afraid of, because it goes straight into people's hearts," said Dong Luobin, a former logistics employee at the Chinese consulate in Auckland who escaped from the consulate two months after arriving in Auckland in 2018. He saw Shen Yun in Auckland, New Zealand, on April 21. This was his third time seeing Shen Yun.
"I thank them very much. They make more people wake up. They're also very brave. I saw that people around me kept clapping, and I felt the same way," he said.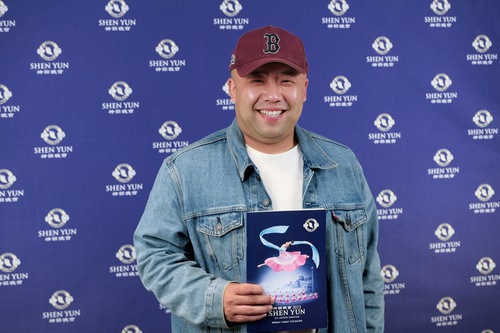 "Very Comfortable" and "Very Enjoyable"
Mr. Tan, a tourist from China, saw Shen Yun in Newark, New Jersey, on May 5. "The performance makes you very comfortable, very relaxed… The takeaway was that it's very enjoyable," he said.
He also spoke about Shen Yun's unique digital backdrop, "Now there're many in China that try to imitate it. Even though their imitations are off, it has started. You can see in videos that they're imitating."
"This Is a Manifestation of Great Love"
Ms. Liang and her Swedish friend saw Shen Yun in Linköping, Sweden, on May 6.
"I feel very in awe… My communication skills are very bad, but I'm very in awe. There's a kind of touched feeling that's hard to put into words," she said.
She also said that Shen Yun's expressiveness and appeal were both very strong, that her Swedish friend completely understood every story.
"When they danced, there was this appeal that's hard to describe. It made me feel very in awe on the inside… They were also all very professional. Really, this is not something that ordinary people can achieve. I guess they all had to train hard from a young age," she said.
Ms. Liang saw in Shen Yun that traditional Chinese people were "all very kind-hearted and cared about and loved each other," she said. "This virtue is very good."
"The historical stories in the performance were expressed very accurately. They were also very meaningful," she said.
"I thank them very much. They made such a good program. I see that they've worked very hard to rehearse and perform all over the world. It's really not easy. I feel very touched, because their spirit touched me. They have such perseverance and are not afraid of toil in order to bring everyone joy and energy… This is a manifestation of great love.
"This truly is an astounding performance. The difficulty level and professional level were both very high. Seeing such an excellent performance that represents Chinese culture as a Chinese person, I really feel very proud… They've earned a good image for Chinese people… All these years, Shen Yun has made a very good business card for the Chinese people," she said.
"Very Interesting" and "Very Professional"
Ms. Li, her daughter, and her husband Wolfgang saw Shen Yun in Linköping, Sweden, on May 6.
"I think the entire arrangement and the stories were all very interesting. The performers were very professional. I think it's very good," said Ms. Li, who has lived in Sweden for seven years and does commercial work.
Her husband Wolfgang also enjoyed the performance, calling it "super excellent, very good."
"The overall layout of the performance was very outstanding. The dancing was very artistic. The effects of the movies in the background were a pleasant surprise and were very entertaining… Also all the stories were excellent and full of meaning. They delivered messages and would inspire people to think," he said.
Ms. Li thought that "it was very good" that Shen Yun tours globally and allows people all over the world to learn about traditional Chinese culture. "Especially for kids that grow up overseas. It's very important that they have the opportunity the learn about the (traditions) from the past," she said.
"As a Chinese, we Chinese all have the roots of the Chinese. I think it's very interesting. I think it's very good to let her (Ms. Li's daughter) have the opportunity to be in touch with it and know about it. Also these dances are very beautiful. After I got on in years, I found China's traditional things to be very interesting and very good," Ms. Li said.
"This Is My Real Tradition and Culture"
"This is my real tradition and culture," said Jenna Mu, who saw Shen Yun in Milan, Italy, on April 29.
"Very engaging. This trip was very worth it… The performance told my traditions, my culture. It's so great. It benefited my soul.
"I was really touched, especially by the stories about believing in the divine. I myself am an atheist, but I still respect history and other people's faiths. Why not? I also believe the things happening in the world today that are reflected in the performance. So I think their dancing isn't only beautiful, but also soul-stirring.
"I feel completely fulfilled and my heart is full of warmth. The performance brought me back home and closer to my family and my family's culture.
"[The performance] provides you with 360 degrees of enjoyment of colors and music and makes you feel great and wonderful… It allows people to see what the Chinese people were like originally and the Chinese people's stories and history. So beautiful!" Ms. Mu said.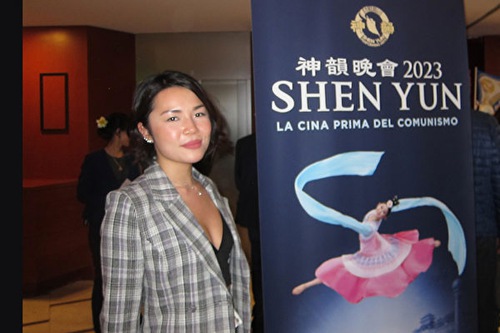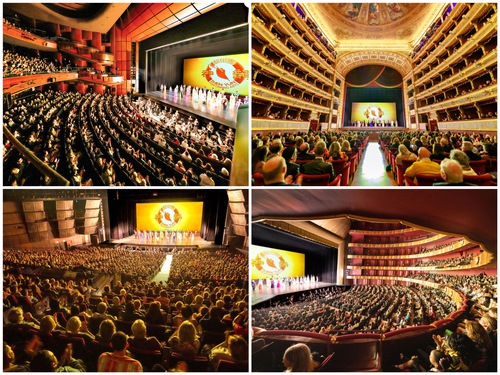 Chinese version available
(Clearwisdom)