(Minghui.org) Ms. Li Songyuan, a Falun Dafa practitioner who lives in Ireland, held a press conference in front of the Chinese Consulate on April 17, 2023. She called for the immediate release of her mother, Ms. Cen Hua, who is detained in China for her faith, Falun Dafa. Mr. Richard Boyd Barrett, a member of one of Ireland's three political parties, attended the press conference and said he supported Ms. Li's efforts.
Ms. Li said, "My mother, Professor Cen Hua, was arrested in China on April 14, 2023. She is now illegally detained because she practices Falun Dafa."
Mr. Richard Boyd Barrett, member of the Teachta Dala representing Dun Laoghaire, said that the persecution of a group of peaceful cultivators highlighted the true and evil nature of the Chinese Communist Party (CCP). He demanded that the CCP immediately release Professor Cen Hua and put an immediate end to the brutal persecution of millions of Falun Dafa practitioners.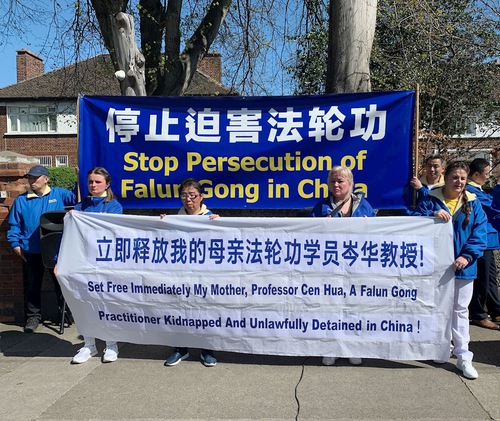 Outstanding College Professor Persecuted for Her Belief in Truthfulness-Compassion-Forbearance
Ms. Cen Hua, who retired in February 2023, was an associate professor and a graduate advisor at the University of International Business and Economics in Beijing. Ms. Cen taught in an all-English language setting in the early 1990s when talent in foreign languages was scarce in China. Her outstanding abilities were recognised and she was promoted to associate professor at the age of 25.
She encountered Falun Dafa for the first time on a scholarly trip to Australia in 1998. She started to read Zhuan Falun, the main text of Falun Dafa, when she returned to China. The profound yet simple principles deeply attracted her, and Ms. Cen began practicing Falun Dafa.
She abided by Falun Dafa's principles, Truthfulness-Compassion-Forbearance, and was conscientious and devoted to her work. The teachings also gave her wisdom and she was constantly inspired in her teaching and research. Many of her students returned to the school to visit her after they graduated.
Ms. Li recalled what one student said: "Professor Cen Hua is the best teacher I've ever had. Not only did she teach me knowledge, but she also taught me how to think critically. I've never met a teacher like her."
However, Ms. Cen Hua was seized by officers from Beijing's Xiaoguan Police Department in the Chaoyang District on April 14, 2023, because she was suspected of distributing information about Falun Dafa. Ms. Li's grandmother is 88 years old and suffers from Alzheimer's. She depended on her daughter, Ms. Cen, to care for her. The elderly woman was also picked up by the police.
"My grandmother was released due to her lack of memory (Alzheimers). However, my mother is still illegally detained in the Chaoyang District Detention Centre and is denied all visits.
"I strongly urge the Ireland government, media outlets, and compassionate people to lend a helping hand and call on the CCP to release my mother!"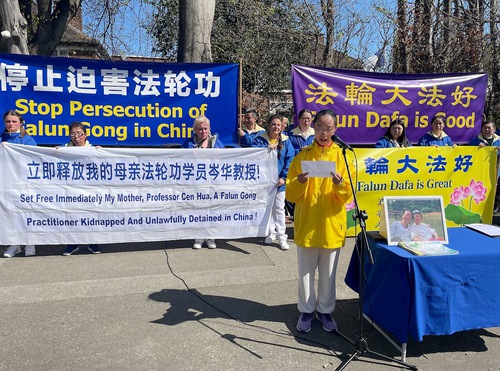 Irish Representative: "Stop the brutal persecution of millions of Falun Dafa practitioners"
Mr. Richard Boyd Barrett, member of the Teachta Dala representing Dun Laoghaire, said at the press conference, "The CCP and local Chinese authorities have been carrying out extreme acts of brutality against Falun Dafa practitioners. The persecution of millions of Falun Dafa practitioners has been widely reported and confirmed. Many practitioners are often subjected to kidnapping or detention, imprisonment, torture, and forced live organ harvesting. It is extremely shocking to know that local CCP authorities torture people in such a way."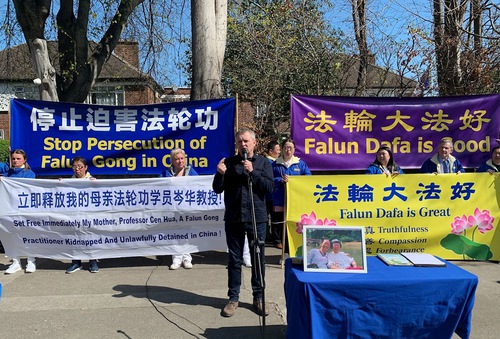 Ms. Li Songyuan: "The Chinese authorities need to respect human and civil rights"
"The CCP proves to be a brutal regime by doing such inhumane acts. Falun Dafa practitioners pose absolutely no threat to anyone. The fact that the CCP treats practitioners this way proves and shows people their cruelty and paranoia," Ms. Li Songyuan said.
"The CCP attempts to control everyone. For those whom they can't control, the CCP will inhumanely persecute and suppress them like they did Hong Kongers who fight for democracy or ethnic minorities. Falun Dafa was never questioned politically. The reason behind this persecution was because the CCP is unable to control them.
"It is horrendous the way CCP treats Falun Dafa practitioners. These barbaric acts are violations of the most basic human and civil rights.
"Therefore, I urgently call for the CCP and local authorities to release Professor Cen Hua and stop the brutal persecution of millions of Falun Dafa practitioners. This violation of basic human rights needs to end! The Chinese authorities need to respect human and civil rights!"
Background: What Is Falun Dafa and Why Is the CCP Persecuting It?
Falun Dafa (also known as Falun Gong) was first introduced to the public by Mr. Li Hongzhi in Changchun, China, in 1992. The spiritual discipline is now practiced in over 100 countries and regions worldwide.
Millions of people who have embraced the teachings, which are based on the principles of Truthfulness, Compassion, and Forbearance, and learned the five exercises have experienced improved health and well-being.
Jiang Zemin, former head of the CCP, perceived the spiritual discipline's growing popularity as a threat to the CCP's atheistic ideology, and on July 20, 1999, issued an order to ban the practice.
Minghui.org has confirmed the deaths of thousands of practitioners as a result of the persecution over the past 22 years. The actual number is believed to be much higher. More have been imprisoned and tortured for their faith.
There is concrete evidence that the CCP sanctions the harvesting of organs from detained practitioners, who are murdered to supply the organ transplant industry.
Under Jiang's personal direction, the CCP established the 610 Office, an extralegal security organisation with the power to override the police and judicial systems and whose sole function is to carry out the persecution of Falun Dafa.
Chinese version available
(Clearwisdom)
Ireland: Falun Dafa in St. Patrick's Day Parades in Cork and Limerick