(Minghui.org) Falun Gong, also known as Falun Dafa, is a spiritual practice based on the principles of Truthfulness-Compassion-Forbearance. The Chinese Communist Party (CCP) has been persecuting the practice since July 1999. He Zhiliang, head of the 610 Office of Jilin City, Jilin Province, has actively participated in the persecution.
The 610 Office system is an extra-legal agency tasked with overseeing the persecution of Falun Gong. It has branches at every level of the government.
Perpetrator Information
Full Name of Perpetrator: He (surname) Zhiliang (first name) (贺志亮)
Gender: Male
Country: China
Ethnicity: Han
Date of Birth: October 1970
Official Positions
Late 2019: deputy secretary of the Municipal Party Committee and acting mayor
January – October 2020: Mayor of Jilin City
November 2020 – January 18, 2023: Party secretary of Jilin City
January 19, 2023 – Present: lieutenant governor and director of the Public Security Department of Jilin Province
Main Crimes
According to information reported on the Minghui website, from January 2021 to December 2022 when He was the Party secretary of Jilin City, at least 5 practitioners were persecuted to death, 29 practitioners were sentenced to prison, 17 were put on trial, 119 were arrested, 7 were taken to brainwashing centres, and 292 were harassed.
1. Persecution crimes during He's tenure as Party secretary of Jilin City
Deaths
Ms. Ma Ying, 54, of Longtan District, Jilin City, was arrested on July 19, 2019, together with her husband, Mr. Zhang Yong. Mr. Zhang was sentenced to three years in prison in 2021 while Ms. Ma was released on bail. After her release, the police constantly harassed and intimidated her. They tried to use a master key to break in and also smashed her peephole. Living in tremendous fear and also worrying about her husband, Ms. Ma's health declined quickly. She passed away on April 26, 2021, without seeing her husband for the last time.
Ms. Wang Guiying, of Kouqian Town, Jilin Province, was harassed and threatened by the police after they barged into her house on July 20, 2021. Faced with tremendous pressure, she passed away on August 6, 2021. She was 76.
Mr. Liu Yongcun, of Shulan City, Jilin Province, was arrested in the winter of 2020. Police ransacked his home and he was traumatized as a result. He suffered a stroke and became bedridden. In May 2021, the police ransacked his home again. He passed away on September 10, 2021. He was 89.
Mr. Liu Jun of Jilin City was repeatedly persecuted for practicing Falun Gong. He passed away on August 23, 2022, after enduring two decades of persecution and relentless torture. He was 70. Even a month before and after Mr. Liu's passing, officers from the Erdaoxiang Police Station went to his home to harass him.
Mr. Meng Xiangfu, 70, of Shulan City, was persecuted many times by the CCP, together with his wife, Ms. Chen Qinglan. In late 2020, Mr. Meng's pension of 70,000 yuan was suspended. His wife was later detained in Jilin City Detention Centre. The financial persecution took a toll on Mr. Meng's health. He passed away on October 24, 2022. His wife wasn't allowed to attend his funeral. Their son, who currently resides in Japan, couldn't come back due to the strict COVID-19 policy in China.
Sentenced
Ms. Jin Min of Tonghua City was arrested on September 11, 2020, in Jilin City and was secretly sentenced to six years. She and her family appealed to the Jilin City Intermediate Court but the verdict was upheld in March 2022.
Ms. Zhu Minglan, Ms. Liu Jialan, and Ms. Shan Fulian from Jiaohe City were sentenced on February 19, 2022. Ms. Zhu was sentenced to 5 years, Ms. Liu 5.5 years, and Ms. Shan 7 or 7.5 years (her exact prison sentence is under investigation).
Ms. Zhao Hongyan from Jiaohe City was informed in early July 2022 by an officer from the Minzhu District Police Station that she had been sentenced to three years. She appealed the verdict but was rejected.
Detained and Tortured
Ms. Jiang Yongqin, 53, of Jilin City, Jilin Province, was held in a secret detention facility and sexually assaulted by a torture expert from the Jilin Province Public Security Bureau after she was arrested on June 12, 2022.
After the police force-fed wasabi water into her nose and inserted lit cigarettes into her nose, the police then began to sexually assault her. They lifted her shirt. The torture expert then ordered the police to touch her chest. After the police did it, the expert then used a special massager to stimulate her chest. Next, the expert forced Ms. Jiang to take off her pants. When her pants were halfway down, the police found she was menstruating. The expert claimed that the torture had the best effect during menstruation and ordered the police to continue.
Ms. Jiang almost collapsed and was in deep despair. In the evening, Ms. Jiang was taken to the Xin'an Police Station and completed another deposition. She was transferred to the Shulan Detention Center on July 21. Her lawyer has started to work on her case.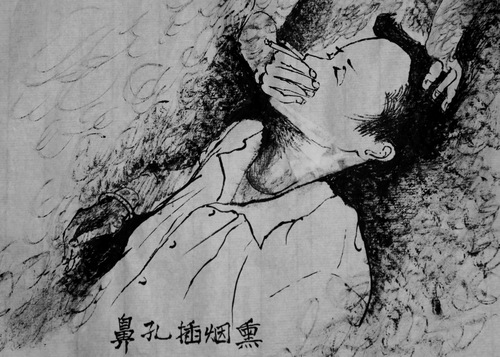 2. Persecution crimes during He's tenure as head of Jilin Province 610 office
49 practitioners arrested in February 2023
Since February 2023, at least 49 practitioners in Changchun City have been arrested, 2 have gone missing, and 2 harassed.
The police in Changchun City, Jilin Province arrested 17 Falun Gong practitioners and their family members on the morning of February 19, 2023. Some of the practitioners who were arrested include Ms. Liu Xiaohua, Mr. Wang Qixue, Ms. Tang Xiaoyan, Ms. Liu, Ms. Lu Jinhua, and her sister, as well as Ms. Zhao Guizhi.
In Yushu City, Ms. Wang Xiuzhi, Ms. Liu Shumin, and Mr. Ma Lingxi were also arrested on February 19, 2023, and taken to the police station. Ms. Ma Lingxi was released later. Ms. Wang Xiuzhi and Ms. Liu Shumin were taken to a detention centre.
Police in Dehui City conducted group arrests on February 25 and 26, 2023. At least 11 practitioners were arrested, including Xie Yunxiang, He (first name unknown), Mr. Zheng Yuming and his wife, Liu Zhongrong Wang Guiying, Wang Xiuqin, Zhuang Hongyan, Li Decheng, Su Cuizhi, and Cui Tao. Four practitioners, Wang Xiuqin, Zhuang Hongyan, Cui Tao, and Mr. Zheng Yuming's wife, have been released.
Harassment
Police were instructed to harass Falun Gong practitioners and order them to sign the guarantee statements to renounce their faith or to spit their saliva into a small box, and to take their photos. The police also told the practitioners they were not allowed to distribute Falun Gong materials, tell people about Falun Gong, or put up posters on the street.
From February 28 to March 1, 2023, practitioners in Ronghe Jiayuan District, Luyuan District, were harassed.
The police and community staff in Ronghe Jiayuan District, Luyuan District harassed practitioners on March 1 and 2, 2023, and collected their saliva samples.
Other police stations including Shuguang Street Police Station in Changchun City, Guigu Street Police Station in Gaoxin District, Jilin Street Police Station, Xixin Police Station, Qingming Street Police Station, and East Station Police Station also actively persecute Falun Gong practitioners.
A male officer from Hebei Police Station in Gongzhuling City and a female community worker harassed practitioners on March 2, 2023. They told the practitioners to open the doors for saliva collection but the practitioners refused.
A few police officers from Dehui City went to Ms. Song Yanqin's home on February 27, 2023, and wanted to collect her saliva.
Mr. Li Xuerong's relative received a call on March 2, 2023, asking for Mr. Li's address to collect his saliva.
A police officer from Zhenxing Police Station barged into Ms. Bai He's daughter's home on February 28, 2023, and harassed her. The officer did not show his ID card but collected her saliva, and asked if Ms. Bai was still practicing Falun Gong.
Ms. Li Xiuying and Ms. Jiao Xifeng also had their DNA collected and photos taken by officers from Dafangshen Police Station.
Chinese version available
(Clearwisdom)