(Minghui.org) A total of 117 cases of Falun Gong practitioners sentenced for their faith were reported in January 2023.
Among the newly confirmed cases, 11 took place between 2015 and 2020, 19 were in 2021, 61 in 2022, and 26 in January 2023. The delay in reporting is caused by strict information censorship under the communist regime, which attempts to keep the persecution underground to avoid international scrutiny.
The sentenced practitioners hailed from 15 provinces and municipalities. Shandong reported the most cases of 24, followed by Liaoning (20), Jilin (18), Guangdong (14) and Beijing (10). The remaining ten regions registered single-digit cases between one and six.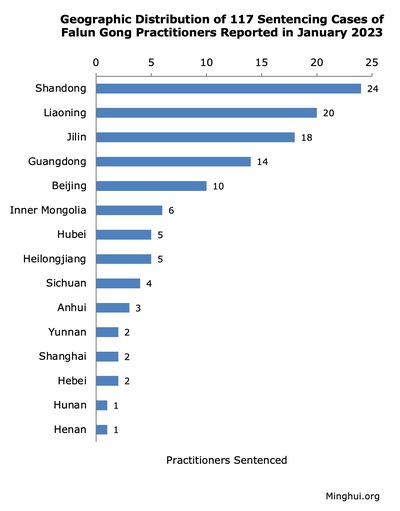 The practitioners' prison terms ranged from eight months to 8.5 years, with an average of 3.4 years. Thirty-eight practitioners were fined between 2,000 to 100,000 yuan, for a total of 420,000 yuan and with an average of 11,053 yuan.
Among the 59 practitioners whose ages were known, they were between 20 and 80 years old when their cases were first reported. Nineteen practitioners were in their 60s, 14 in their 70s and 2 in their 80s. There were teachers, engineers, bus drivers, accountants, factory workers and tax bureau directors among the sentenced.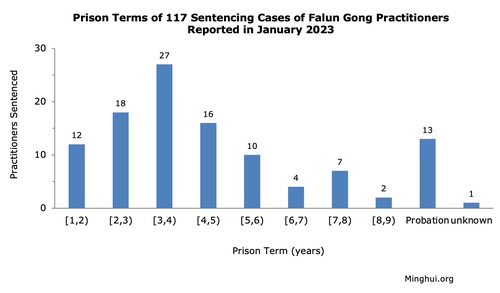 The following are snapshots of selected sentencing cases. The full list of sentenced practitioners can be downloaded here (PDF).
Targeted for Speaking Up
Shandong Man Sentenced by Out-of-Province Court for Posting Information about Falun Gong Online
Mr. Li Shihai, a 57-year-old Pingdu City, Shandong Province resident, was recently sentenced to four years for raising awareness about the Chinese Communist Party's 23-year-long persecution of Falun Gong.
Mr. Li was arrested on June 14, 2022, by police in Luoyang City, Henan Province, for posting information about the persecution of Falun Gong on social media. Both his and his wife's cell phones were confiscated. He was taken to Luoyang that day.
The police claimed that they found Mr. Li had established and administered two chat groups on social media and posted information about Falun Gong there. The first group had over 700 users and the second had more than 3,000 users.
Mr. Li appeared in the Chanhe Hui District Court in Luoyang on January 10, 2023. His lawyer entered a not-guilty plea for him.
Mr. Li's lawyer informed his family on January 21, the eve of the Chinese New Year, that he had been sentenced to four years.
Since the onset of the persecution, Mr. Li has been repeatedly arrested and tortured. He was held in a psychiatric hospital twice and suffered a mental breakdown at one point. He was arrested again in 2016 and later sentenced to two years.
Eight Shandong Residents Sentenced to 3 to 7.5 Years for Having Falun Gong Artwork at Home
Eight Falun Gong practitioners in Guan County, Shandong Province, were sentenced to 3 to 7.5 years by the Guan County Court on January 4, 2023.
The eight practitioners, most of whom farmers, were arrested between May and August 2022. The prosecution evidence against the practitioners included the couplets, Falun Gong-themed new year paintings, and ornaments confiscated from their homes, but neither the prosecutor nor the judge provided an explanation as to how the practitioners undermined law enforcement by having and distributing those items.
Below are the details about the eight practitioners and their sentencing:
Ms. Zhang, 51, was sentenced to 7.5 years and fined 18,000 yuan. She was arrested on August 18, 2022, and put on criminal detention on September 13. When the police ransacked her home, they also took away the 20,000 yuan in cash from her.
Mr. Xu Hengkui, 60, was also sentenced to 7.5 years in prison and fined 18,000 yuan. He was arrested on May 13, 2022, and released on bail in early June due to his health condition. He was previously given two years of forced labor on February 28, 2002.
Mr. Kong Dequan, 61, was arrested on July 29, 2022. He was sentenced to seven years and four months, with a 16,000-yuan fine. He was previously given three years of forced labor on May 5, 2001.
Mr. Zhou Chunbao, 48, and former deputy tax bureau director, was arrested on May 15, 2022. He was interrogated multiple times and deprived of sleep for three days. He was sentenced to four years and fined 10,000 yuan.
Ms. Gao Shuzhen, 47, was sentenced to four years and fined 10,000 yuan. She was previously arrested on March 1, 2022, and detained briefly. The police harassed her on May 13 and confiscated her computer. She was arrested again on July 26. The police put her on residential surveillance on July 30 and then criminal detention on September 22.
Mr. Han Zhenlin, 71, was arrested on July 28, 2022. He was also sentenced to four years with a 10,000-yuan fine. The police claimed that he was held at the Guan County Legal Center, but her family couldn't find any information about the place online. Prior to his latest sentencing, he was detained five days following another arrest on November 18, 2015.
Mr. Zhang Bingliang, 68, was arrested on August 19, 2022. His 200,000 yuan in cash from selling fertilisers were confiscated by the police. He was sentenced to four years with a 10,000-yuan fine as well.
Mr. Wang Ruixiang, 55, was sentenced to three years and fined 8,000 yuan.
Small Business Owner Gets Six-Year Prison Term for Giving Falun Gong Calendar to a Customer
Ms. Li Honghong, a 53-year-old Shenyang City, Liaoning Province, resident, owned a small bedding shop. Because she gave a customer a calendar with information about Falun Gong on October 29, 2021, she was reported to the police and arrested on January 23, 2022. Both her shop and home were ransacked.
The Liaozhong District Court held a virtual hearing of Ms. Li's case on November 24, 2022. Her family wasn't allowed to attend the session. She testified in her own defense and insisted that she hadn't violated any laws by practicing Falun Gong.
Ms. Li's family was informed in early January 2023 that she had been sentenced to six years and fined 20,000 yuan. She has appealed the verdict.
During a year of detention, Ms. Li lost over 30 pounds, her hair turned gray, and she developed high blood pressure. The interruption of her business caused much financial distress to her family. Her ailing husband is also left at home to fend for himself.
Elderly Practitioners Targeted
71-year-old Woman Sentenced to Eight Years
Ms. Han Lihua, a 71-year-old Daqing City, Heilongjiang Province, resident was recently sentenced to eight years and fined 50,000 yuan for her faith in Faun Gong.
Ms. Han, a Daqing Oil Production Plant retiree, was arrested and had her home ransacked on November 22, 2020, by over 20 other police officers. She was released on bail the same day.
Ms. Han was tried in the Ranghulu District Court on August 2, 2022. Judge Leng Zhiqiang asked her if she acknowledged the Falun Gong materials confiscated from her as evidence of her guilt. She argued that having the materials in itself didn't violate any law, that she wasn't present when the police ransacked her home, and that they never verified with her the confiscated items or provided a confiscation list.
Ms. Han's lawyer entered a not-guilty plea on her behalf and denied the allegations against her, namely, "undermining law enforcement," the standard pretext used to criminalize Falun Gong practitioners. He argued that the prosecutor failed to prove Ms. Han's alleged criminal intent or to show how she undermined any law or what damage she caused to any individual or the country. He urged the judge to acquit her.
The judge asked Ms. Han if she could afford to pay the fine. She said she could not because her pension had been suspended for eight years.
Due to Ms. Han's high blood pressure, the local detention centre refused to admit her. Her daughter-in-law received a text co-sent by the Ranghulu District Court and Heilongjiang Province High Court on December 29, which claimed that they had issued a guilty verdict and that a notice would be forthcoming.
On January 3, 2023, Ms. Han was notified to pick up her verdict at the courthouse the following day. At the courthouse, she was told that she had been sentenced to eight years with a 50,000-yuan fine. The verdict was dated December 28. It's not clear if she has been taken into custody or not.
Since the Chinese communist regime ordered the persecution of Falun Gong in 1999, Ms. Han has been repeatedly targeted for her faith. She was held in a brainwashing center for six months, given a three-year forced labor term in 2001 (she didn't serve the term due to her health), and sentenced to seven years in prison in 2008.
Cancer-Stricken Woman Imprisoned for Her Faith and Denied Medical Parole
Despite the fact that Ms. Jiang Shumei had been diagnosed with breast cancer, she was still admitted to prison in October 2022 to serve a five-year term.
Ms. Jiang, a 67-year-old Shenyang City, Liaoning Province resident, was arrested on February 26, 2021, while studying Falun Gong's teachings at home with another practitioner, 76-year-old Ms. Xu Zhenying.
Both Ms. Jiang and Ms. Xu were held at the Shenyang City Detention Centre. Ms. Jiang was found to have breast cancer during the checkup upon arrival at the detention center.
The Huanggu District Court sentenced Ms. Xu to two years in May 2021 and Ms. Jiang to five years in September 2021. Both appealed with the Shenyang City Intermediate Court, but the court ruled to uphold their original verdicts.
The Liaoning No. 2 Women's Prison accepted Ms. Jiang in October 2022, after having rejected her admission once earlier. Her family applied for medical parole for her, but the prison rejected them, claiming that she wasn't qualified for it.
After Four Labor Camp Terms, Grandfather Secretly Sentenced to 2.5 Years in Prison
Mr. Su Yucai, a Changchun City, Jilin Province, resident, was the last in the region to be given a forced labor term before the labor camp system was abolished in 2013. Mr. Su was recently secretly sentenced to 2.5 years in prison after being recorded by a store owner while talking to people about Falun Gong.
Mr. Su has been held incommunicado since he was arrested on August 16, 2022. Even after his family recently confirmed his secret sentencing in November 2022, the authorities still refused to reveal his detention location and his current situation.
Mr. Su, 67, talked to a convenience store owner about Falun Gong while shopping there on May 25, 2022. The owner secretly recorded him and called the police. When Mr. Su finished shopping, the owner blocked him from leaving until the police showed up. Several officers took Mr. Su to the Nanhu Police Station and confiscated his ID. He was ordered to report to the police station every week.
Three officers knocked on Mr. Su's door at around 8 a.m. on August 16, 2022, claiming to be from the residential committee. Mr. Su's grandson opened the door, only to see the police barge in and arrest his grandfather.
After three days at the police station, Mr. Su was taken to the Changchun City No. 2 Detention Centre. He hasn't been allowed any visitation or contact with his family since. The police later submitted his case to the Chaoyang District Procuratorate. After the prosecutor indicted him and moved his case to the Chaoyang District Court, his family kept calling the police and the court, but no one ever picked up the phone.
Mr. Su's arrest dealt his son, who has become incapacitated due to a stroke, a hard blow. The younger man struggled with unstable blood pressure and had frequent seizures.
Loved Ones Deprived of Care
Arrested on Her Way to Care for Her Ailing Daughter, 75-year-old Woman Secretly Sentenced for Her Faith
Nearly two years after a 75-year-old Daan City, Jilin Province resident went missing in 2021, her family finally confirmed that she was secretly sentenced for her faith in Falun Gong and has been taken to the Jilin Province Women's Prison.
When her daughter fell sick and was hospitalized two years ago, Ms. Zhao Shuqin made plans to travel to Beijing to help care for her daughter and two young grandchildren. While taking a transfer at the Changchun Train Station in Jilin Province on March 9, 2021, she was stopped and had her luggage searched. The police arrested her upon finding Falun Gong materials in her bag.
The police claimed that they had to keep Ms. Zhao detained, as the communist regime was having their National Congress in Beijing during the time and she had the inclination to "disrupt social order."
The authorities kept Ms. Zhao at the Baicheng City Detention Centre and denied her family from visiting her. Ms. Zhao repeatedly demanded to be released so that she could care for her ailing daughter, but to no avail.
After Ms. Zhao was later transferred to another detention location, the authorities kept her family in the dark as to her whereabouts. Her family recently confirmed that she has been sentenced to 3.5 years and fined 5,000 yuan. She has been taken to the 10th ward at the provincial women's prison.
According to an insider, Ms. Zhao has also been hospitalized due to a medical condition, while her daughter is in serious condition, as her health has further deteriorated over the past two years.
73-year-old Husband Sentenced to 3.5 Years for His Faith, Blind Wife Struggles to Fend for Herself
A 73-year-old Nanyang City, Henan Province resident was recently sentenced to 3.5 years for his faith in Falun Gong. Mr. Wang Zizhou's imprisonment left his wife, who is blind in both eyes, in a dire situation.
Mr. Wang was arrested at home on June 8, 2021 and held at the Sheqi County Detention Centre. The police harassed his daughter one week later and threatened to arrest her and send her newborn baby to an orphanage.
The police raided Mr. Wang's home again on June 25 and broke his several locks. They seized more of his personal belongings, including two additional cellphones.
The police returned to Mr. Wang's home the third time on December 6, 2021 and raided the place. His daughter, who went there to take care of her mother, was arrested and held at the Sheqi County Lockup for ten days, during which time she was unable to breastfeed her months-old baby.
Mr. Wang's family recently learned that he had been sentenced to 3.5 years and had been taken to the Xinmi Prison in Zhengzhou City.
This is the second time that Mr. Wang has been sentenced for his faith. He was previously arrested on July 18, 2019 and later sentenced to one year in prison.
Hubei Woman Gets Nearly Four Years in Prison, Incapacitated Husband Left Uncared For
Ms. Shu Yunlan, a 56-year-old Hanchuan City, Hubei Province resident, was arrested on September 14, 2022. Her arrest left her husband, who had become incapacitated due to a stroke, in dire straits. Her lawyer applied to the Hanchuan City Police Department on October 10 to release her on bail to take care of her husband, but the police never responded to him.
In mid-December 2022, Ms. Shu's daughter got a call from the Xiaochang County Court and was told that the court had scheduled a virtual hearing to take place in one week. Due to the pandemic, Ms. Shu's lawyer was unable to attend the hearing. Ms. Shu's family didn't attend the hearing, either.
When Ms. Shu's daughter called the court on January 18, 2023, to inquire about her mother, she was told that Ms. Shu had been sentenced to three years and nine months. The court has yet to send them a hard copy of her verdict.
Ms. Shu was arrested many times in the past. In 2008 she was sentenced to five years for distributing informational materials about Falun Gong.
Once Emaciated from Torture in Labor Camp, Sole Caregiver of 85-year-old Mother Sentenced Again
Mr. Gao Hong, a 55-year-old Zibo City, Shandong Province, resident, was arrested on August 29, 2022. He was sentenced to three years by the Zichuan District Court on December 5, 2022.
After Mr. Gao's father passed away in 2018, he became his 85-year-old mother's sole caregiver. Due to the pressure from the persecution, his mother is struggling with high blood pressure and a severe heart condition. His sentencing left her in a dire situation.
After graduating from the China University of Petroleum with a major in automation in 1991, Mr. Gao landed a job at the Qilu Petrochemical Research Institute. In 1997, after witnessing the positive changes in his parents from practicing Falun Gong, he followed in their footsteps and became a practitioner, too. The practice gave him wisdom and he won several awards for technological innovation at work.
For upholding his faith and speaking up about the persecution, he was repeatedly arrested and given two years of forced labor on August 26, 2008
In the Shandong Province No.2 Forced Labor Camp, Mr. Gao was deprived of sleep for seven days, beaten, and handcuffed behind his back. He protested by going on a hunger strike and refusing to do the forced labor. In retaliation, the guards forced him to stand for three days and sit on a small stool from 5:30 a.m. to 11 p.m. every day for 81 days. He was merely skin and bones and released on medical parole on October 3, 2009.
The police broke into Mr. Gao's home on July 15, 2020, when his mother, Ms. Liang Zhongxian, was at their shared residence alone. The police claimed that they found a Falun Gong brochure in their neighborhood and they suspected that it was Ms. Liang who distributed it. They took her to the police station for interrogation and confiscated their Falun Gong books, computer, printer, tablet, and even a desk lamp.
The police seized Mr. Gao when he returned home from work that afternoon. He was interrogated until the following afternoon. Due to the pandemic, the police gave him a one-year bail instead of detaining him.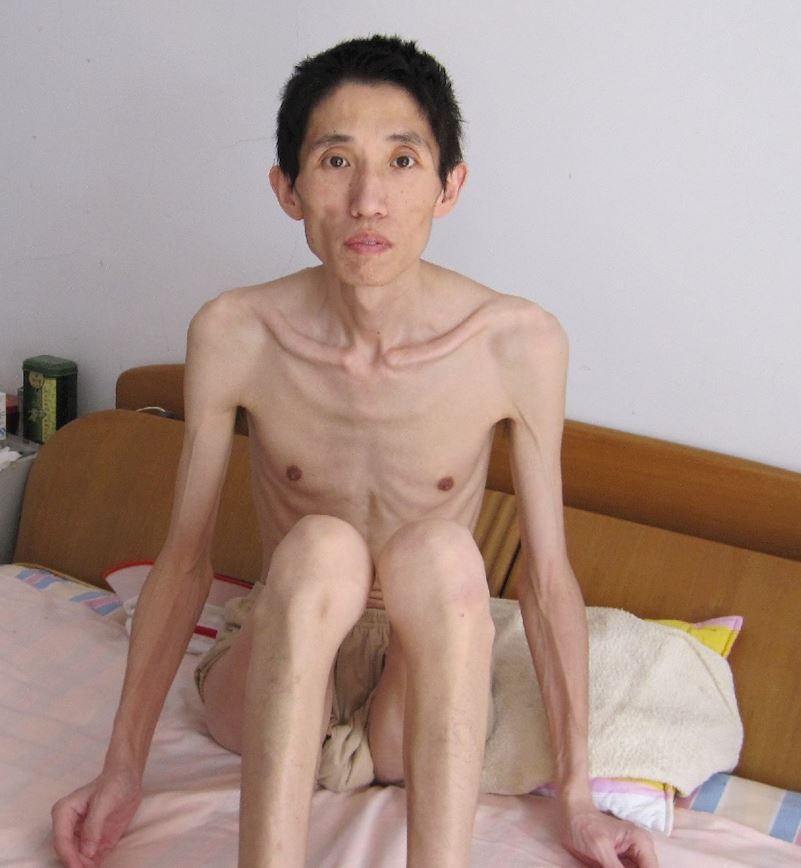 Practitioners from All Walks of Life Targeted
Sichuan Veteran Denied Right to Counsel, Sentenced for Practicing Falun Gong
Mr. Luo Banglin, a 40-year-old veteran in Miyi County, Sichuan Province, was arrested at home on March 15, 2022. His Falun Gong books, photos of Falun Gong's founder, computer memory cards, cellphone, as well as the computer and printer he used for his business, were confiscated.
His wife Ms. Hong went to the procuratorate and filed an application to be his non-lawyer defender. Hu Shouhua, the prosecutor in charge of the case, demanded that she sign paperwork promising not to hire a lawyer for her husband. She refused to make such a promise.
Ms. Hong submitted her defense statement on August 12 and received a call from Hu three days later. Hu said that she wasn't allowed to represent her husband as a non-lawyer defender or visit him at the detention centre.
Without allowing Mr. Luo any legal counsel, the Miyi County Court sentenced him to three years on December 23, 2022.
Mr. Luo served two years in the army in Tibet, between 2003 and 2005. He suffered high altitude sickness and struggled with poor health after finishing his service. He had trouble sleeping at night and had very low energy. He later took up Falun Gong on the recommendation of a friend and regained his health. He started a mango farm and opened an online store to sell the fruit.
Former College Professor Given Third Prison Sentence for Talking to People about Falun Gong
Since 2008, a former college professor has been sentenced three times for her faith in Falun Gong, with each arrest taking place only a few months after she finished the previous prison term.
Ms. Wang Jiafang, a 58-year-old Guangzhou City, Guangdong Province resident, was most recently arrested on September 10, 2021 while talking to people about Falun Gong outside of a mall.
The Liwan District Court sentenced Ms. Wang to four years with a 10,000-yuan fine in July 2022. She appealed the verdict. The Guangzhou City Intermediate Court ruled to uphold her original verdict on December 26, 2022.
Ms. Wang's latest arrest came only three months after she was released on April 26, 2021 from serving a 3.5-year term given by the same Liwan District Court. Her previous arrest on October 27, 2017 took place less than a year after she was released from serving another nine years at the Guangdong Province Women's Prison. She often struggled with intense pain in her liver due to severe torture and kicking on her abdomen in the prison.
Ms. Wang used to be an associate professor of mathematics at Guangzhou University. She had a son who suffered from congenital heart disease, and she became interested in Falun Gong after hearing numerous stories about the practice's miraculous healing power. She and her son decided to give Falun Gong a try. The boy's condition improved significantly, which cemented Ms. Wang's determination to practice Falun Gong.
After the persecution of Falun Gong began in July 1999, Ms. Wang used every possible opportunity to tell people that the practice is nothing like what is depicted by the state propaganda. Her simple act of raising awareness about the persecution landed her in prison three times.
Police Officer Sentenced to Three Years
Mr. Lin Lisheng, a 65-year-old resident of Maoming City, Guangdong Province, used to work as a police officer at the Maoming Train Station. While taking the train on March 11, 2020, he was arrested by his former colleagues after they found a Falun Gong book and several pieces of paper currency printed with information about Falun Gong in his bag.
Due to strict censorship in China, many practitioners use creative ways to raise awareness about the persecution, including printing information on paper currency.
The police raided Mr. Lin's home and held him at the Maoming City No. 1 Detention Centre. Worried about him, his family bribed the police in exchange for his release. Fearful of the persecution, Mr. Lin stopped practicing Falun Gong. Not long after, he suffered a stroke and the doctor said they couldn't cure him.
Upon returning home, Mr. Lin resumed practicing Falun Gong and soon regained his health. After the police found out, they arrested him again on June 27, 2021 and submitted his case to the Maonan District Procuratorate. He appeared in Maonan District Court on December 23, 2022 and was sentenced to three years.
Bus Driver Secretly Sentenced, Elderly Parents Deprived of Care
Ms. Yu Zhen, a bus driver with the Qilu Petrochemical Company in Zibo City, Shandong Province, was arrested in late October 2022. An insider revealed that the police targeted her either for sharing information about Falun Gong online or studying Falun Gong's teachings with other practitioners. Minghui.org recently confirmed her 3.5-year prison sentence, but other details remain unclear.
Ms. Yu's 95-year-old father and 87-year-old mother have been relying on her for care, including grocery shopping, doing laundry, house cleaning, and getting medical care. They are now in a dire situation without her.
Prior to her latest sentencing, Ms. Yu was previously arrested on March 24, 2018, and her home was ransacked. She was released on bail on July 7 after nearly four months in the Zhangdian Detention Centre.
Former Tax Bureau Employee Sentenced to 1.5 Years
Days before the 2023 Chinese New Year (on January 22), a Guangshui City, Hubei Province resident was sentenced to 1.5 years and fined 5,000 yuan for his faith in Falun Gong.
Prior to his latest sentencing, Mr. Chen Quanlong once served a three-year term and was fired from his job by the local tax bureau.
Mr. Chen, 61, was arrested in July 2022, after being reported for telling people about Falun Gong. The police searched his two residences and confiscated his eight Falun Gong books. He was put under residential surveillance on July 24. The Guangshui City Procuratorate on September 15, 2022, indicted him on charges of "undermining law enforcement with a cult organisation," the standard pretext used against Falun Gong, and moved his case to the Guangshui City Court, which convicted him in mid-January 2023.
Repeatedly Sentenced
Once Incarcerated for 15 Years, Liaoning Woman Given Another Two Years
A Dongguan City, Liaoning Province resident was recently sentenced to 2 years and fined 3,000 yuan for practicing Falun Gong.
Prior to the latest sentence, Ms. Liu Mei was incarcerated for a total of 15 years, including 2 years in a forced labor camp and 13 years in prison. She suffered from heart disease, tuberculosis and atrophy of the brain as a result of the torture, and almost died several times.
Ms. Liu was arrested on November 7, 2021 while on her way back from shopping. By promising to release her in two hours if she cooperated, the police deceived her into signing certain documents and admitting that the five informational cards about Falun Gong confiscated from another practitioner were actually hers.
When Ms. Liu asked to go home after signing the documents, the police claimed that they needed to do a PCR test to make sure she was not infected with COVID-19 as several officers had close contact with her. They worried that they may catch the virus if she was infected. Yet after the negative test result came out the next day, the police changed Ms. Liu's administrative detention to criminal detention and held her in a lockup for 15 days.
Due to her health problems, Ms. Liu was released on December 17, 2021. The police lied to her during a harassment episode in 2021 that her case has been dismissed and ordered her to sign on the bail release document. When she was deceived into going to the procuratorate on October 11, 2022, she was shocked to be told that she had been indicted.
Ms. Liu appeared in court on December 13. She demanded the prosecutor examine the interrogation video at the police station, yet the prosecutor claimed that the police station had a power outage that day and nothing was recorded. The judge sentenced her to two years with a 3,000-yuan fine on December 29, 2022.
Previous Persecution
Ms. Liu was born in the countryside. Her father was a high school language teacher and was good at arts and sports. He knew how to play a lot of musical instruments, thus Ms. Liu and her siblings all learned to play different instruments. Almost every night was spent singing and playing musical instruments. They were the envy of their relatives and neighbors.
Later, Ms. Liu's father had a job transfer and they moved to the city. With the transfer and promotion, Ms. Liu's father also underwent great changes. He asked for a divorce in the 1980s, shocking Ms. Liu's mother and her siblings. The siblings became sad and resentful of their father after seeing their mother in pain.
In 1995, Ms. Liu started practicing Falun Gong and followed the principles of Truthfulness, Compassion, Forbearance. She slowly forgave her father and was nominated as a model employee at work every year.
After the persecution started, Ms. Liu was arrested for going to Beijing to appeal. One day in a detention centre, a few police officers pinned her down and whipped her with belts and bamboo skin. She fainted after some time and could feel herself floating in the air and moving forward. However, she heard someone shouting her name from far away and followed that voice. After a while, she saw a group of people surrounding her body. Some were inserting needles into her body, some were crying, and some were shouting her name. Then she felt pain in her body but did not know where she was. Then she realized that she was in the detention centre. At that moment, she heard someone saying that her eyes moved and she came to life. Ms. Liu then woke up.
After waking up, Ms. Liu was in extreme pain as her bottom, lower back, and thighs were swollen and black.
Ms. Liu and her husband, also a Falun Gong practitioner, were arrested and sentenced to 13 years of imprisonment in 2002. She was taken to Liaoning Women's Prison. At the end of 2007, she suffered from high blood pressure and heart disease as a result of the torture.
Ms. Liu was vomiting blood every day due to tuberculosis. She had hormone imbalance and her stomach was so bloated that it was bigger than her chest. She had blood in her stool and urine, and suffered from atrophy of the brain. Her eyeball also atrophied and she suffered from blurred vision. Half of her face was red and swollen and the other half was atrophied. Her feet were rotting, bloody, and swollen. She felt as if there were animals running and shouting in her brain. The arteries on the left side of the neck were swollen and bleeding, and her neck felt uncomfortable, as though someone was strangling her. She was out of breath. She also had a lump in her breast and she was emaciated and unable to care for herself. She needed someone to help her when walking or using the restroom.
In 2015, Ms. Liu was released and had to stay at a relative's house. Though she had yet to recover from the torture herself, she and her husband took care of her mother-in-law for almost a month, when her husband's siblings refused to do so.
Ms. Liu and her husband later took her mother-in-law to their home and care for her, despite the fact that her mother-in-law did not approve of their marriage due to Ms. Liu's hand injury sustained as a result of workplace accident. While her mother-in-law was bedridden, Ms. Liu cooked her favorite food, massaged her, helped her to bathe, and brought snacks for her.
Yunnan Woman Given Fourth Prison Term for Practicing Falun Gong
Shortly after Ms. Li Qun was released from serving a four-year term for practicing Falun Gong, the Yanshan County, Yunnan Province resident was arrested again in 2021 and sentenced to six years.
This is the fourth time that Ms. Li, a former employee of the Yanshan County Power Bureau, has been sentenced since the onset of the persecution in 1999.
Ms. Li was first arrested in 2004 and sentenced to four years. She was fired by her workplace after she was released on May 22, 2008. She made a living by selling merchandise in a market booth.
For talking to her customers about Falun Gong, Ms. Li was arrested again on April 20, 2009. She was force fed for going on a hunger strike to protest the persecution. The local court sentenced her to five years in Yunnan Province No. 2 Women's Prison two weeks later.
Ms. Li's next arrest was in June 2017. She was sentenced to four years on September 1, 2017 and taken to a prison around the 2018 Chinese New Year.
Chinese version available
(Clearwisdom)
78 total views