(Minghui.org) Falun Gong practitioners participated in the Philadelphia Holiday Parade on December 3, 2022. The parade is the only one in the U.S. that celebrates multiple traditional holidays, including Hanukkah, Kwanza, the Chinese New Year, and Christmas. Falun Gong practitioners' Waist Drum Team and Tian Guo Marching Band were highly praised by spectators.
Vega, conductor of the Tian Guo Marching Band, told the reporter that the band participated in the parade to tell people about the benefits and peaceful spirit of Falun Dafa. "Unfortunately, the persecution of Falun Dafa is still going on in China. We would like to show the American people that we aren't like what the Chinese Communist Party's slander campaign has said," Vega said.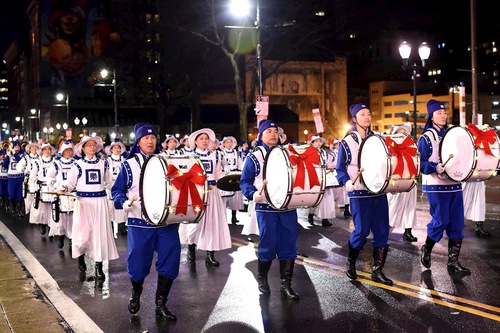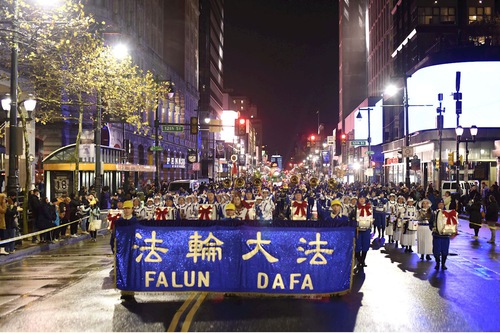 David Barton, a visitor from New York, told the reporter, "I see Falun Gong in every parade. I'm deeply impressed. They are colorful and present a different culture. I enjoyed it!"
Dan Slider, a local engineer, especially liked the Tian Guo Marching Band. "It's so cool! It's one of my favorite parts of the parade. I like their costumes and music. They are talented!"
Laurie Maticu, a local resident, said that she had seen the Falun Gong waist drum team in the Independence Day parade. "I really like these women [Falun Gong drum players]. They are great. I can tell they are so devoted and happy," she said.