(Minghui.org) Falun Gong practitioners had a booth at the annual Street Fair in the town of Canajoharie in Montgomery County, New York, on September 10, 2022. They introduced Falun Dafa to people and told them about the Chinese Communist Party's (CCP) 23-year-long persecution of the practice.
Located in Upstate New York, the town of Canajoharie lies on the south side of the Mohawk River, about an hour's drive from Albany, the capital of New York. This year's street fair was the largest in recent years, with more than 100 booths.
Falun Dafa practitioners demonstrated the five sets of exercises at the Falun Dafa booth. The beautiful exercise music and peaceful atmosphere drew many people to stop and watch, and learn more about the practice and the persecution in China.
An older woman was curious about the colorful little lotus flowers displayed at the front of the booth. A practitioner told her the story of the lotus flower, the beauty of Dafa, and about the persecution in China. The woman was shocked to hear about the brutal torture practitioners are subjected to in China. She asked for a copy of all the printed materials to read and share with the members of her church.
A young woman who also had a booth at the fair walked over to the Falun Dafa booth. She introduced herself to a practitioner and said that she was a recent college graduate who currently lives with a few friends, and she makes a living by selling hand-knitted products. She told the practitioner that her third eye was open and she was very sensitive and could feel the energy of others. The practitioner recommended Zhuan Falun to her.
Seeing that she was not ready to leave, the practitioner suggested that she learn the exercises. The young woman jumped at the offer and learned the meditation exercise. Before leaving, she took the practitioner's phone number so she could learn the rest of the exercises.
A family of three came to the booth to tell the practitioners that they supported their efforts to stop the persecution.
A woman who works for the local school district stopped at the Falun Dafa booth. She was happy to see the practitioner who had introduced the practice and told her about the persecution at another event a few years earlier.
A practitioner visited every booth, bringing lotus flowers and pamphlets to people. A candidate running for acting judge told the practitioner that he had received a lotus flower many years ago at an event and still had it at home.
An older man who was tending to the Fire Fighters' booth talked with a practitioner after the fair. He said that he liked the idea of improving one's character and appreciated meditation. He was pleased to accept a lotus flower gift and said he would learn more about Falun Dafa online.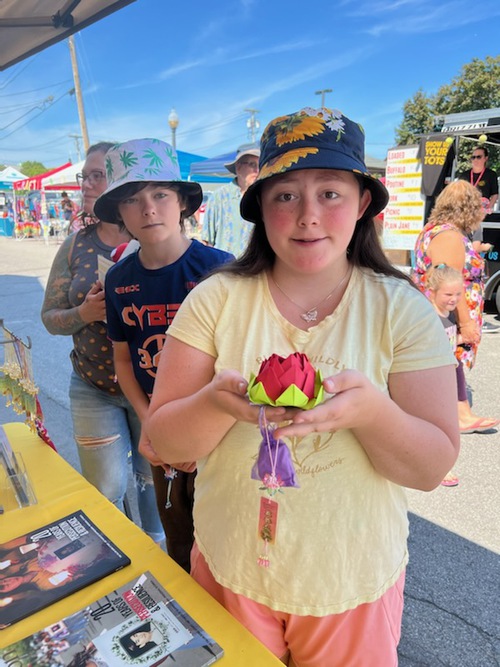 29 total views