(Minghui.org) The popular City2Surf event was held at Sydney's Rose Bay beach on August 14. Falun Dafa practitioners held group practice to introduce the spiritual practice, and the Tian Guo Marching Band performed.
Practitioners' eye-catching yellow clothing and banners reading "Falun Dafa is Good" and "Falun Dafa Follows Truthfulness-Compassion-Forbearance" attracted people's attention, as practitioners demonstrated the Falun Dafa exercises. Many runners applauded the Tian Guo Marching Band's performances as they ran by.
The world's largest annual City to Surf running event has a 50-year long and inspiring history. After a two-year hiatus due to the pandemic, the runners reunited again on the brisk winter morning (in the southern hemisphere). The event raised funds for more than 300 charities.
When the runners passed by the Falun Dafa booth, many people thanked practitioners for being there. Some signed a petition calling to end the Chinese Communist Party's (CCP) persecution of Falun Dafa. Others asked where they could learn to practice.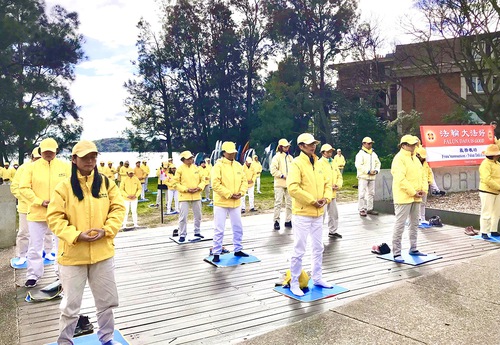 Truthfulness-Compassion-Forbearance Benefits Our Society
Adithya Kareanam from India participated in the event. He paused when he noticed practitioners meditating. He said that this was the first time he had participated in the City2Surf event, and seeing practitioners meditating made him feel calm. "Truthfulness-Compassion-Forbearance are very good principles. They are beneficial to our society."
After learning that practitioners are persecuted by the CCP in China, he said, "This is really bad. The CCP is obviously autocratic. Falun Dafa practitioners are just cultivating themselves."
He said that the CCP controlled Chinese territory and people, and attempted to make all people into one kind of human.
"We should stop this persecution," he said. "People can do what they want. No one should be controlled by the CCP. I think people should go their own way, like they should have freedom of belief. Others should not interfere."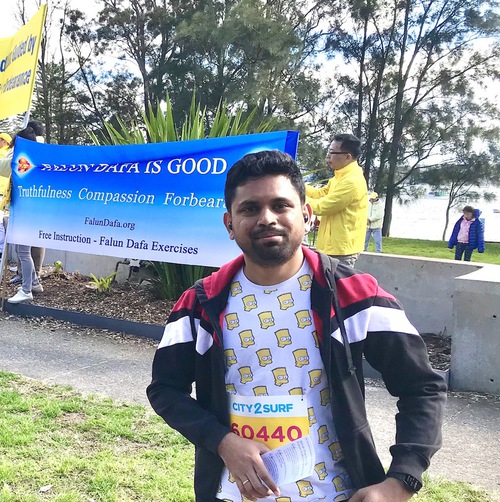 Falun Dafa Is Awesome
Santiago, a business owner who participated in the event, said he was drawn by the practitioners' tranquility. He stopped to watch and took many photos.
"I enjoyed today's running because we had the opportunity to run together and with good energy," he said. "I stopped here because Falun Dafa is awesome. I think this way of practicing is beautiful. They look really peaceful."
Santiago praised the universal principle of Truthfulness-Compassion-Forbearance. "Compassion is really important to us now because it's been forgotten by the world and people tend to care more about their own success than about others," he said.
After learning that practitioners in China were persecuted, Santiago said such evil actions should be stopped and he called on people to support and help end the persecution. "What's wrong with peace? There's no problem with peace. Everyone in the world wants to have a peaceful environment. That's the guide to life," he said.
He said he knew that the CCP was lying to remain in power. "Obviously, the CCP persecutes Falun Dafa practitioners because any group in China could pose a threat to the CCP."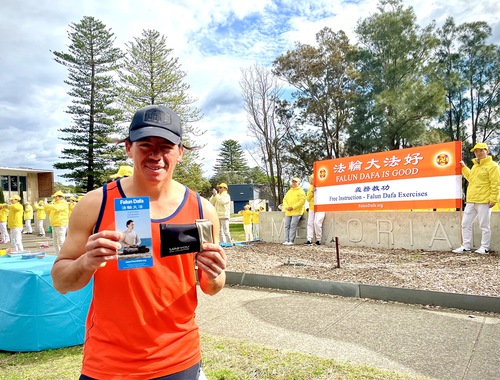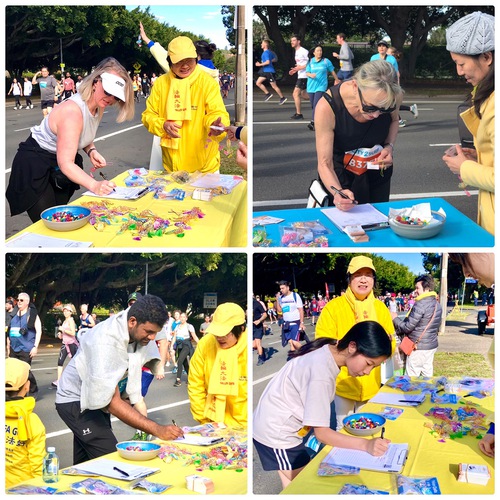 Practitioners Work Hard to Tell People about the Persecution
Local runners Susan and her husband Bryan stopped when they noticed practitioners demonstrating the exercises. They explained that they knew about the CCP's persecution of Falun Dafa, so when they saw the activities, they immediately signed the petition.
Susan praised the practitioners and said, "I think they really work hard to let people know that they are happy to be able to express their will and their voice in a free society and do the things they love to do every day, like meditation."
Susan also said that she and her husband have traveled all over the world, including China, and they were sad about the way the CCP treats human beings. She added, "We love the freedom Australia gives us. We are all independent beings and we are able to express our beliefs and respect the opinions of others. It is never one opinion, it is impossible."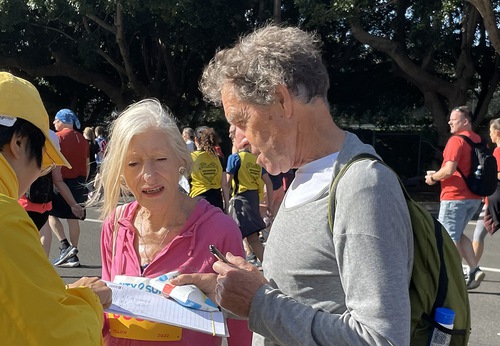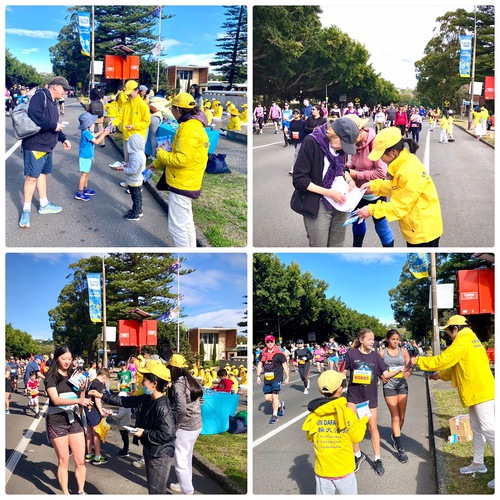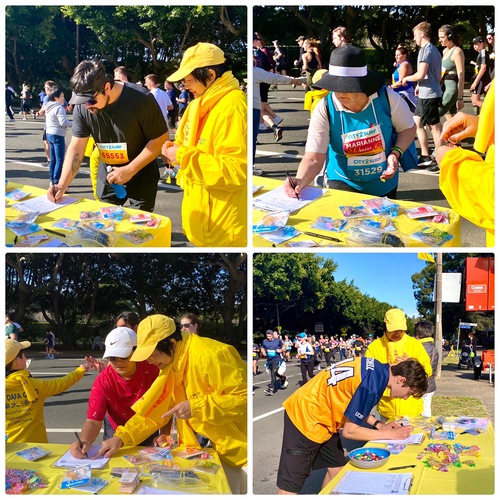 Background: What Is Falun Dafa and Why Is the CCP Persecuting It?
Falun Dafa (also known as Falun Gong) was first introduced to the public by Mr. Li Hongzhi in Changchun, China, in 1992. The spiritual discipline is now practiced in over 100 countries and regions worldwide.
Millions of people who have embraced the teachings, which are based on the principles of Truthfulness, Compassion, and Forbearance, and have learned the five exercises, have experienced improved health and well-being.
Jiang Zemin, former head of the Chinese Communist Party (CCP), perceived the spiritual discipline's growing popularity as a threat to the CCP's atheistic ideology and on July 20, 1999, he issued an order to eradicate the practice.
Under Jiang's personal direction, the CCP established the 610 Office, an extralegal security organisation with the power to override the police and judicial systems and whose sole function is to carry out the persecution of Falun Dafa.
Minghui.org has confirmed the deaths of thousands of practitioners as a result of the persecution over the past 23 years. The actual number is believed to be much higher. Countless practitioners have been imprisoned and tortured for their faith.
There is concrete evidence that the CCP sanctions the harvesting of organs from detained practitioners, who are murdered to supply China's organ transplant industry.
Chinese version available
(Clearwisdom)
Sydney's City to Surf Runners and Supporters Learn About Falun Gong