(Minghui.org) This July 20, 2022 marked 23 years since the Chinese Communist Party (CCP) began to suppress Falun Dafa. Dafa practitioners in Poland held a series of events between July 17 and 24 to tell people about the brutality of the persecution in China and to call for an end to the human rights violations.
The activities included rallies in front of the Chinese Embassy and the parliament building in Warsaw on July 21. Practitioners also demonstrated the exercises, displayed informational posters, and collected signatures in Warsaw's Old Town as well as other cities from July 23-24.
Rally at the Chinese Embassy
Falun Dafa practitioners gathered at the Chinese Embassy on July 17 and 21 to protest the ongoing suppression in China. Many pedestrians stopped to read the information displayed in Polish, English and Chinese. Many people talked with practitioners and took flyers, and some took photos or used their cell phones to look up information about Falun Dafa online.
Similar to practitioners' previous events at the Chinese Embassy, many passersby showed their support. People waved at practitioners, shook hands with them, bowed, or put their palms together in front of their chest as a sign of respect. Cyclists passing by gave practitioners a thumbs up.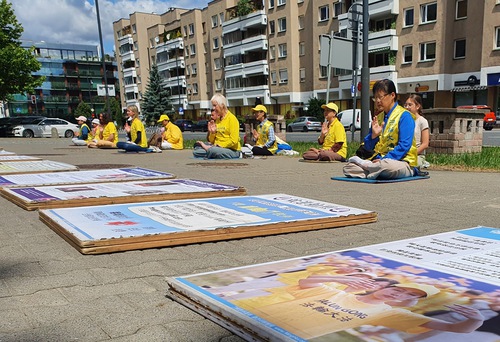 Universal Values
Practitioners put up banners and posters in front of the parliament building in Warsaw to tell passersby about what is going on in China. Many parliament staff members signed petitions to support their efforts to end the persecution, and picked up Minghui Weekly publications as well as videos about Falun Dafa.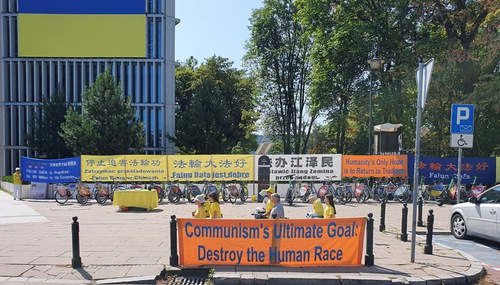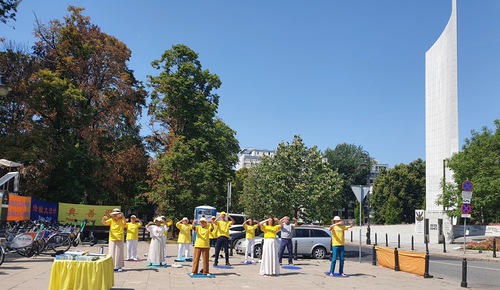 After a parliament member took a flyer in the morning, she came back in the afternoon for more materials to give her constituents. "I will tell them how practitioners [in China] are mistreated for their belief. It is unacceptable that such tragedies still exist in this world," she said.
After a parliament member signed a petition, he talked with a practitioner for a long time to better understand the situation in China. Upon leaving, he accepted a pendant with a lotus flower. Pointing to the words, "Truthfulness, Compassion, Forbearance," he said, "No matter what, these words represent universal values that we have to follow. Thank you very much."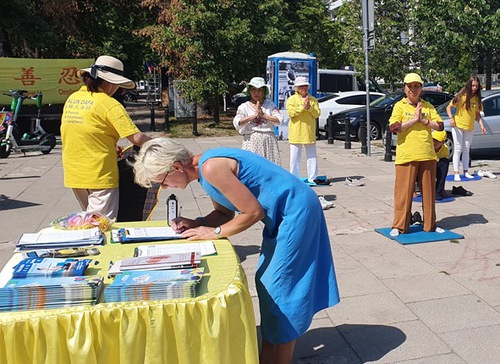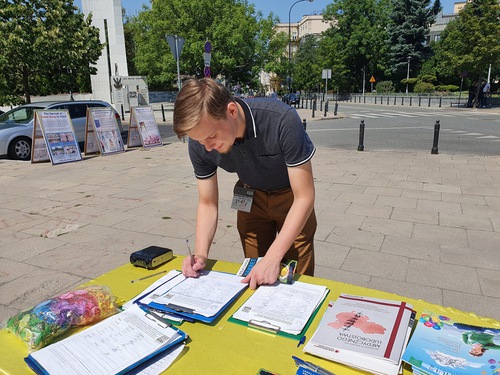 One man signed the petition and talked with practitioners. He took a copy of all of the available materials and said he would look into it after returning home. Several days later, he called a practitioner saying he had started to read Zhuan Falun, the main teachings of Falun Dafa. He said he looked forward to meeting other practitioners and sharing experiences.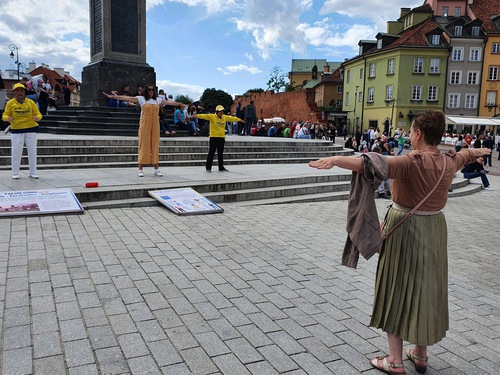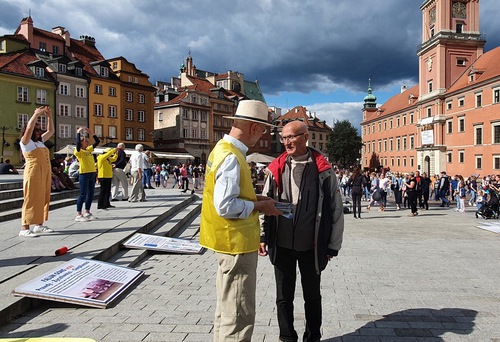 Events at Gdansk
Practitioners also held activities in Gdansk's city centre on July 23 and 24. Located on the Baltic Coast, Gdansk is Poland's primary seaport and the country's fourth largest metropolitan area.
Attracted by the gentle movements and melodious music, many people stopped and watched the practitioners as they did the exercises. Some began imitating the movements and asked where the closest group exercise location was.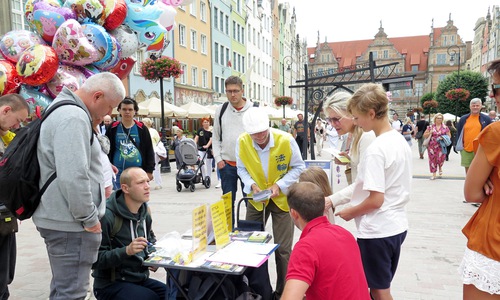 After reading the pamphlets and posters, many people signed the petition calling to end the persecution in China. They said they hoped the persecution would end soon, especially the regime's forced organ harvesting of prisoners of conscience.
Zenobiusz from Warsaw and his wife Bozenna both signed the petition. "We support Chinese people to fight for their freedom," Zenobiusz said. "Keep it up, don't give in to the CCP regime. Truthfulness, Compassion, and Tolerance are great. You're doing the right thing to have us understand the truth."
Mr. Dariusz from Warsaw viewed the display boards and signed the petition. "The CCP is too vicious and we cannot allow it to continue harming people," Dariusz said. "You have my support."
Robert Urbańscy and Agnieszka, husband and wife, live in Gdansk with their son Oskar. "We hope the suppression ends soon because the world needs Truthfulness-Compassion-Compassion," Robert said.
Sławomir Jóźwiak, who lives in Gdansk, noticed the event. He stopped to talk with practitioners and took a copy of the Nine Commentaries on the Communist Party in Polish. He said that communism is against humanity and is against the divine.
Around the world, Sławomir said, communism has left poverty and chaos. "But many people are still not clear on that," he said. "We cannot remain silent on crimes such as organ harvesting."