(Minghui.org) Falun Gong practitioners participated in a carnival parade held in Skegness, a small town in the east of England on August 14, 2022. The parade's theme this year was "A Royal Celebration" to mark the Queen's 70th anniversary as monarch. Many local businesses and organisations participated in the event.
Skegness, a seaside town in the East Lindsey District of Lincolnshire, is the largest settlement in East Lindsey. With a long, sandy beach and an abundance of water attractions, it has become one of the country's most popular holiday destinations.
This was the third time the waist drum team made up of Falun Gong practitioners has performed this summer. Two practitioners carried a "Falun Dafa" (also known as Falun Gong) banner followed by the waist drum team that played several different songs during the parade.
The parade started at Coach Park and followed Richmond Drive, Lumley Road, and Grand Parade before reaching its final destination.
Spectators on both sides of the road, in particular tourists, enjoyed the practitioners' waist drum performances. Many people called out compliments.
One spectator commented on how professional and amazing they were—even their costumes. She had never seen or heard anything like it. When she learned that the group was made up of people who practiced Falun Gong, a traditional mind and body practice, she said, "That's wonderful!"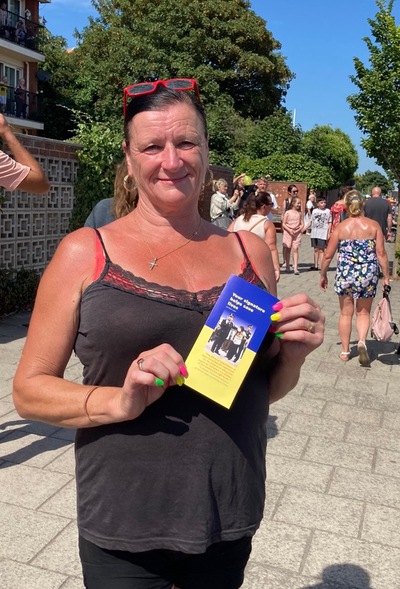 The waist drum team continued to play at Tower Garden after the parade. Several spectators came over to find out about Falun Gong afterward.
One of them said that this was the first time she'd ever seen anything like that and it made her feel very relaxed. Although it was completely different from Western culture, she thought it was great.
Mr. Ed Well and his family were drawn by the beautiful sounds of the waist drums. They wanted to find out more about Falun Gong. When he learned of the persecution in China, he said he was sad to hear that this was happening and thanked practitioners for telling him about it. He also said, "The waist drums are very invigorating."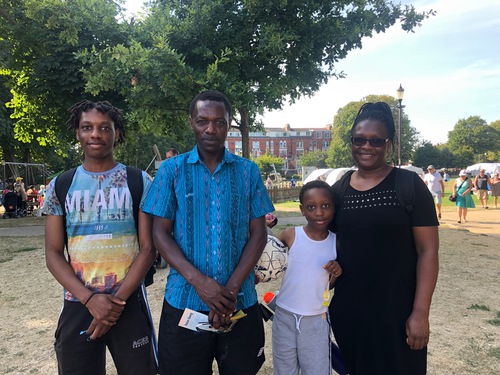 A couple and their son who were attracted by the waist drums said the performance moved their hearts. They thought it was unbelievable that Falun Gong was prohibited in China. The woman even asked why such a peaceful practice was banned. They were shocked by the truth and took a photo with practitioners to show to people they know to support Falun Gong.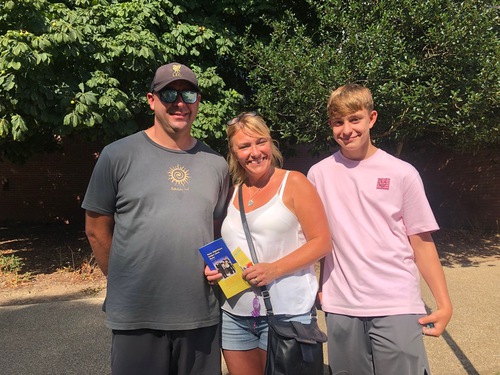 Chinese version available
(Clearwisdom)