(Minghui.org) Falun Dafa practitioners and supporters held a rally at Customs House Square in Sydney on July 8, 2022, to peacefully protest 23 years of persecution. Many people signed a petition to support Falun Gong's efforts to resist the human rights abuses.
Some commented that the principles of Truthfulness-Compassion-Forbearance are beneficial to society and that everyone should follow them. One person said that people will spread the truth by word of mouth through practitioners' peaceful rallies, and justice will be upheld in the end.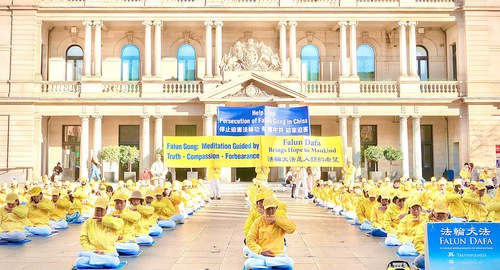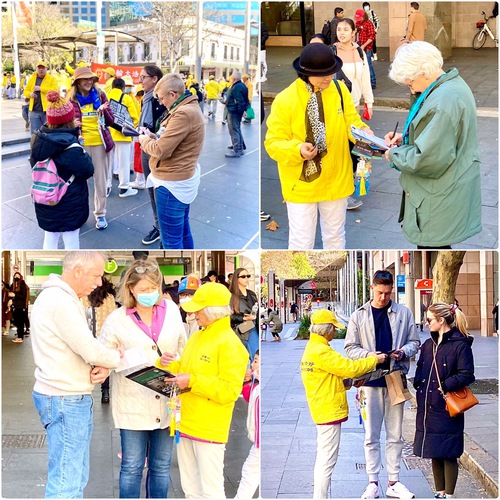 Justice Will Be Upheld
Graeme Geiger, an engineer in Sydney, learned about the Chinese Communist Party's persecution of Falun Gong from reports in independent media. He said the persecution was a violation of practitioners' human rights.
"From the protests held today, I see this is a non-violent, peaceful resistance. They are meditating tranquilly. They are only showing people what is happening to people in China. They continue to present the facts to the world using peaceful, rational means," he said.
When Mr. Geiger learned that detained Falun Gong practitioners in China are killed for their organs, he said, "I realise that the CCP's crimes of organ harvesting are unjust. If more people around the world learn about it, it wouldn't continue. I think many people will stand up to oppose the regime and think about whether they want to do business with such a government.
"I think it is important that we support organisations like Falun Gong. They expose the truth and provide real information, and people can make practical, accurate judgments based on facts and not government propaganda," he said.
Graeme said that Falun Gong's peaceful protest rallies will result in people spreading the truth by word of mouth and justice will be upheld in the end.
"I plan to tell people what I heard and saw today," he said. "I will also tell my younger sister. I want them to pass this on and discuss these things. Just like we change a person's opinion through talking to them here or showing them the truth, these people can in turn change another person's mind. In the end, those suppressed by governments around the world can gain support, and justice will be upheld."
Truthfulness-Compassion-Forbearance Is Beneficial to Society
Sam Parker, a professional rugby player from Melbourne, said, "The principles of the universe, Truthfulness-Compassion-Forbearance, are beneficial to society. We need kindness every day.. This helps everyone experience a great life and people around the world will be more tolerant of one another and grow up healthy and happy."
After he learned about the CCP's organ harvesting he said, "I think this is a terrible suppression. The CCP is truly evil and it makes one uneasy. They have no right to persecute their own people. I believe everyone should be treated equally, everyone should enjoy their best life."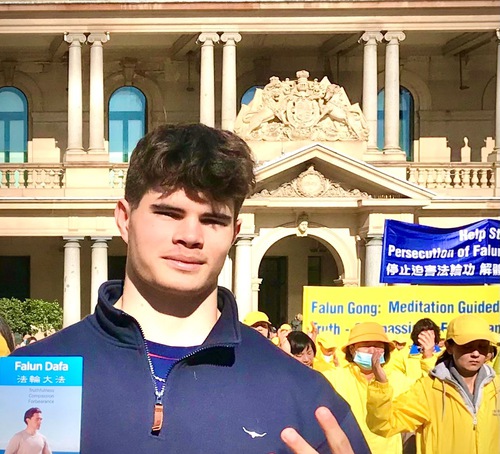 Loren Baba, a Christian, watched practitioners demonstrate the five exercises. She said, "Everyone should follow Truthfulness, Compassion, and Forbearance. Compassion is the key to keeping one's body and spirit healthy. It is wonderful to be able to maintain a peaceful and relaxed mindset. It is great to have such good character!
"It is illegal for the CCP to take Falun Gong practitioners' organs without consent, and this is evil. Everyone has the right to live. I believe God will help these people. God gave us life, and humanity should respect Him," she said.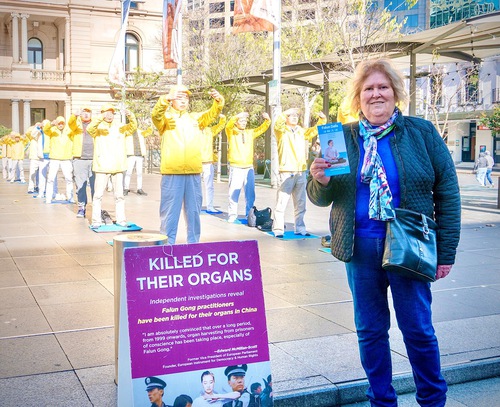 Lakeshier Holt is a barista who was passing by when she saw the activities at Custom House Square. She said, "I think Falun Gong is amazing. It is good for one's physical and mental health.
"I think following Truthfulness, Compassion, and Forbearance is good for sure. It will stop people from committing crimes and other terrible deeds. It will enable everyone to live in peace and happiness. I hope you can do more to show the world how wonderful Falun Dafa is and help more people benefit from the practice. I also hope you hold more of such events so that people will learn the truth and pass this on to others. Supporting Falun Gong is resisting the atrocities and stopping this persecution."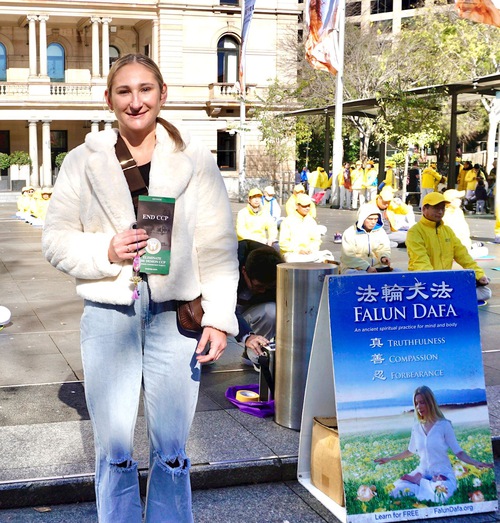 May Justice and Conscience Be Passed Down from Generation to Generation
Helen Heap told her daughter about Falun Gong after she saw practitioners talking to passersby. Helen said she hopes justice and conscience will be passed down from generation to generation. She had learned about the persecution in news reports and documentaries.
"I think everyone should follow Truthfulness-Compassion-Forbearance. I also think Falun Gong practitioners are very courageous for promoting the practice in China," she said.
"In China, Falun Gong practitioners do not do anything to harm others, yet they are innocently suppressed. We cannot understand this in a free country. We don't know how someone can be thrown into jail and tortured for this. It is terrifying. But this is what the CCP does. However, other countries in the world won't tolerate such actions.
"Your peaceful protests are very important. It helps to spread the truth in democratic countries and exert pressure on the regime to end this persecution," she said. "I think Falun Gong is very brave and you should continue your protests. I think this aligns with your conviction. You will not give up, because the truth will prevail. Please keep up your efforts!"