__________________________________
(Minghui.org) Shen Yun Performing Arts presented 22 performances in seven cities in Italy, France, and the United States from June 5–12, 2022.
"Will Lead Us to Eternity and Heaven"
Physician couple Salvatore Ruggeri and Maria Teresa Francavilla saw Shen Yun in Milan, Italy, on June 10.
"What Shen Yun brought us is a yearning for a supernatural future world," Dr. Ruggeri said. "We're people with faith. Our life comes from the Creator, and we will again return to be with him. People's being in the mortal world is only a short transition, a brief transition toward eternity. Of course, the Creator would also come help us so we could go back to him in the best way.
"The beautiful dancing, harmonious and wonderful images, vivid colors, and infinite brightness in the show will all lead us to eternity and heaven. And Shen Yun's last animated backdrop also showed this theme," he said.
Dr. Francavilla also enjoyed the performance. "This show is very important for us with respect to concepts related to divinity. It is especially important today than any other time in the past, because we probably think too much about shallow things in real life. And for us, it is very important to undergo deeper thinking on the meaning of human life," she said.
"A Magnificent Message of Hope"
Aesthetic trainer Mariagrazia Russo saw Shen Yun in Milan, Italy, on June 11. "The last program was the part that made me emotional. The energy emitted was very powerful. It made us feel full of hope for the future. Hope for this difficult time that we live in exactly contains the message of salvation among the difficulties. Just as the tenor sang: we found divinity in the performance. Only if we return to where the divine are will we understand that we can save ourselves. Return to our inner divinity and let us make a difference and help each other," Ms. Russo said.
"Extremely beautiful! Very touching. The end of the show was the most beautiful part. During these difficult moments, [we] see the dawn of victory. "The performance brought us a magnificent message of hope. This was delivered in all the dance movements. Every moment conveyed a message of victory and compassion, message of returning to brightness, a sacred message, a message of divinity. This is everything I got," she said.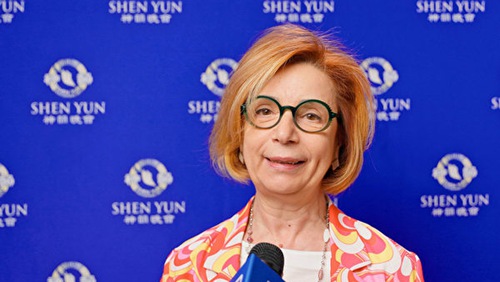 "I Can't Express How Much I Enjoyed It"
Cheryl Streiff, Senior Lecturer at the University of Central Arkansas, and her husband Scott Luchesi, an independent insurance professional and the former President and CEO of Garden State Life. The couple drove 17 hours to see the performance.
"It's like a painting. It's like you're watching a visual painting and dance. It was really beautiful. I can't express how much I enjoyed it. It was really fabulous," Ms. Streiff said.
"I think that the stories are so important because of the messages that they give. And, you know, people are people all over the world and it's really wonderful to feel the heartfelt kind of message of compassion, and also trying to do the right thing in daily life. And watching the heroes struggle with evil and with forces of darkness and be triumphant, it's very inspiring.
"I think that's the message of hope that there's a higher power and a higher light. I think that's really beautiful. I was very inspired," she said.
Speaking of the piece, "The Story of Lady Wang Zhaojun," she said, "For me, it was a story of sacrifice and acting for the common good, instead of just what she wanted to do. That was a choice that she made, a very noble choice."
She also saw the beauty of balance in classical Chinese dance. "Which is [the balance between] yin, yang, which I think we all have in nature and in the world and among people. And that balance, when it gets out of balance is when things go so terribly wrong. So I loved watching the balance of the dance and the music. And it was all very balanced. That's part of the message I think right?" she said.
Mr. Luchesi also shared his feelings. "It's an incredible thing to watch. It's unique, just totally beautiful," he said.
"I love the fact that you have retained traditional Chinese dance and performance. I love the stories that are told. And I'm really grateful that you come up with a way to retain a lot of the Chinese history, that would've been wiped out entirely by the communist regime," he said.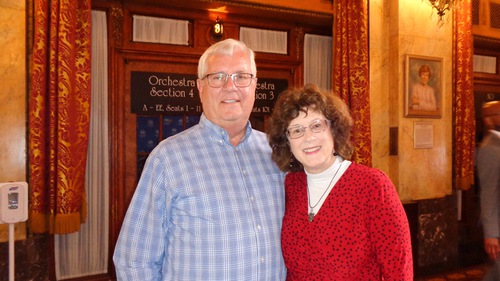 "Really Important for the World to See"
Mary Celani, formerly in media and currently a business co-owner, and Scott Celani, a musician and business co-owner, saw Shen Yun with their children in Buffalo, New York, on June 10.
"We love it… The dancing is unbelievable, the costumes are beautiful. It's just, it's stunning," Mrs. Celani said.
In regards to the lyrics from one of the bel canto pieces, Mrs. Celani found the message to be very impactful.
"The line where it says… 'you can't take your personal belongings or material things with you to the other side' really makes you stop and think about what's important in life… And I think that's the message I'm taking away tonight… to continue to just embrace," she said.
"If we could all just love each other, and just continue to respect one another, and cheer for one another… then the world would be a better place," she added.
Mr. Celani said that he and his wife chose to see this year's Shen Yun production because it promoted the traditional culture of China before the destruction by the Chinese Communist Party (CCP).
"I think the CCP is one of the worst things on Earth right now… That's why we came to this. I really appreciate that [Shen Yun's] showing the world what Chinese culture was like before," Mr. Celani said.
"The history is very rich and the message is very positive. And right now, there aren't a lot of positive messages coming out of China… So this kind of message… is really important for the world to see," he said.
Mrs. Celani was impressed with Shen Yun's courage to showcase the ancient Chinese traditions worldwide despite the dangers and threats from the CCP. "We're so glad that these folks who train so hard in New York are traveling so that all of us can just get a little taste of it," she said.
In regards to the pandemic and the decreased quality of life many experienced during the lockdowns, Mr. Celani believes that the spiritually uplifting messages and energy of Shen Yun are important to restore hope.
"There are some people who have been broken by the pandemic, and I think all the shutdowns did a lot more damage than they did good. And I think the message that [Shen Yun] conveys, the energy that [they] convey is very important. Especially for people in the most oppressed nations and cultures right now… it's uplifting," he said.
The Celanis' two daughters were also in the audience, and are both studying dance. The eldest, who is dancing competitively, left inspired by the professionalism and skills of the Shen Yun dancers.
Mrs. Celani said, "I could just see her up there, just staring and watching it, and she said that [it] was absolutely beautiful."
"And then on top of that," added Mr. Celani, "seeing the professionalism of the dancers, I think that inspires her because she works really hard at dancing… So seeing dancers at this level is very inspirational."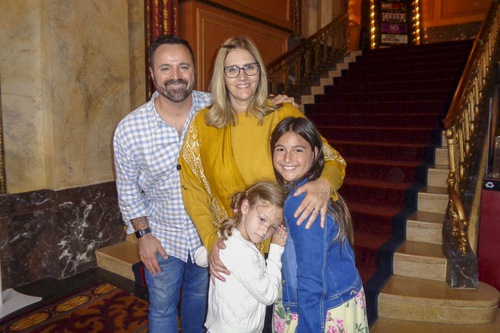 "You Have to Come See the Performance"
Company owner Noël Dardoise saw Shen Yun in Montpellier, France, on June 6.
"Wonderful! Wonderful! Gorgeous colors, beautiful music. It shows the virtue, talents, and wisdom of the Chinese people. Whether it's from an artistic angle or the aspect of the movements and techniques, it can definitely be called perfect," Mr. Dardoise said.
"China's ancient traditional culture is very complete. But you can't feel it anymore when you go to China. But here, Shen Yun has revived Chinese culture. We got back the root of the entire culture, the root of life, the core of life. The vastness and profundity of Chinese traditions made our body and mind tremble and resonate along. Shen Yun allowed us to live differently, outside of political conflicts. You have to come see the performance, and learn about this culture that we don't know about," he said.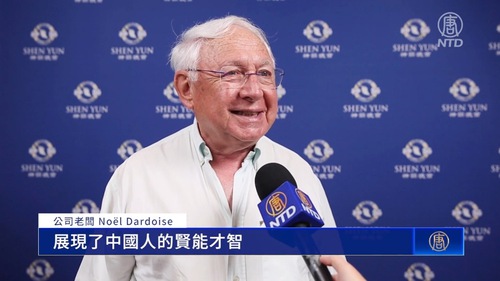 **********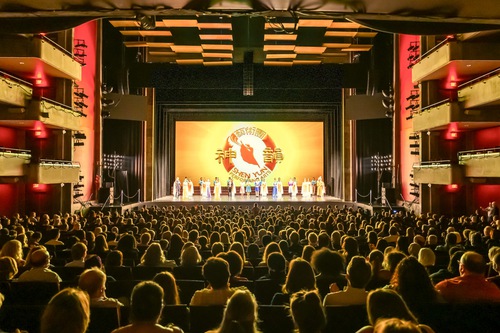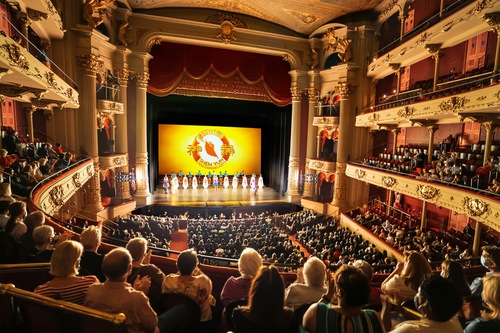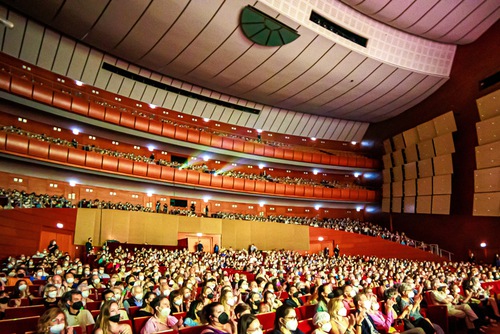 Upcoming Performances
Shen Yun continues its 2022 tour with upcoming performances in:

Palermo, Italy, June 17–18
Parma, Italy, June 21–23
Verona, Italy, June 25–26
Kaohsiung, Taiwan, June 21–25
All content published in this article are copyrighted by Minghui.org. Minghui will produce compilations of its online content regularly and on special occasions.