_______________________________________
(Minghui.org) Falun Dafa practitioners held activities on Princes Bridge in Melbourne on April 25 to mark the 23rd anniversary of the April 25 appeal in Beijing in 1999. They displayed informational boards about the Chinese Communist Party's (CCP) persecution and distributed materials.
Mr. David Limbrick, a former member of the Victorian Legislative Assembly, came to express his support for Falun Dafa practitioners' peacefully protesting the persecution.
April 25 is also Anzac Day, an Australian public holiday, which commemorates and honors soldiers who have served the country. Princes Bridge was crowded with tourists and locals that day. Practitioners told them about Falun Dafa and how the CCP has persecuted the spiritual practice for 23 years.
Ms. Oanh, a practitioner from Vietnam who started practicing Falun Dafa there two years ago, pointed to the banner she held and said, "We always hold free classes to teach the exercises and introduce people to Dafa."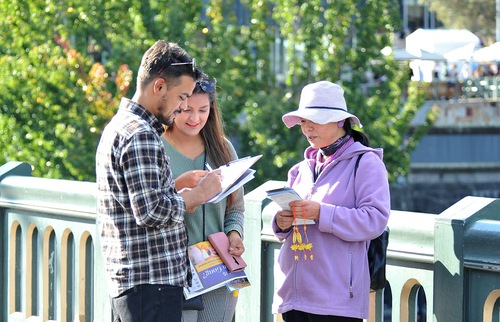 Candidate for Federal Senate: It Is Important to Let Australian People Learn the Truth
Mr. David Limbrick, who is running for the Senate on behalf of the Liberal Democratic Party in Australia in May this year, and Damian Willis, another candidate, both came to show their support. Both of them said that it was important for Falun Dafa practitioners to hold such an event.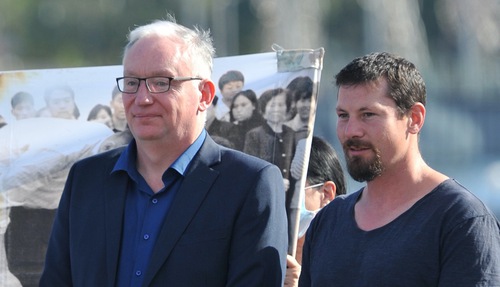 Mr. Limbrick said it was important for people to understand what's going on, and to hear stories and reminders from the victims of the persecution, calling attention to the CCP's evil deeds. "People have the right to express themselves, and it's really important to have a clear understanding of what's actually happening in China," he said.
He also said that April 25 appeal was meaningful because it let the world know about Falun Dafa. The persecution is terrible.
Mr. Limbrick, who resigned as a member of the Victorian Legislative Assembly a few weeks ago because of his participation in the federal election, said that he had heard from many Falun Dafa practitioners about the persecution. He indicated that Australia should exercise more caution in the supply chain of Chinese-made products given the CCP's application of forced labour in the persecution of Falun Dafa and other groups.
He also said, "I support freedom of belief. Truthfulness-Compassion-Forbearance should be followed by all people. It is a very good moral concept for life."
Mr. Damian Willis, the Liberal Democrat candidate for federal MP for the Dunkley constituency in Victoria, said, "Today's event will make more people aware of the persecution. Internationally, we really need to pay close attention to what the CCP is doing."
He said he often passes by the Falun Dafa practice site which is located in a famous seaside scenic spot. He said, "Falun Dafa practitioners are absolutely peaceful people. I can't imagine anyone wanting to persecute such a group of people. So I will speak out for them as much as possible."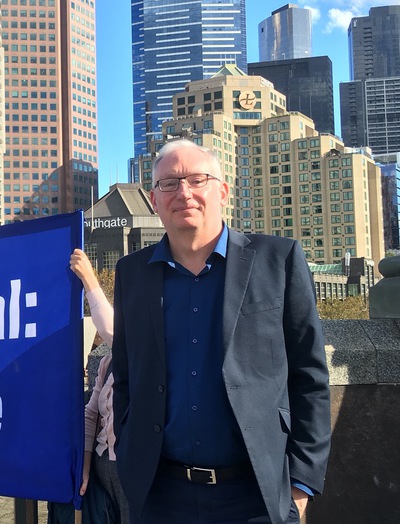 The Courage in the April 25 Appeal Is Encouraging
Varen Goyal, a credit analyst working for one of Australia's largest commercial banks, stopped when he passed Princes Bridge that day and signed the petition to end the persecution.
It was the first time he's heard about Falun Dafa and the persecution. He said, "The persecution of a peaceful group, which started after a peaceful petition and lasted for 23 years, shocks me. This is very wrong. Everyone should have the right to express his feelings and beliefs in public. Falun Dafa practitioners are here to tell the people what happened, which is great." He said he signed the petition because he wanted to help stop the persecution.
Goyal also said that the petition of 10,000 people was encouraging. "After the Tiananmen Massacre on June 4, 1989, there were still such a group of people gathering and expressing their demands peacefully, which is inspiring and encouraging. They faced a very difficult situation. The authoritarian government never allows people to express their feelings freely."
He wished everyone could find a way to help stop the persecution after learning what happened. He said he would learn more about Falun Dafa. Before leaving, he asked where the nearest Falun Dafa practice site was and said he wanted to experience it for himself.
Veteran: Human Rights are a Universal Issue
David, a veteran and human rights activist who served in the Australian Army in the 1970s, supported the commemoration that day. He said, "Today is a special day that represents the spirit of Australians fighting for freedom. Because of this, I find it very meaningful to see practitioners' petition today revealing the horrific persecution taking place in China."
He emphasised, "Human rights are a universal issue that everyone should be concerned about at all times."
Jacob, a Melbourne university student majoring in journalism, went to the Princes Bridge to take photos that day to complete his homework. He was drawn by the practitioners' event and stopped to talk with them.
Jacob said, "This peaceful petition has revealed to us the political and social oppression that is taking place in China. There are many human rights issues in China, such as organ harvesting, forced labor camps, etc. which are chilling. But there is a lack of sufficient attention and reporting about this across the world."
"So many people come out and express their demands peacefully. It is an inspiring act and a constant pressure on the CCP. I hope their demands will be successful."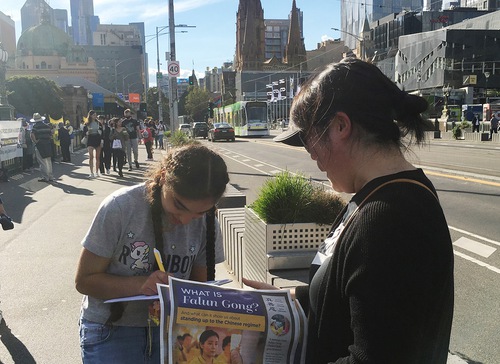 Views expressed in this article represent the author's own opinions or understandings. All content published on this website are copyrighted by Minghui.org. Minghui will produce compilations of its online content regularly and on special occasions.