______________________________________
(Minghui.org) May 13, 2022, is the 30th anniversary of Falun Dafa's public introduction and the 23rd World Falun Dafa Day. To mark the occasion, elected officials from various provinces and cities in Canada have offered heartfelt congratulations in the form of letters and videos. They commend the benefits of Falun Dafa to the world.
Lieutenant Governor of Ontario: "Communities Rooted in Spirituality Have Played an Important Role in Building the Social Fabric of Our Province"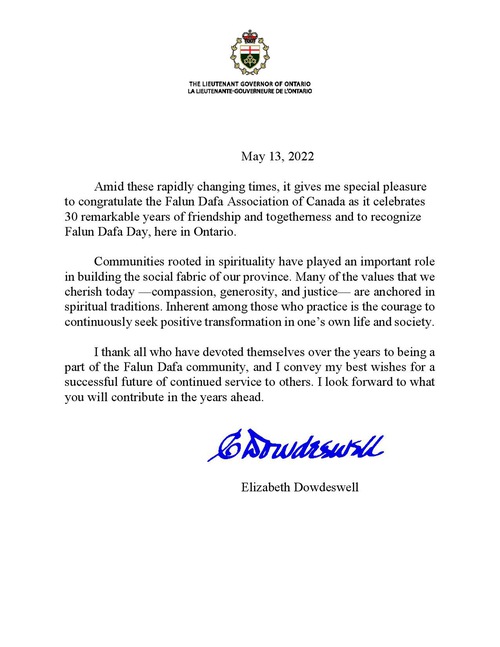 "Many of the values that we cherish today – compassion, generosity, and justice – are anchored in spiritual traditions. Inherent among those who practice is the courage to continuously see positive transformation in one's own life and society," stated Elizabeth Dowdeswell, the Lieutenant Governor of Ontario.
Lieutenant Governor of Province of Saskatchewan: "Truthfulness-Compassion-Forbearance Are Needed"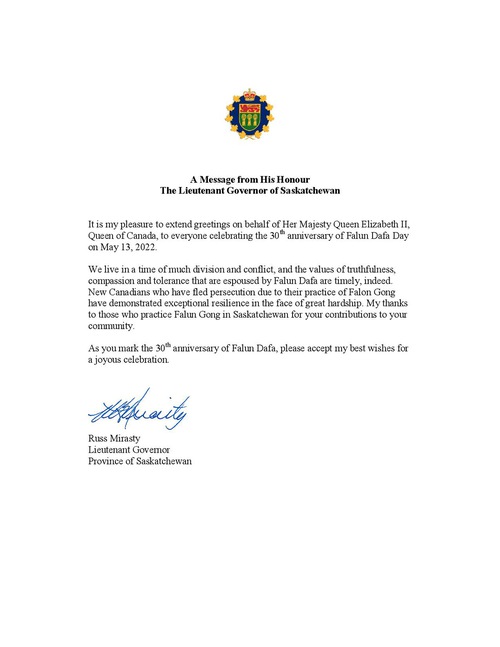 Lieutenant Governor Russell Mirasty wrote, "We live in a time of much division and conflict, and the values of truthfulness, compassion, and tolerance that are espoused by Falun Dafa are timely, indeed. New Canadians who have fled persecution due to their practice of Falun Gong have demonstrated exceptional resilience in the face of great hardship."
The City of Saskatoon Proclaims Falun Dafa Day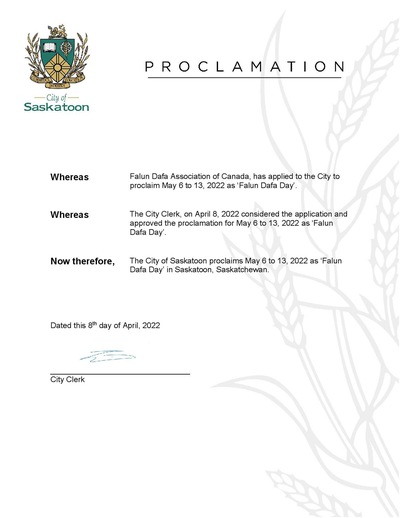 The City of Regina Proclaims Falun Dafa Day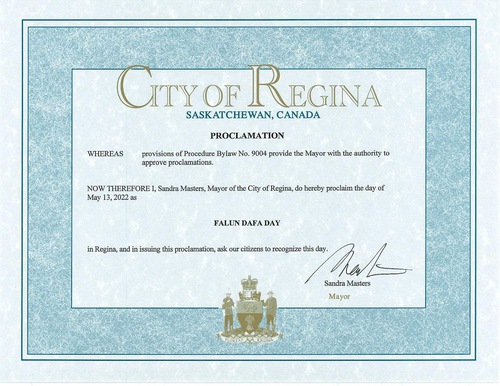 MPP of Ontario Congratulates Falun Dafa Day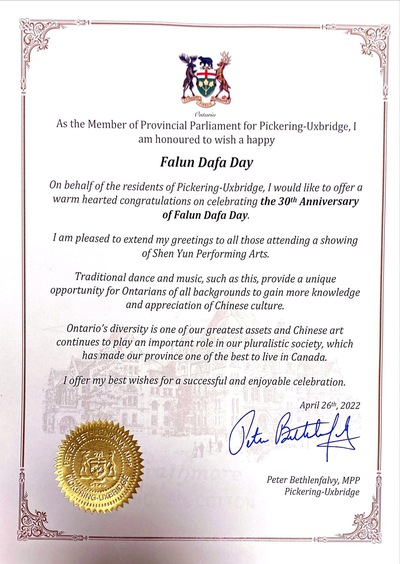 "On behalf of the residents of Pickering-Uxbridge, I would like to offer a warm hearted congratulation on celebrating the 30 th Anniversary of Falun Dafa Day," stated MPP Peter Bethlenfalvy in his letter.
"Ontario's diversity is one of our greatest assets and Chinese art continues to play an important role in our pluralistic society, which has made our province one of the best to live in Canada"
MPP Sam Oosterhoff: "Thank You for the Work You Have Done"
MPP Sam Oosterhoff said in his video message, "Congratulations to the Falun Dafa community on celebrating 30 years. It is an immense occasion. Thank you for the work you do to bring forward the shared Canadian values of forbearance, tolerance, and religious freedom. It is so important that religious communities are able to express identities in Canada, That is something we celebrate. I extend my gratitude to you all and my deep congratulations on this important anniversary."
Mayor of London, Ontario, Proclaims Falun Dafa Day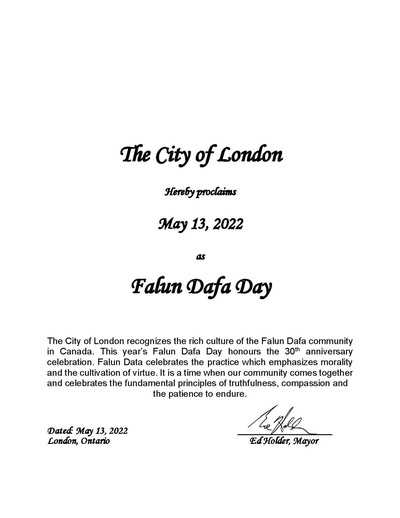 The proclamation reads, "The City of London recognises the rich culture of the Falun Dafa community in Canada. This year's Falun Dafa Day honours the 30 th anniversary celebration. Falun Dafa celebrates the practice which emphasizes morality and the cultivation of virtue. It is the time when our community comes together and celebrates the fundamental principles of truthfulness, compassion and the patience to endure."
Mayor of Fredericton Thanks Practitioners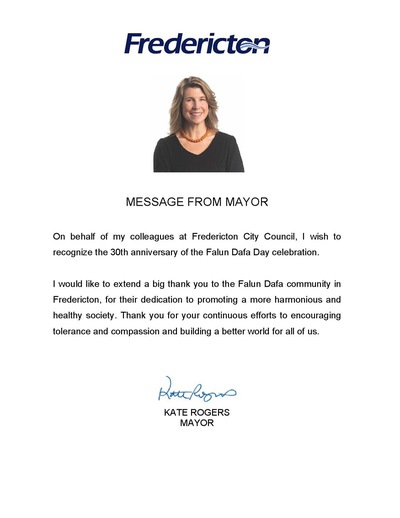 "I would like to extend a big thank you to the Falun Dafa community in Fredericton, for their dedication to promoting a more harmonious and healthy society," wrote Mayor Rogers in her letter. "Thank you for your continuous efforts in encouraging tolerance and compassion and building a better world for all of us."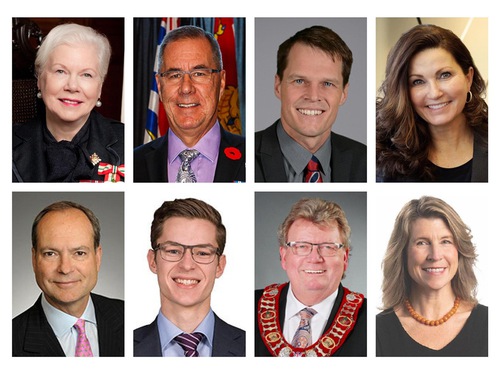 Background: What Is Falun Dafa?
Falun Dafa (also known as Falun Gong) was first introduced to the public by Mr. Li Hongzhi in Changchun, China in 1992. The spiritual discipline is now practiced in over 100 countries and regions worldwide. Millions of people who have embraced the teachings, which are based on the principles of Truthfulness, Compassion, and Forbearance, and learned the five gentle exercises have experienced uplifted health and well-being.
Views expressed in this article represent the author's own opinions or understandings. All content published on this website are copyrighted by Minghui.org. Minghui will produce compilations of its online content regularly and on special occasions.
11 total views