__________________________________________________
(Minghui.org) Falun Dafa practitioners from Taichung, Changhua, Yunlin, and Nantou gathered at Chih-Yung Senior High School on March 20, 2022. They read the Falun Dafa teachings and discussed how to follow the principles of Truthfulness-Compassion-Forbearance in their daily lives.
Letting Go of Resentment
Caining said it took her some time to eliminate negative thoughts and resentment. She and her husband met each other two months before they married. Her husband's parents were reluctant to accept her and her husband's sister criticised her behind her back.
Once when her parents-in-law went out, Caining suddenly had a terrible thought, which alarmed her: "How could I have such a scary thought? I always considered myself a kind person who would not harm others," she explained, "So I did not understand where the bad thought came from." As she continued to read the teachings, she learned it was thought karma.
She looked back on her life trying to find the root of the problem. Her father passed away when she was young, so she and her sister were raised by their grandmother. Life was tough and they suffered from malnutrition for years. But she never resented her fate. By reading the teachings she gradually learned that a person may accumulate lots of human notions and ill thoughts.
As a Falun Dafa practitioner, Caining knew what to do. "Whenever the bad thoughts would arise, I refused to go along with them and tried to align myself with Dafa's principles," she said, "I know all these are part of cultivation – eliminating karma and constantly improving myself." Little by little, the situation improved. "I was able to let go of resentment and jealousy. Both my mind and body felt light. Everything is so much better now," she added.
She invited her parents-in-law and her husband's sister to watch the Shen Yun Performing Arts performance. The family relationships became better than ever.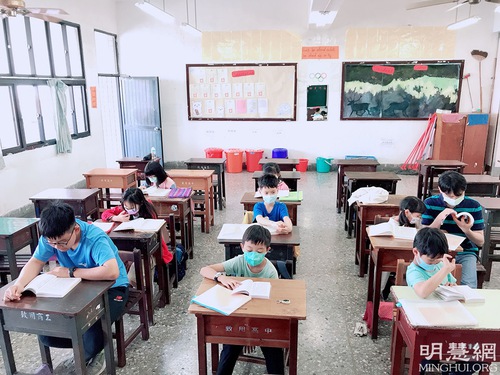 "My Husband Often Says He Is Very Thankful for Falun Dafa"
Ms. Wu Zihui and her husband are both IT professionals. In their 30s, they have three children to raise, plus they are busy at work and have household chores. The pressure was overwhelming, causing Ms. Wu to frequently get angry and lose her temper. Their marriage nearly fell apart. Almost every day she scolded the children, complained to her husband, and talked about divorce. With her strong personality, she would not yield or apologise even when she was in the wrong.
Ms. Wu noticed a group of people meditating at a park near her home about two years ago. She was drawn by the golden banner with the words "Falun Dafa." She searched for Falun Dafa information online, and saw a link to a video in which a Western practitioner shared his story. "That practitioner said the practice not only gave him good health, but also helped him to be a better person," Ms. Wu said, "Thinking about my bad temper, I decided to give it a try."
After she began practicing and conducting herself based on the principles of Truthfulness-Compassion-Forbearance, she said many things changed. For example, she became more considerate and forgiving of others. "In the past, I always thought we all had equal rights, and why should a woman need to do more for the family and also take care of the children? Now I know people should look at things based on traditional values and I am clear on what I should do."
As she began to change, the family also became more harmonious. "A friend told me that my husband often says he is very thankful for Falun Dafa." Although he does not practice, her husband is considerate of others. He also took information about Falun Dafa to work and shared it with his coworkers. He recommended that they attend the Shen Yun performance and praised its traditional values.
Since childhood, Ms. Wu said she was curious about life. She had many questions but no one could answer them. She often dreamed she was a fairy who descended to the human world. "It is Falun Dafa that connects all this and points out a path for me to return to my origin," she said.
To share the information with more people, she and her three children have started a group practice site at the nearby Wen-Xin Forest Park. "I hope more people and more families can benefit from the practice like us," she added.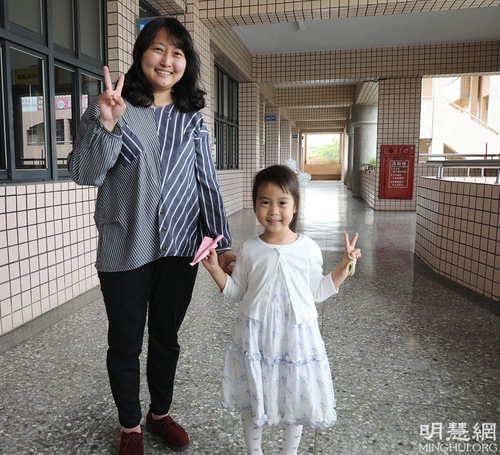 Worry-Free Children
Educating children is a priority – and sometimes a headache – for parents. Ms. Li Yunzhen, a financial professional with 18 years of experience in foreign exchange, cannot agree more. "Looking around today's society, many kids are out of control and their parents feel helpless," she said.
She explained that is why she sent all three children to a Minghui School. By reading the Falun Dafa teachings and doing the exercises with other children every day, they are now well behaved. "They know what is right and what is wrong, and they also have good self-discipline, which makes them get along with others well," she said.
"Weishan is a good girl," teachers at Minghui School also praise her. One of Ms. Li Yunzhen's twin daughters, Weishan is more mature than her peers and she does not move around during meditation like the other kids. "Both of my twin girls are doing well – both in coursework and personality," Ms. Li said, "Considering themselves practitioners, they know what to do and what not to do. So I do not worry about them."
Weishan agreed. As soon as she could read she began reading Hong Yin (a collection of poems by Mr. Li Hongzhi, Falun Dafa's founder). "I learned a lot from that and other Falun Dafa teachings. It was a rewarding experience."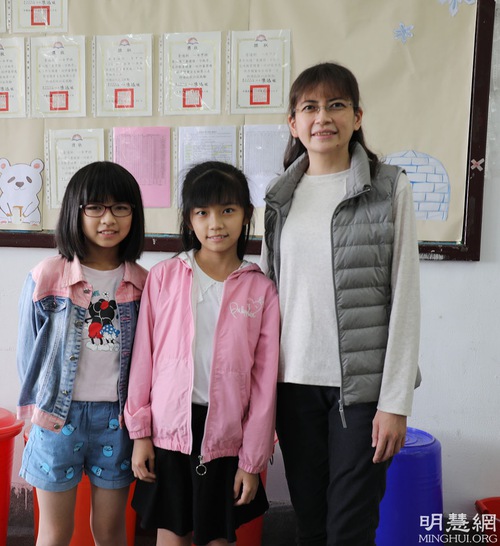 Looking Within
Ms. Huang Xiuying, who lives in suburban Taichung, said, "Practitioners should constantly look inward to make progress." She met a practitioner who began to practice seven months ago. "I actually learned a lot from her because she is a very diligent practitioner," she said.
Another time, Ms. Huang needed to work with practitioner Lan on a project. Thinking that Lan had some shortcomings, Ms. Huang found it difficult to work with her. It was especially so as time went on and the project encountered difficulties. In the end, Ms. Huang complained to the project coordinator and asked why Lan did not improve after being given many suggestions. "I forgot that I was a practitioner too, and nothing I encounter is accidental – they are opportunities for me to look within and improve as well," she explained.
Realising that it was wrong to focus on Lan's negative side, Ms. Huang changed her mindset. She noticed that Lan had a lot of forbearance and she sacrificed much for the project. "I was so happy when I realised this. The next time I meditated I was very comfortable," she said.
She added, "I learned a lot from this experience. Only when we look within are we genuine practitioners who can see how profound Falun Dafa's teachings are."
Views expressed in this article represent the author's own opinions or understandings. All content published on this website are copyrighted by Minghui.org. Minghui will produce compilations of its online content regularly and on special occasions.