_____________________________________________
(Minghui.org) During the week of February 15–20, 2022, the New York-based Shen Yun Performing Arts presented twenty-six performances in five cities in four U.S. states (Washington, D.C., Texas, South Carolina, and Missouri) as well as Nantes, France.
"There Is Something Divine"
Paule Persil, a calligraphy artist who has held the prestigious tricolor collar of Meilleur Ouvrier de France (MOF) ("best craftsman of France") since 2019, saw Shen Yun in Nantes, France, on February 15.
"It's marvelous in terms of rigor and art… I am extremely sensitive to all the perfection, the colors, the staging, this rigor, which makes it possible to have the absolute, the divine, the sacred… the sense in which I work," Ms. Persil said.
She explained that she felt, in her own way, the presence of deities on stage. "It's a feeling… Divinity passes through beauty, aesthetics, grace." she said.
A follower herself of meditation, which helps her achieve excellence in her art, Ms. Persil also expressed her thoughts on the persecution experienced by Falun Gong practitioners portrayed on stage.
"It's by persisting in showing yourself again and again… Besides, there is a scene of persecution in relation to meditation and you have to persist very strongly and even more now… There can be very beautiful things that can to arrive, but you have to cross, you have to manage to cross!" she said.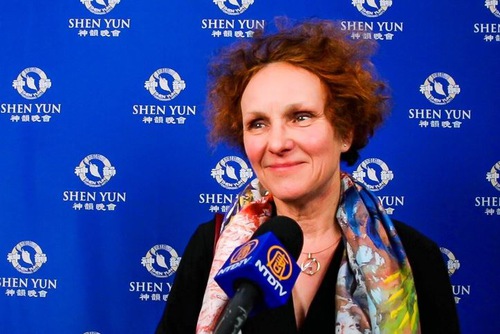 "Splendid and Powerful"
Élias Urbina, a music teacher and bass trumpet player, and his wife saw Shen Yun in Nantes, France, on February 19.
"I play at opera and ballet orchestras. The content expressed by Shen Yun's orchestra is very rich. I as a musician have never seen anything like this. It's splendid and powerful. Very incredible and amazing," Mr. Urbina said.
"I've never seen this kind of artistic expression before. I've been playing in orchestras for quite a while, mainly for ballets and operas and classical orchestras. I rarely get to see performances that can combine traditional orchestra and traditional instruments so well. Yet Shen Yun was able to do it so perfectly. The conductor is amazing, very outstanding," he said.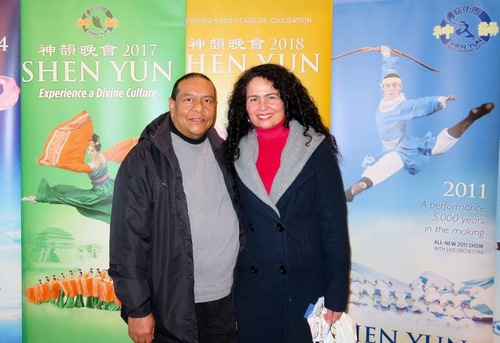 "Every Movement Carries Strong Energy"
Sandra Jones, the founder of a dance school, saw Shen Yun in Corpus Christi, Texas, on February 15.
Ms. Jones has seen Shen Yun before and knew that Shen Yun dancers' movements are "extremely precise" and they "have complete control over each movement, including jumping and tumbling while moving fast."
This time, she felt the strength of the performers as a team. "[The] group works together so well and they're so powerful that they're pushing their energy forward to us so it comes off the stage. Every move they make, their energy, and they're so well trained that they are going to push all the energy towards their audience," she said.
She was also impressed by the energy of the Shen Yun performers as well as the atmosphere in the theater. "It's very obvious that they are bringing their passion forward. And it's very beautiful. I can tell [because] I'm sitting kind of in the middle of the audience. And I can tell that everybody loves it, so it's great. You have a very big audience here in Corpus Christi," she added.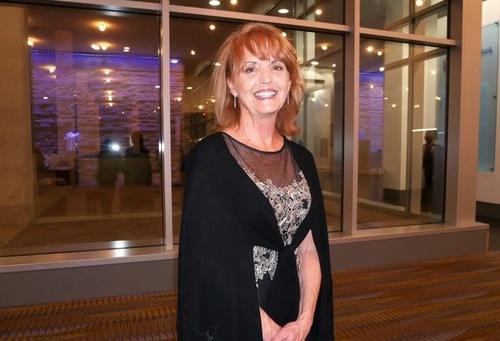 "I Feel Charged"
Malgorzata Nowacka-May, a dancer, choreographer, producer and Artistic Director of The Chimera Project, a contemporary dance company, saw Shen Yun with Robert May in Corpus Christi, Texas, on February 15.
"The performance is incredible. It is amazing to see the amount of artistry that is there. But it's also incredible to see how they're bringing this cultural gift to us," Ms. May said.
"The dichotomy of the softness with the strength, and that ability of shift from one end to the other, it's so powerful in the movement. So I don't know if that is the message I was supposed to get – be able to balance those things in ourselves. That's what I'm getting from it.
"I feel charged because the physicality is so intense. The things they're able to execute are incredible, and take such a huge dedication to the craft.
"I also love the content… Especially the dance about oppression and suppression of faith. It's very powerful, and I hope that a lot of people are able to correlate the message that it's bringing today," she said.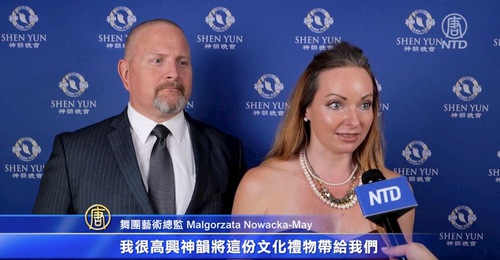 "Rich in Spirituality" 
John Cardwell and his wife Beverly saw Shen Yun in San Antonio, Texas, on February 20.
"[The performance] is very spiritual. It takes you back into the early times of China. It brings us all together before the Communist Party when we were more like one another. Today the Communist Party is dividing people from their traditions. And it's very unfortunate. But I'm glad that Shen Yun is here so that we can have a glimpse back into the past and hopefully into the future," said Mr. Cardwell, a realtor, the Secretary of the Alliance for Technology Education in Applied Math and Science (ATEAMS), and the former Vice President and General Manager of Johnson Controls Inc.'s global Toyota Business Unit.
"I hope that the Chinese people see through where they are and what they need to do in order to come back to their roots and to rejoin civilisation. I have lived in China and I know the Chinese people have good hearts. But, unfortunately, the suppression continues.
"Watching Shen Yun is a beautiful experience. The costumes, choreography, music, etc. were all excellent and outstanding. Shen Yun brought me absolute satisfaction as well as hope," he said.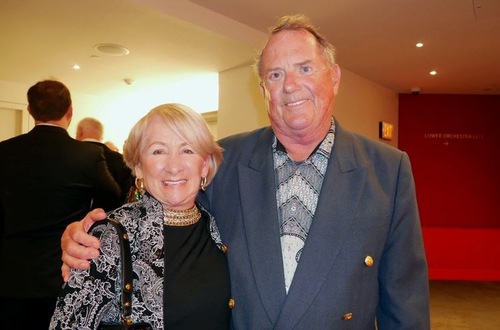 "Brings a Lot of Hope"
Robert Destro attended Shen Yun's performance in Washington, D.C. on February 19.
"It's just beautiful, absolutely beautiful—the athleticism, the beauty," said Mr. Destro, a professor of law at The Catholic University of America's Columbus School of Law and the former Assistant Secretary of State for Democracy, Human Rights, and Labor from 2019 until 2021.
"The music is beautiful! I mean, the merging of the western and eastern musical instruments is just beautiful. It's just seamless," he said.
"I think [Shen Yun] brings a lot of hope. Our traditions are what keep us anchored in times of trouble like now [with the pandemic].
"But I also think it tells a very important story about the human rights violations that are happening in China today. I think all of that, in one package, it's a lot to take in and I'm really honored to be here today.
"I've been to China… and the idea that you can't see this in China is just pretty unbelievable, so I really hope that the people in China someday will be able to see this on stage like we are," Mr. Destro said.
Regarding the company's presentation of modern stories of courage portraying the regime's ongoing persecution of Falun Dafa, he said, "I knew that this was part of the story. I was really interested to see how [the dancers] did it… and I think the way they did it was just spectacular! I mean, it's a very hard and very difficult story to tell. I think the way they told it was actually quite interesting."
He also said that this had been his first experience of China's spiritual culture.
"That was very interesting… We don't really learn much about Chinese [spirituality], and so, it's a really deep tradition and I have to go learn more," he said.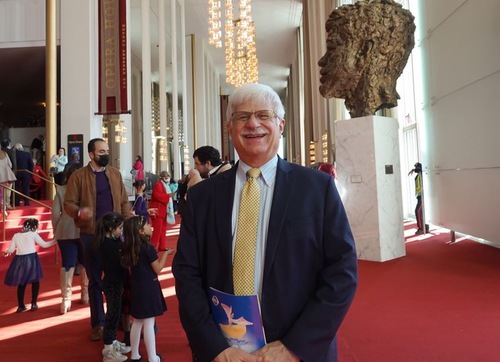 "Beautiful, Elaborate, and Intricate"
Morse Tan, the dean of Liberty University School of Law and the former Ambassador-at-Large for Global Criminal Justice, saw Shen Yun in Washington, D.C., on February 19.
To Mr. Tan, Shen Yun presents the "uncensored" Chinese culture not restricted by the Chinese Communist Party (CCP).
"I think it's very good to acknowledge that there is a Creator. And I think that is something that has been recognised by people all over the world. But I think atheistic communism denies that fundamental reality," he said.
The former state ambassador noted Shen Yun's emphasis on virtues such as compassion, forbearance, and courage. In addition, "recovering the truth of a Creator of all people is something that's very valuable," he said.
Mr. Tan praised Shen Yun as a "beautiful, elaborate, and intricate" performance.
Mr. Tan said the mini-drama piece about forced organ harvesting in China was the most striking for him. He added that he had researched the subject, "Sadly, this is happening in present-day China. And this is murder. This [organ harvesting] is a horrible tragedy that need not happen. And so this is something that is a crime that should be denounced and should be spoken up against."
He described Shen Yun as "an expression of freedom as well as the celebration of classical Chinese culture."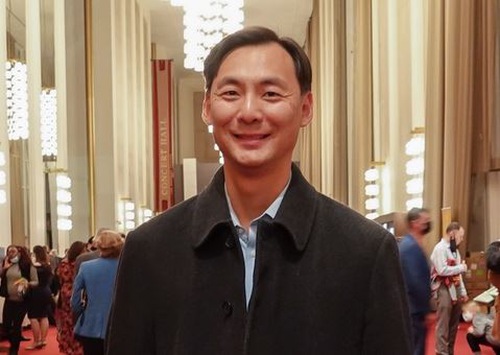 Welcome Remarks from Elected Officials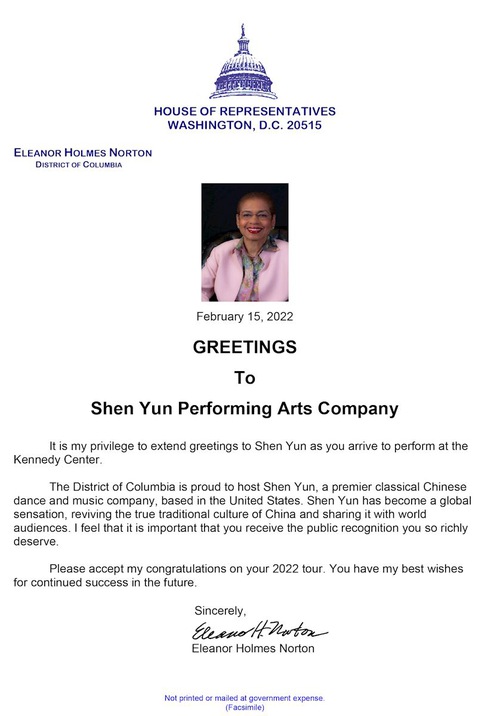 "The District of Columbia is proud to host Shen Yun, a premier classical Chinese dance and music company, based in the United States."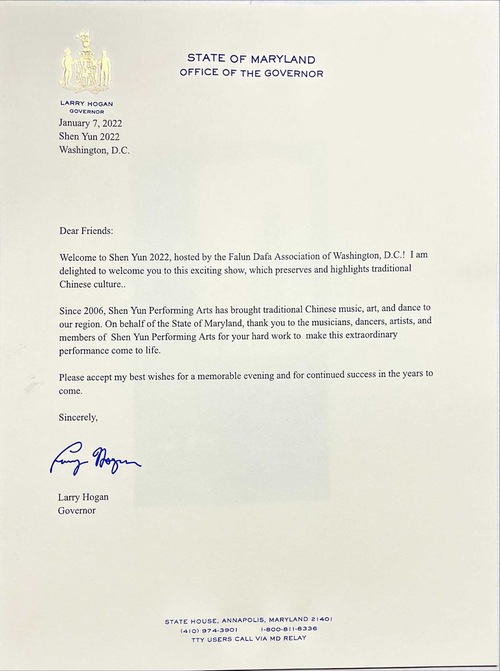 "I am delighted to welcome you to this exciting show, which preserves and highlights traditional Chinese culture."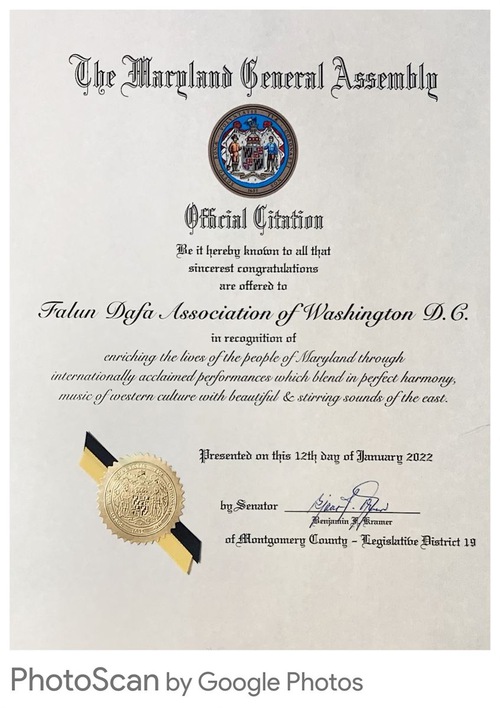 "Be it hereby known to all that sincerest congratulations are offered to Falun Dafa Association of Washington D.C. in recognition of enriching the lives of the people of Maryland through internationally acclaimed performances which blend in perfect harmony, music of western culture with beautiful & stirring sounds of the east."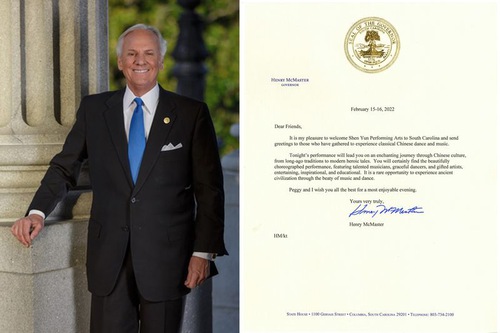 "Tonight's performance will lead you on an enchanting journey through Chinese culture, from long-ago traditions to modern heroic tales. You will certainly find the beautifully choreographed performance, featuring talented musicians, graceful dancers, and gifted artists, entertaining, inspirational, and educational. It is a rare opportunity to experience ancient civilisation through the beauty of music and dance."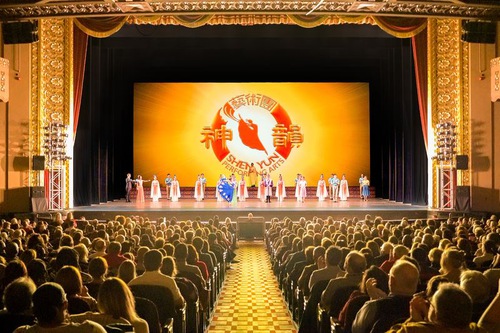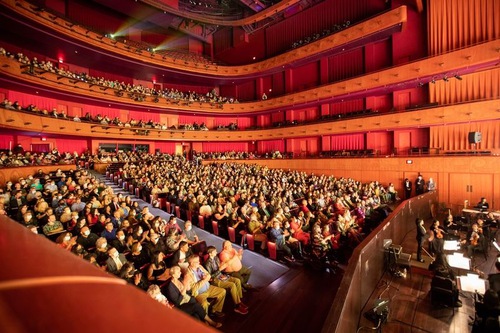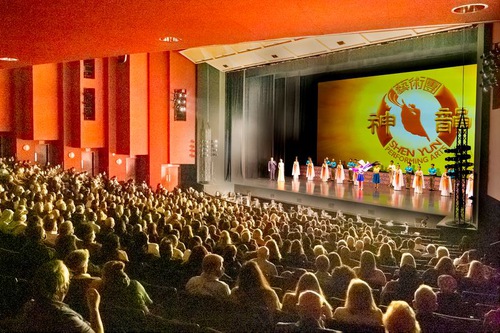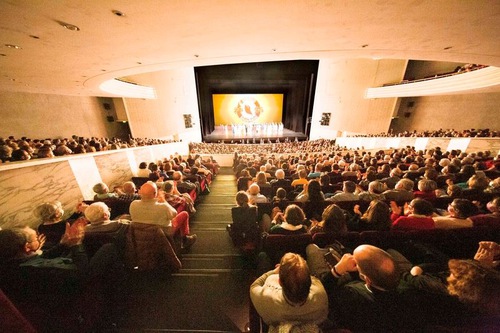 Upcoming Performances
Shen Yun continues its 2022 tour with upcoming performances in:
Philadelphia, Pennsylvania, February 25–27
Las Vegas, Nevada, February 25–27
Cincinnati, Ohio, February 25–27
Tucson, Arizona, February 26–27
London, United Kingdom, February 26–March 13
For more information on tickets and dates, please visit https://shenyun.com.
Views expressed in this article represent the author's own opinions or understandings. All content published on this website are copyrighted by Minghui.org. Minghui will produce compilations of its online content regularly and on special occasions.