__________________________________
(Minghui.org) Because of his repeated violence against Falun Gong booths in Flushing, New York, Buqiu Zheng was recently arrested by police and charged with two Class E felonies: Criminal Mischief in the Fourth Degree and a hate crime.
Guo Jinfu, a Falun Gong practitioner who volunteered at the booths, testified at the New York Police Department (NYPD) 109th Precinct that 32-year-old Zheng had damaged posters, banners, and other materials at three Falun Gong booths, located at Golden Shopping Mall, Flushing library, and a subway station, respectively. In addition to swearing at practitioners, Zheng also punched Guo in the chest.
These violent events have caused serious concerns from human rights lawyers and advocates. Numerous pieces of evidence show the violent acts are part of the systematic suppression of Falun Gong by the Chinese Communist Party (CCP).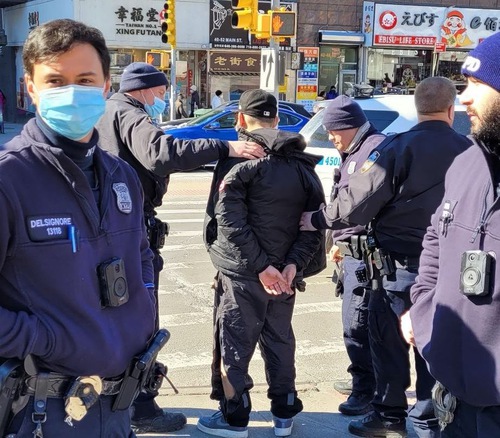 David Matas: Hate Crimes Stem from the CCP's Incitement of Hatred
David Matas, a human rights lawyer from Canada, said in a recent interview that inciting hatred is a crime triggered by hatred. He pointed out that while the hate crimes targeting Falun Gong practitioners that happened outside of China were usually done by individuals, the CCP incited hatred in the first place that resulted in the hate crimes. As such, the CCP should be held responsible for inciting hatred.
The Convention on the Prevention and Punishment of the Crime of Genocide (CPPCG), also known as the Genocide Convention, is an international treaty adopted by the UN General Assembly in 1948. It forbids incitement to commit genocide, explained Matas. Inciting genocide is an extreme form of inciting hatred. China is a State Party of the Genocide Convention. The CCP's instigation of hatred against Falun Gong is so extreme that it is equivalent to inciting genocide.
In addition, the International Covenant on Civil and Political Rights is a treaty adopted by the UN General Assembly in 1966. Article 20 of the treaty specifies that "Any advocacy of national, racial or religious hatred that constitutes incitement to discrimination, hostility or violence shall be prohibited by law." As of 2019, this treaty has 173 state parties, plus 6 signatories without ratification including China.
On February 15, the New York police and Queens District Attorney's Office charged Zheng with two Class E felony crimes, Criminal Mischief in the Fourth Degree (New York law) and a hate crime. After a hearing at the Queens Criminal Court on February 16, he was released on his own recognisance with the next hearing scheduled for March 30. The judge also issued a protection order for two Falun Gong practitioners related to this case.
On February 17, Falun Gong practitioner volunteer Guo Jinfu went to NYPD 109th Precinct to present more details of the case. He said Zheng had punched him when attacking the Falun Gong booth in front of the Golden Shopping Mall on February 10. With this new information, a new case was filed at the NYPD 109th Precinct and the hate crime squad of the city police has started investigating this.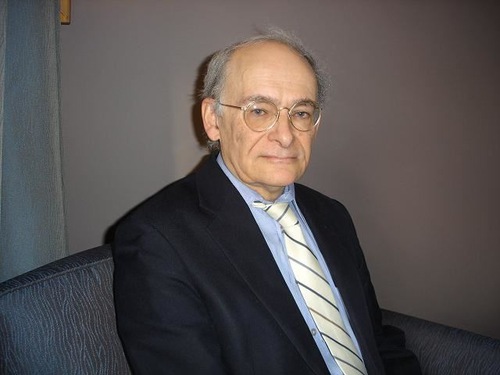 Expert Calls for "thorough investigation and airing of any links between the CCP and criminals in New York City"
"Acts of torture, generally, reveal an overall consistent attitude and approach of the Chinese state towards practitioners of Falun Gong, which is systematic in nature and designed to punish, ostracise, humiliate, dehumanise, demean and demonise practitioners of Falun Gong into renouncing and abandoning their practice of it," wrote Dr. Anders Corr, an expert on international politics, in an August 2021 article titled "U.S. Should Get Tougher on China's Attacks Against Falun Gong."
"In accord with America's freedom of speech and religion, we must do more to protect the persecuted Falun Gong practitioners, who are working to save America from the CCP's hegemonic and totalitarian ambitions. That should start with a thorough investigation and airing of any links between the CCP and criminals in New York City," he wrote on February 18, 2022, in an article with the title of "Thug Charged With Hate Crime Against Falun Gong Allegedly Linked to Beijing."
Wong Man-yee, city councilor of Flushing, said in an interview on February 25 that such an incident should not have happened. More effort is needed to protect the community. As a city councilor, she considers this an important issue.
Yi Rong from the New York Falun Dafa Association thanked the police for their prompt action which resulted in the successful apprehension of the suspect. "This is a big help to protect the safety of our community and safeguard the freedom of belief. This will provide a safe environment for volunteers and the rest of the local residents," she explained, "We at the Falun Gong booths will continue contributing toward a better community."
Pro-CCP Agent Present During the Attack
Xu Weiguo is a Falun Gong practitioner volunteer who worked at the Falun Gong booth on February 10 when the attack occurred. She did not know the suspect and they had no conflicts previously. But Zheng seemed to be prepared. Strangely enough, another CCP agent, Li Huahong, also showed up.
According to media reports, Li has participated in numerous activities defaming Falun Gong since 2008. She also repeatedly attacked Falun Gong practitioners violently. Because of this, she had been arrested by police numerous times.
According to information from the public domain, Li is the president of the Chinese Anti-Cult World Alliance, an overseas agency of the China Anti-Cult Association. In fact, the Alliance is directly controlled by the CCP. According to an article in the New York Post, the CCP's Political and Legal Affairs Committee (PLAC) official Zhu Yibiao specifically went to New York and gave Li an "Award for Daring to Fight."
When Li grabbed a Falun Gong practitioner's clothing on the street on August 26, 2011, pedestrian Cheng Changhe tried to stop her but was attacked by over 20 onlookers who came with Li. Cheng then called the police and Li was arrested. After 17 hearings, she was convicted by Queens Criminal Court on January 8, 2013.
Not an Isolated Incident
Li Xun from the Falun Dafa Association in Canada said the hate crime instigated by the CCP in New York was only one of several cases Falun Gong practitioners have experienced so far. Similar cases also happened in Canada.
Together with Canadian Coalition on Human Rights in China, Amnesty International Canada published a report in March 2020 titled "Harassment & Intimidation of Individuals in Canada working on China-Related Human Rights Concerns."
"Falun Gong practitioners have continued to face incidents of harassment across major Canadian cities over the past three years. In August 2017, two men disrupted Falun Gong practitioners rallying in front of the Chinese Consulate in Calgary, ripping off their event banner and swearing at them," wrote the report, "Witnesses claimed that after the confrontation had subsided, two individuals came out of the Chinese consulate to talk to one of the disrupters, inciting suspicion that they had directed them to interrupt the demonstration."
Jeff Yang, a Falun Gong practitioner coordinator in Calgary, also described repeated harassment and insults over the past few years against Falun Gong practitioners by a man of Chinese origin.
There have been a number of incidents in Ottawa, Calgary, and Winnipeg involving threats, bullying, and harassment of Falun Gong practitioners, as well as false correspondence, a hallmark of the Chinese government, allegedly sent out in the name of Falun Gong practitioners in an attempt to discredit them, according to the report.
Attacks also happened in Hong Kong. According to the Epoch Times, at least six Falun Gong booths were attacked more than ten times in total by pro-CCP agents between April 2 and 9, 2021.
For example, four masked men with knives damaged five Falun Gong booths a total of 7 times within two days. They included the booths at Mong Kok, Wong Tai Sin, Wan Chai, and Hung Hom. In addition, two booths at Mong Kok were damaged on two consecutive days. A large number of posters and banners were destroyed. In particular, one elderly practitioner from Soy Street in Mong Kok was pushed to the ground by the CCP agents. Both passersby and practitioners had taken pictures of the scene.
At about 4 p.m. on September 24, 2019, Falun Gong practitioner Ms. Liao Qiulan was attacked by two mobsters in the Lai Chi Kok neighborhood of Hong Kong. After being hit numerous times with expandable batons, Ms. Liao's head bled profusely. The incident was reported to the police.
The West Kowloon Court in Hong Kong announced a verdict on January 26 for a crime committed in 2019, when a Falun Gong practitioner was brutally beaten by two men in a coordinated attack. Ke Yanzhan was sentenced to two years and nine months for acting as a lookout. The two assailants remain at large.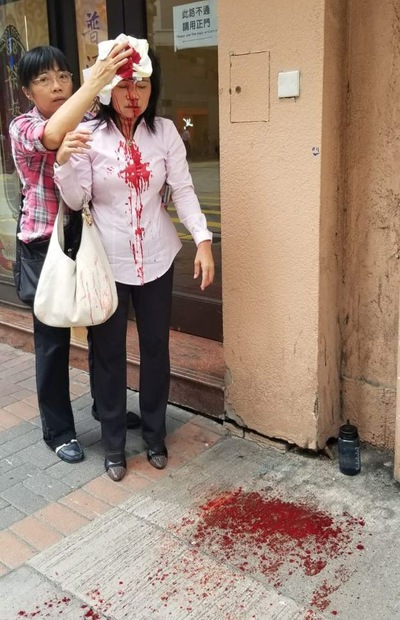 National Review: Genocide by the CCP
"American policy-makers should clearly condemn this persecution against Falun Gong and declare it a genocide," wrote Nina Shea, Director of the Hudson Institute's Centre for Religious Freedom, in an article titled "The CCP Wages a Second Genocide – against Falun Gong" published in National Review on February 4, 2022.
This genocide "is signaled by several rigorous reports establishing that large numbers of its detained practitioners have been forcibly subject to medical procedures that inevitably kill them," She explained. These reports indicated that after declaring a government intent to eliminate Falun Gong 20 years ago, the Chinese Communist Party (CCP) "has targeted Falun Gong detainees for involuntary organ harvesting, in addition to mass internment, disappearance, and torture."
"This means that victims are either killed while or shortly before their hearts, livers, lungs, and kidneys are surgically excised to be sold in what Beijing boasts is the world's largest organ-transplant market," Shea continued.
She added that critical new findings from U.N. experts have strengthened the case for genocide.
"American policy-makers show new willingness to recognise CCP repression. They should clearly condemn this persecution against Falun Gong and declare it a genocide," She concluded.
Views expressed in this article represent the author's own opinions or understandings. All content published on this website are copyrighted by Minghui.org. Minghui will produce compilations of its online content regularly and on special occasions.
29 total views