_______________________________________
(Minghui.org) Falun Dafa practitioners participated in the Mount Gravatt Lunar New Year street festival in Brisbane on February 5, 2022. Organisers of the event praised practitioners for showcasing traditional values through their performances.
Practitioners were invited to demonstrate the Falun Dafa exercises on stage. They also performed traditional Chinese music and dances. Over three thousand audience members applauded their performances and many thanked practitioners.
Introducing the performance, the host said, "Falun Dafa practitioners bring us back to ancient China with traditional Chinese performances, such as dances, music, drums and singing. They will also demonstrate the Falun Dafa exercises including a meditation practice. This practice can alleviate stress and help one to obtain inner peace."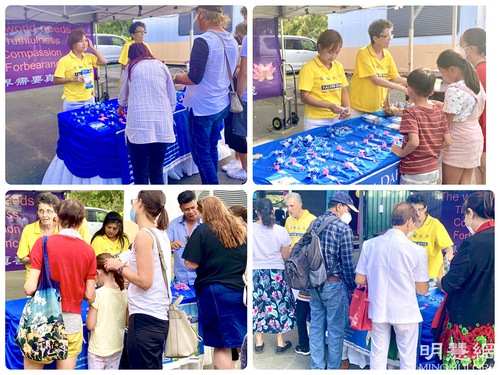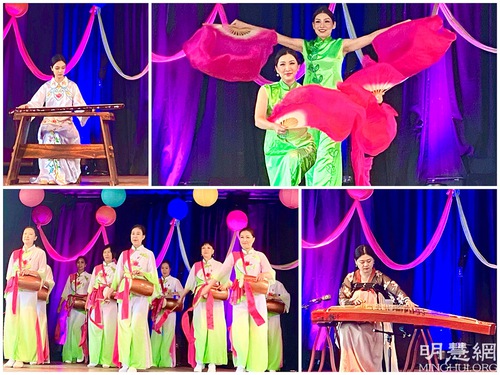 Event Organiser Praises Falun Dafa's Traditional Values
Event organiser Mark Hawkins said he agrees with Falun Dafa's principles of Truthfulness-Compassion-Forbearance and said they align with Australia's values of freedom, forgiveness, respect, and helping each other.
He feels supporting Truthfulness-Compassion-Forbearance supports Australia's moral foundation. He said, "Falun Dafa practitioners' exciting performances gave the audience an insight to true traditional Chinese culture. I think that this is a very good opportunity for a cultural exchange."
Mark cannot accept the fact that practitioners are still being persecuted by the Chinese Communist Party (CCP). He feels that in order for the CCP to be disintegrated, people need to be aware and learn its true, evil nature. He said, "More people need to be aware of the truth and make a clear choice. They cannot decide by blindly listening to others."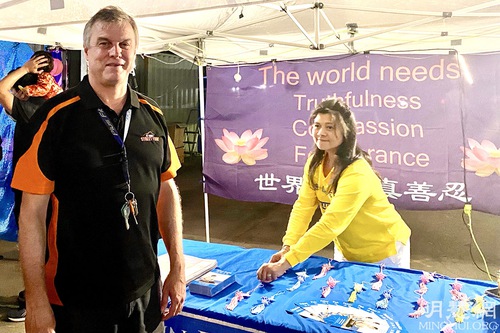 Human Resources Manager: I Hope the Persecution Ends Soon
Helen Jasaba is a human resources manager at Australia's biggest pork manufacturing company. She said, "I am very happy to see practitioners showcasing Chinese traditional culture. They are spreading the prosperity and blessings of the Chinese New Year in the Year of the Tiger. Practitioners' performances bring positive contributions to society."
Helen agreed with the principles of Truthfulness-Compassion-Forbearance and said, "I cannot believe such a good practice is being persecuted in China. This is unbelievable. I hope the persecution will end soon."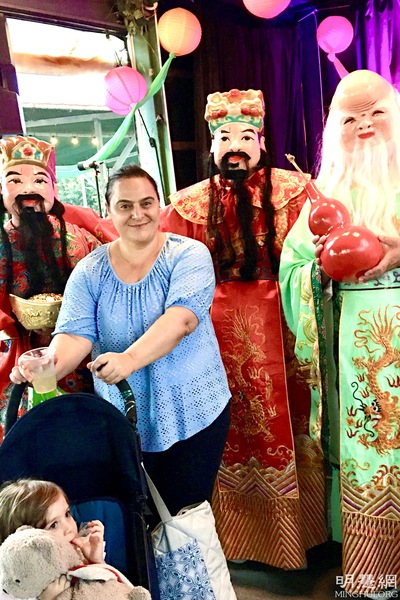 Local Resident: Please Hold On to Your Faith
Betty brought her son and daughter to watch practitioners' performances. She said, "I was very happy and excited to see Falun Dafa practitioners' performances. My children liked it very much and were very happy." Betty gave practitioners a thumbs up and praised them.
When Betty heard about the forced live organ harvesting from Falun Dafa practitioners in China, she was appalled and said, "I cannot believe something like this is happening in China. Their crimes are worse than Hitler's!"
She told practitioners, "The principles of Truthfulness-Compassion-Forbearance are very good. Please hold on to your faith."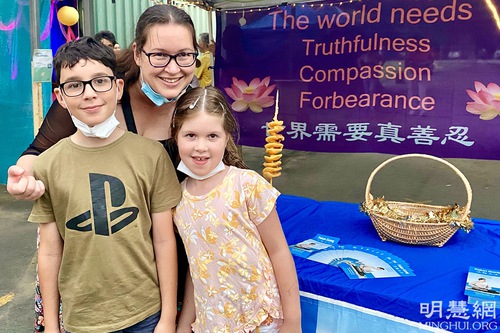 Building Contractor Hopes Practitioners Will Participate Next Year
Luke, a building contractor, praised the practitioners' performances and said, "The performances were very exciting. My daughter was very happy and so are we." He lingered for a while after the performance ended and asked whether practitioners would perform again.
He said, "I hope to see such a delightful performance again next year." Luke said that he will learn more about Falun Dafa.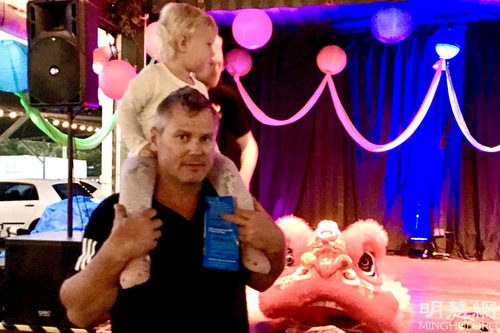 Government Official: Truthfulness-Compassion-Forbearance Brings Hope to the World
Justin John works in a governmental security department. He said, "The Chinese New Year performances are very exciting this year. I plan to learn more about Falun Dafa."
Manager: I Hope That Practitioners Will Perform Next Year
Sha Wharton, the manager of the Mount Gravatt Market, wrote in a thank-you letter, "Thank you Falun Dafa practitioners for your efforts. I am truly grateful for all the things you have done. The performances were great! Thank you for participating. I hope you will come back again next year!"
Background: What Is Falun Dafa?
Falun Dafa (also known as Falun Gong) was first introduced to the public by Mr. Li Hongzhi in Changchun, China in 1992. The spiritual discipline is now practiced in over 100 countries and regions worldwide.
Millions of people who have embraced the teachings, which are based on the principles of Truthfulness, Compassion, and Forbearance, and learned the five gentle exercises have experienced uplifted health and well-being.
Jiang Zemin, former head of the Chinese Communist Party (CCP), perceived the spiritual discipline's growing popularity as a threat to the CCP's atheistic ideology and on July 20, 1999, issued an order to ban the practice.
Minghui.org has confirmed the deaths of thousands of practitioners as a result of the persecution over the past 22 years. The actual number is believed to be much higher. More have been imprisoned and tortured for their faith.
There is concrete evidence that the CCP sanctions the harvesting of organs from detained practitioners, who are murdered to supply the organ transplant industry.
Under Jiang's personal direction, the CCP established the 610 Office, an extralegal security organisation with the power to override the police and judicial systems and whose sole function is to carry out the persecution of Falun Dafa.
Views expressed in this article represent the author's own opinions or understandings. All content published on this website are copyrighted by Minghui.org. Minghui will produce compilations of its online content regularly and on special occasions.