(Minghui.org) The book fair in Mersin city, which could not be held for two years due to the pandemic, was held November 20-28 this year. Local practitioners participated and introduced Falun Dafa to people and told them about the persecution in China. They were warmly welcomed and many people learned the exercises during the event.
The mayor of Mersin City and the heads of three districts visited the Falun Dafa booth. District head Toroslar recorded a video of a practitioner doing the exercises and condemned the persecution. He said that he would publish the video on his social media account.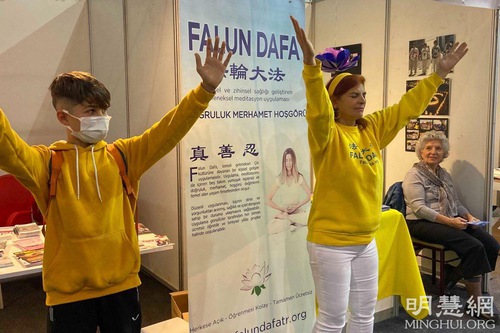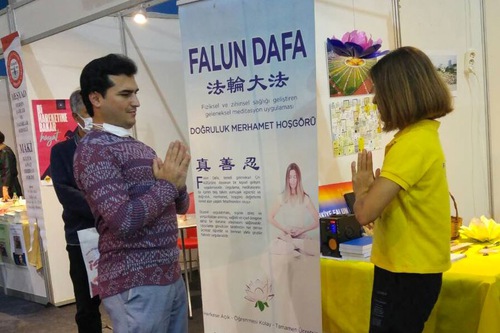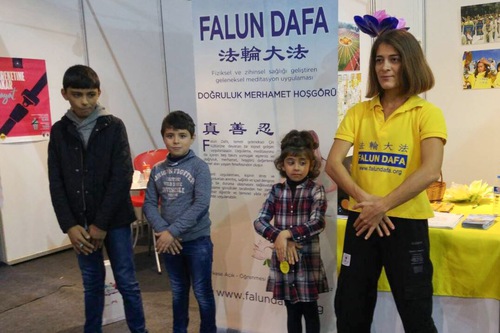 Book fair attendees came to the Falun Dafa booth to learn the exercises.
The fair coordinators stopped by the Falun Dafa booth and learned the facts about Falun Dafa. They condemned the Chinese Communist Party's (CCP) persecution. They said that they planned to learn exercises. They also invited practitioners to participate in the book fair to be held in Istanbul in March.
Mehmet Bey, a teacher, was very interested in Falun Dafa. He said, "The world is in darkness because Truthfulness-Compassion-Forbearance is being persecuted. I feel very sad that Falun Dafa is persecuted. I will do my best to help in this matter." He came back to the booth the next day and learned the exercises.
Muhammet, a 9th grade student from Syria, did not want to leave the booth. He said, "I love Falun Dafa very much. I want to learn the exercises." He brought his elder brother and younger sister the next day to learn the exercises. He said that after he returned home he found the video of the exercise demonstration online. He followed the video the learn the exercises with his siblings. They said that they would definitely go to the practice site and continue learning the exercises.
Mete Şahin is the owner of a shipping company. He and his mother Hüsniye came to the booth and talked to practitioners about Falun Dafa. They were very upset when they heard how the CCP persecutes Falun Dafa. Hüsniye said, "This is a massacre. This persecution should stop. Everyone should have the right to freedom of belief."
Views expressed in this article represent the author's own opinions or understandings. All content published on this website are copyrighted by Minghui.org. Minghui will produce compilations of its online content regularly and on special occasions.
32 total views