(Minghui.org) Twenty years since its initial publication, Zhuan Falun has been translated into 40 languages. It has been called an amazing book that changes people's lives. It is the main teachings of Falun Dafa, and January 4, 2022 is the 27thanniversary of its publication.
The Tianti bookstore in Yongsan District, Seoul, Korea held activities to commemorate the occasion from January 1 to 9, 2022. Customers, surrounding businesses, and those who previously attended the introductory Nine Day Falun Dafa Workshop were invited to join in the celebration.
To mark the occasion, the bookstore invited everyone to read Zhuan Falun during the activities. Afterwards, the participants talked about their experiences. Ms. Jin who is in her 50s traveled to Seoul to participate in the activities. She said, "I realise there's still a lot I don't know after listening to other people's experiences. I gained many insights and am delighted. I'm so happy that I came here."
New Insights Every Time I Read Zhuan Falun
Mr. Jin who is a journalist for a local newspaper said, "I became forgiving after I started reading Zhuan Falun. I can let go of bad thoughts, such as not trusting others."
Mr. Li Zailie who owns a subcontractor business for construction companies is in his 60s. He said, "To sum up my feelings after reading Zhuan Falun—the more I read it, the more I can't put it down. I gain new insights every time I read it."
Of all the books sold at the Tianti bookstore, Zhuan Falun is the most popular. When it was first published in China, it was very popular as well.
Zhuan Falun was published in late 1994 by China Radio & Television Publishing House, an agency under the State Council. In 1996, Zhuan Falun was listed by Beijing Youth Daily as one of the top ten bestsellers in Beijing. The Beijing Evening Post listed the book as one of the bestsellers in Beijing in January and February and Zhuan Falun Volume II was named one of the top ten bestsellers in Beijing in April by Beijing Daily.
At that time qigong was very popular in China. The author of Zhuan Falun and founder of Falun Dafa, Mr. Li Hongzhi, introduced the practice to the public in 1992. He introduced Falun Dafa at the Oriental Health Expo in Beijing for two consecutive years, 1992 and 1993. He was given the Edge Science Progress Award and honored with the title "Most Popular Qigong Master." He was also nominated for the Nobel Peace Prize four years in a row.
To celebrate the publication of Zhuan Falun, an event was held at the Beijing Public Security University on January 4, 1995 and Mr. Li Hongzhi was invited to give a lecture. To commemorate the anniversary of that day 27 years ago, the Tianti bookstore in Seoul held a group reading session. It was also the first time the bookstore organised activities to celebrate the book's publication.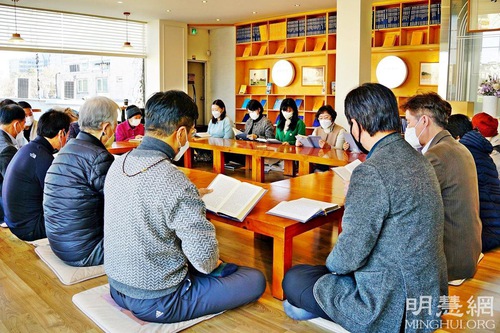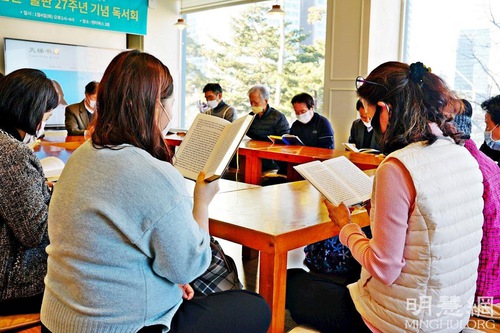 Precious Book
Ms. Zhang Shu, spokesperson for the Tianti bookstore Seoul branch, said, "I wanted to hold these activities this time because the responses of many customers after reading Zhuan Falun touched me." She explained, "Many of them enjoy material success, yet in their hearts they felt there was something lacking. After reading Zhuan Falun and applying the principles they said they noticed that the gap was filled. Many said they felt Zhuan Falun was what they were waiting for. I felt it was necessary to let more people know how precious this book is."
Ms. Pei Huiyu from Namyangju city, who is in her 80s, had no interest in books in the past. However she read ZhuanFalun in one go. She said, "I never read any book seriously, but the moment I received Zhuan Falun, I was overjoyed. I read it cover to cover without stopping."
Among those who attended the events, many already read Zhuan Falun numerous times while others read it once or twice. There were also some who read it the first time.
A friend told 75-year-old Ms. Jin Daoyan from Seoul about Zhuan Falun. She is reading it now and said it is thought-provoking. She said, "The first time I read Zhuan Falun, I thought it was profound."
The Tianti bookstore sells Dafa books exclusively and offers coffee as well as tea. It holds a Falun Dafa Nine Day Introductory Class once a month so that people can learn the mind-body practice free of charge.
One woman invited her sister for coffee while the bookstore was holding the celebration. She and her sister both purchased a copy of Zhuan Falun.
Zhang Shu from the Tianti bookstore said, "Zhuan Falun contains a lot of wisdom and has changed many peoples' destinies. I'd like to hold a celebration every year to commemorate the occasion and help more people find the hope they are looking for as well as gain the wisdom to find stability in these troubled times."
All articles, graphics, and content published on Minghui.org are copyrighted. Non-commercial reproduction is allowed but requires attribution with the article title and a link to the original article.