___________________________________________
(Minghui.org) With the New Year fast approaching, Falun Dafa practitioners in Taitung gathered at Seaside Park on December 21. They did the exercises together and sent greetings to Mr. Li Hongzhi, Falun Dafa's founder.
They took the opportunity to reflect on their cultivation journeys and hope to better align themselves with the principles of Truthfulness-Compassion-Forbearance in the coming year. They all said they are thankful for the opportunity to practice Falun Dafa.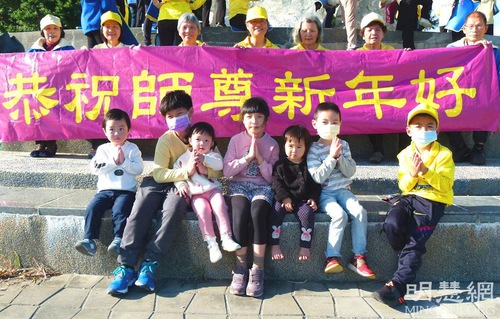 Located on the southeast coast of Taiwan, Taitung is the third largest county on the island and Seaside Park is an international landmark. Many local residents and tourists visit the area and were drawn to the practitioners' gathering.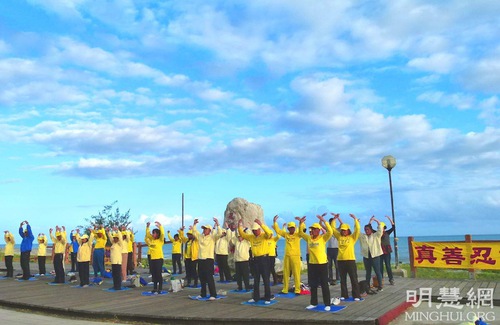 Taking Care of Mother for 27 Years
Xiugui's mother had a stroke 27 years ago. It fell to Xiugui to take care of her, but it was very difficult. After Xiugui started to practice Falun Dafa 20 years ago, she let go of her resentment. She took it as her responsibility and by remembering that she was a Dafa practitioner, she was able to stop complaining. Her family became more harmonious as a result.
Because her mother could not talk, Xiugui had to observe her all the time to see what she needed. "I have to thank Falun Dafa for teaching me to be a good person and giving me strength," she explained.
Many times, just as Xiugui was ready to go out and distribute Falun Dafa informational materials at a tourist site, her mother's nasogastric tube would suddenly become blocked. The caretaker hired by the family did not know what to do, and finding a nurse for help took time. Xiugui calmed down and tried to recall the nurse's instructions. She suggested, "How about we recite 'Falun Dafa is good' and 'Truthfulness-Compassion-Forbearance is good'?" Every time they did this, the issue was quickly resolved.
Xiugui said that after she began practicing Falun Dafa, she has had many amazing experiences. "Whenever mother had a seizure, she was in pain. I hugged her and asked her to recite the two phrases. The situation soon improved. My father was impressed by this."
Both of her parents passed away peacefully in their 90s. Although it was not easy, Xiugui's efforts reduced the burden on her family. The entire family now says Falun Dafa is good. The nurses and caretakers were moved by her kindness and dedication.
"I can only say, thank you, Master!" Xiugui said.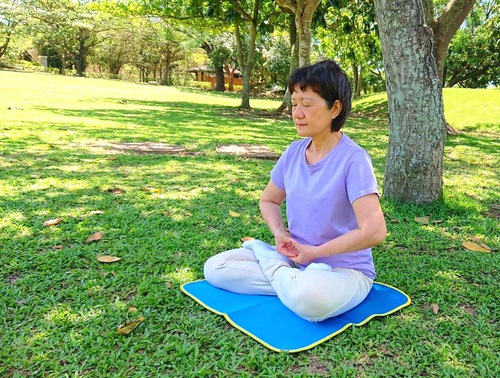 Bringing People Hope
Xiuqi began practicing Falun Dafa recently. Having witnessed how extraordinary the practice is, she uses every opportunity to introduce it to others. When she takes her grandson for a walk, she hands out informational materials.
After hearing his grandmother repeatedly say, "Falun Dafa is good. I wish you a happy life!" her little grandson also began saying it to passersby. Many people are touched and accept the materials.
Feng Mei has practiced Falun Dafa for nearly 20 years. About six months ago she began calling people in China to tell them what Falun Dafa is all about and explain why the Chinese Communist Party (CCP) defames the spiritual practice. At first, she was a little nervous. "But I was later able to overcome my fear," she said.
Feng Mei knows that her courage and wisdom comes from Falun Dafa. "As long as we have faith in Dafa and Master, things will work out," she affirmed.
This also helped her to balance her daily life and do the three things. Besides doing the exercises in the morning and going to work as a seamstress, she reads the Falun Dafa teachings and calls China. "After hearing how the CCP harms people, including Falun Dafa practitioners, many people decide to quit the regime," she said. "For those deeply brainwashed by the CCP, even though they're not yet willing to quit, I wish them well."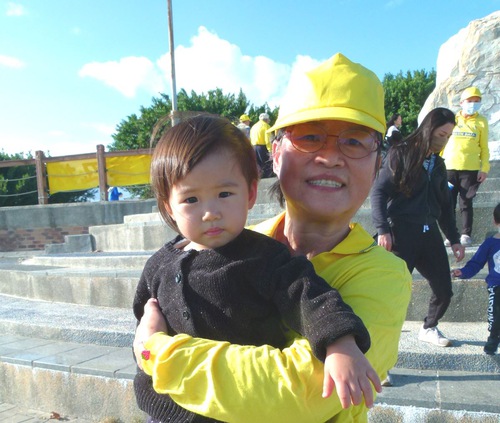 Restaurant Owner Tells People about Falun Dafa
Yang, who owns a restaurant, often talks to her customers about the benefits of practicing Falun Dafa and how it is persecuted in China. Many people like her food and enjoy talking to her. They bring more friends, so her restaurant has become very popular.
There is a local business owner who often goes to her restaurant and one day he brought over 20 people. Yang found a way to tell them about Falun Dafa. The feedback was very positive and the people all condemned the CCP's religious persecution.
A family from Hong Kong recently ate at her restaurant. As soon as Yang mentioned Falun Dafa they said they'd just watched a parade held by practitioners. They were very moved by the parade and kept praising Falun Dafa.
Besides talking with her customers, Yang also offers a variety of informational materials for them to take home for their friends and relatives. She tells people, "There are many uncertainties in the world these days. I really hope everyone stays safe, healthy, and happy."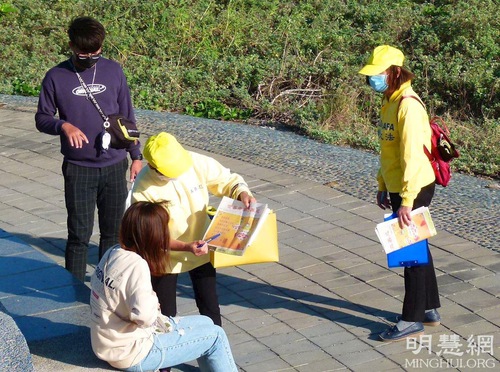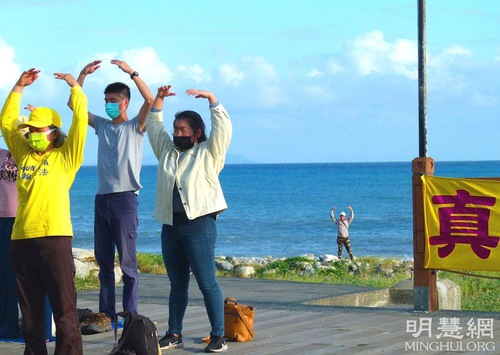 All articles, graphics, and content published on Minghui.org are copyrighted. Non-commercial reproduction is allowed but requires attribution with the article title and a link to the original article.