_______________________________________________
(Minghui.org) On November 20 and 21, 2021, Shen Yun Performing Arts presented three sold-out performances at the State Theatre New Jersey in New Brunswick.  The performance on Sunday evening, November 21, was added two weeks prior to the scheduled performances to meet the demand.
New Jersey Elected Officials Extend Welcome Remarks
Governor Philip D. Murphy of New Jersey wrote, "I am honored to have the opportunity to welcome all of those gathered for the 2021-2022 season production of Shen Yun Performing Arts at the State Theatre New Jersey.
"As Governor, I am inspired by those with the dedication and fortitude to excel in the musical arts, and I am delighted to once again welcome Shen Yun Performing Arts to the Garden State. Since its founding fifteen years ago, Shen Yun Performing Arts continues to captivate international audiences of all ages through its traditional Chinese music and dance performances. This company brings incredible talent to New Jersey and creates lasting memories for many citizens of all ages. I applaud everyone who produced this event that will give our residents the opportunity to experience an outstanding cultural performance that has become part of the prolific performing arts community here in New Jersey."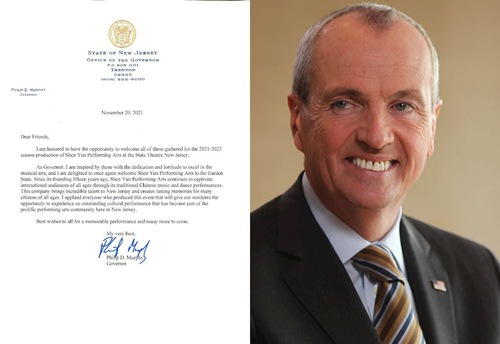 Assemblyman Joe Danielsen wrote in his welcome letter, "Your organisation is vital to reviving the 5,000-year traditional Chinese culture through the universal language of music and dance. You should be proud that you are internationally recognised and offer a thrilling experience of beauty, energy and grace, complete with dazzling costumes, animated backdrops, aerial techniques and a unique orchestra combining East and West instruments."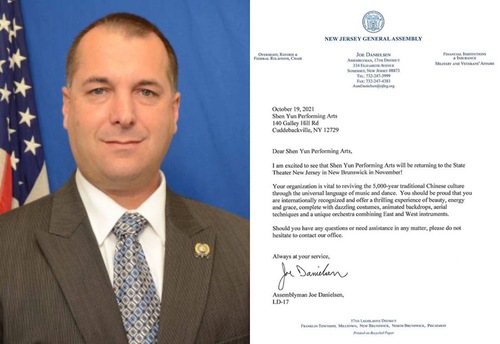 Mayor Cahill proclaims November 20 and 21, 2021, as "Shen Yun Performing Arts Days."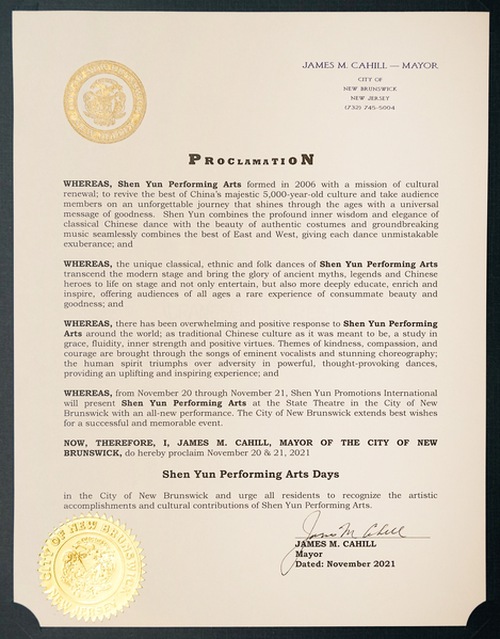 "Be It Resolved by the Senate and General Assembly of the State of New Jersey:
That this Legislature hereby honors Shen Yun Performing Arts, pays tribute to its meritorious history of perseverance and dedication, and extends sincere best wishes for its continued success and vigor in all the years to come," the Joint Resolution stated.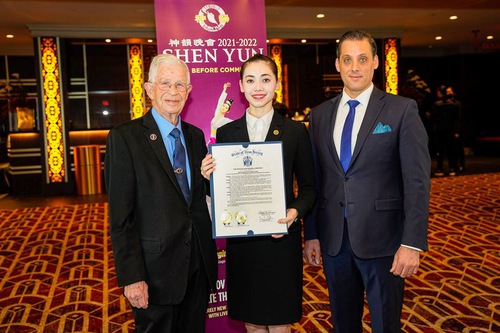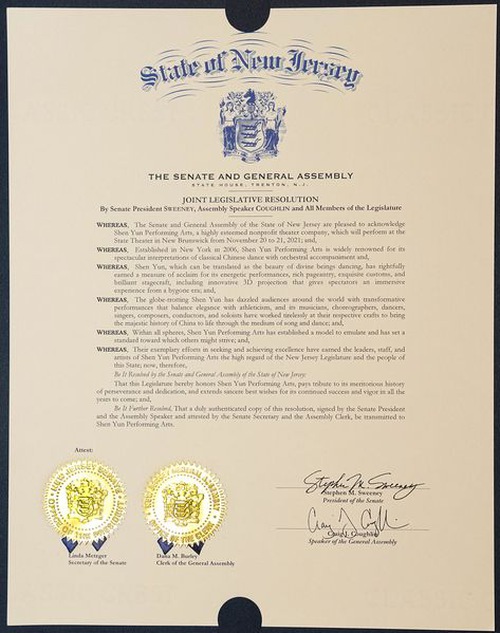 "Absolutely Magnificent"
Francis and Jayne McEnerney saw Shen Yun at the State Theater New Jersey in New Brunswick on November 21.
"It was absolutely magnificent," said Mr. McEnerney, a partner at an accounting firm. "The stories were the best part. In the beginning, we saw a lot of dancing, but towards the middle and the end, it was a lot of stories," he said.
He added that he was very impressed with the animated backdrops used in the different dance scenes.
"The most magnificent thing was when the dancers left the stage and became animated, and then came back animated back on the stage in real form—and it was seamless," Mr. McEnerney said.
"I think any tradition is very important in keeping in any culture… Any repression of tradition is really repression of the people. So seeing that being exposed here was very enlightening as well.
"The storylines about communist China are very enlightening. Those types of things are in the news now… It's a story about repression and redemption, and I thought that was incredible," he said.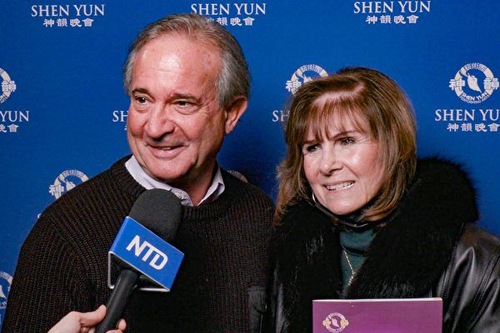 "Very Talented" and "Fabulous"
Robert and Dorine Nicosia came to see Shen Yun in New Brunswick on November 21 to celebrate Mrs. Nicosia's birthday.
Mr. Nicosia, a finance manager, called Shen Yun's performers a "very talented group of people."
He said he was pleasantly surprised by the thread of faith that runs through the program. "I think the world is lacking in faith, and I think anything that brings people closer to the Creator, espouses goodness, and remembers the historical culture of where we came from, I think that's great," he said.
Mrs. Nicosia also enjoyed the performance.
"I think the dancing was wonderful, the music was wonderful. The costumes–fabulous… I loved it," she said.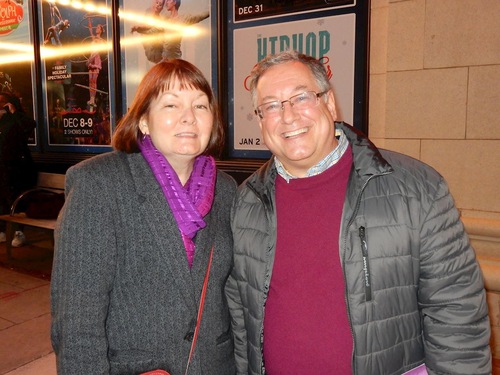 "Something We Need These Days"
Physician Edwin Roman and his wife saw Shen Yun at the State Theatre New Jersey in New Brunswick on November 21.
"Very outstanding show… I like the colors, I like the preparation of these athletes—it is unbelievable," Mr. Roman said.
"We have to go back to our spirituality. [Shen Yun is] trying to bring back spirituality from 5,000 years that Chinese people have enjoyed and then, it is being persecuted now," he said, referring to the communist regime's persecution of Falun Dafa.
"The musicians are unbelievable also… The whole music set up—I liked the [pipa] mandolin and the harp. I loved the timpani, the lady who was playing the timpani, the violins… Everything is harmonious.
"I am a very spiritual person as well. I have studied the history of Chinese culture, and I liked the incorporation of that into the show.
"It was very, very special, very particular, and it is something we need these days, because with all the things that have been happening worldwide, we need spirituality, and we need to go back into our roots.
"[Shen Yun] did very well, because with everything that is happening in this society, part of the problem that we have is the division and fragmentation in society and racism. And one of the things [Shen Yun] is trying to show is that we are all human beings. We all have the same interests… We share the same beliefs in spirituality," he said.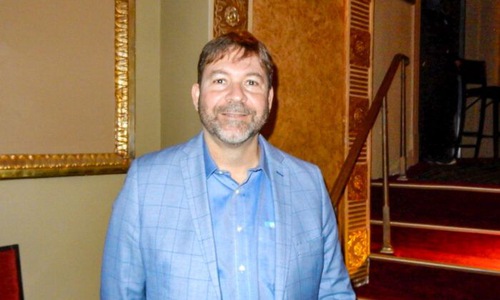 "I'm Very Impressed"
Brian and Soki Kreiger saw Shen Yun in New Brunswick on November 20.
"I'm very impressed," said Mr. Kreiger, a retired vice president at Morgan Stanley.
"To see traditional Chinese dancing is something just to experience. I haven't seen that before, so it was very interesting to see.
"I'd like to learn more [about] this evolution of Chinese culture, where it came from in the beginning—this whole idea of the Creator. And I'd like to understand more about Chinese philosophy… this evolution versus creationism," he said.
Recalling the lyrics of a song in which the vocalist talked about a Creator, Mr. Kreiger shared his thoughts on the subject of spirituality.
"That's a consistent religious principle… which makes you really wonder [whether] the unity of the various faiths is consistent with Chinese tradition, which is an inspiring thing… That maybe there's a common thread that ties us all together," he said.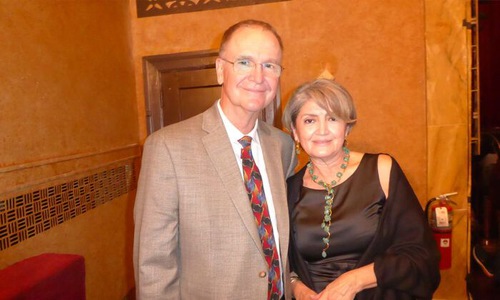 "Grace, Beauty, and Warmth"
Lisel Perselay, a retired AT&T sales director, saw Shen Yun with her husband at the State Theatre New Jersey on November 21.
"Outstanding! Outstanding!" Ms. Perselay said, describing the quality of Shen Yun's performers.
"It's the grace and the beauty and the warmth that you see in the faces of the dancers… There's a peacefulness, there's a soulfulness—I just love it," she said.
Commenting on the piece that portrays the persecution of Falun Dafa, she said, "It does touch my heart, and especially, I feel so much for the unjustness of the persecution of anyone for their religious beliefs or anything else."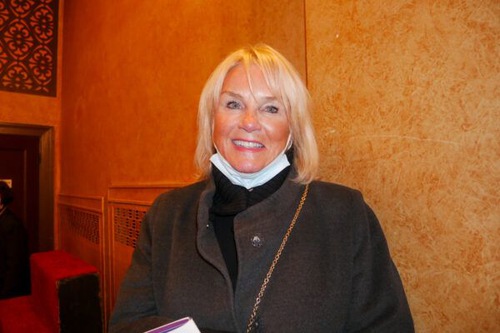 Upcoming Performances
Shen Yun continues its 2021-2022 tour with upcoming performances in:

Minneapolis, Minnesota, December 3–4
Omaha, Nebraska, December 7–8
Charleston, South Carolina, December 18–19
San Jose, California, December 22–27
For more information on tickets and dates, please visit https://shenyun.com.
All articles, graphics, and content published on Minghui.org are copyrighted. Non-commercial reproduction is allowed but requires attribution with the article title and a link to the original article.