Oct. 3, 2021 | By Minghui correspondent Ji Zhenyan
---
The 6th and last webinar of the World Summit on Combating and Preventing Forced Organ Harvesting took place on September 26, with several guest speakers discussing policies and legislation needed to help end the forced organ harvesting crimes by the Chinese Communist Party (CCP). The speakers included a parliament member, a medical professor, a journalist, and human rights advocates.
One of the speakers, Elisabetta Zamparutti, is a lawyer and member of the Committee for the Prevention of Torture, Council of Europe, Italy. As a former member of the Italian Parliament, Ms. Zamparutti is also a board member of "Prison Insider," an NGO for worldwide information on prison conditions. She is considered an expert in monitoring prison conditions and treatment of detainees.
In her speech, Zamparutti called on international organisations such as the United Nations and the Council of the European Union, as well as the general public, to take action against the CCP's crime of forced organ harvesting.
"Fundamental rights, inviolable principles such as the right to life, to physical integrity, to mental integrity, to freedom are systematically violated by this totalitarian regime," she explained.
As a result, people are wronged, government officials commit wrongdoings, and torture is prevalent across China, not to mention the unimaginable brutality of forced organ harvesting. While a government is supposed to protect its people, the CCP detains citizens based on their belief and kills them for their organs.
Zamparutti said she was shocked to learn that the main victims of the atrocity are practitioners of Falun Gong, a meditation system practiced by nearly 100 million people in China. In fact, the rate of organ harvesting in China has reached an industrial scale and is carried out for profit.
Ironically, medical professionals, including doctors, surgeons, anesthetists, and nurses, who are supposed to save lives, have unfortunately become part of this killing machine. The very existence of such a machine is perplexing; meanwhile, Ms. Zamparutti noted that it begs a feeling of shame – we know that the crime is continuing, and yet many of us are maintaining a closer and closer relationship with the CCP.
That is why we need intervention from the international community, commented Zamparutti. She believes that "crimes against humanity" is the most accurate description of the forced organ harvesting, as defined by the China Tribunal established in London in 2018.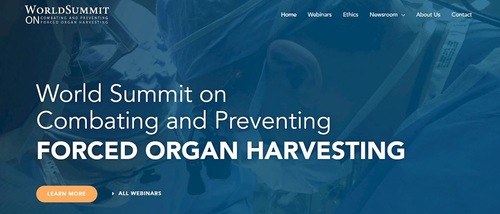 The tribunal found that the CCP had conducted systematic physical examinations of Falun Gong practitioners in preparation for organ extraction. Evidence has also shown that Falun Gong practitioners had their organs harvested even before they were confirmed as brain dead.
"Now this is a truly hellish scenario that must lead us to mobilise as organisations committed to the protection of human rights, as individuals, and also as institutions. I think that there should be an appeal to everyone, to citizens but also to supranational bodies," stated Zamparutti.
She added, "The UN has intervened, but we must also address the World Health Organisation, the Council of Europe, the European Parliament, all those bodies that can intervene and that can especially give indications so that there is no cooperation [on this issue] with China."
She suggested placing forced organ harvesting as a priority issue in any bilateral or multilateral discussion with the Chinese regime. "In the face of this shame of humanity, we must also ask ourselves what we can do to change the situation," she said. At the very least, she believes that people can spread the information so that broad discussion can take place for the public to know what is going on.
"The brutality needs to be fully exposed in order to stop this crime committed by the CCP," Zamparutti explained. She suggested that people practice "what the Chinese regime wants to erase" – Falun Gong's principles of Truthfulness-Compassion-Forbearance. She said that the CCP intends to wipe out traditional values from people's minds, and that is why it has detained Falun Gong practitioners and killed them ruthlessly for organ harvesting.
Ms. Zamparutti highlighted the importance of cherishing Truthfulness-Compassion-Forbearance, stating that during this battle between good and evil, we need these values and will gain strength from them.
All articles, graphics, and content published on Minghui.org are copyrighted. Non-commercial reproduction is allowed but requires attribution with the article title and a link to the original article.
Chinese version available
(Clearwisdom)