Oct. 8, 2021 | By a Minghui correspondent
---
The month of September 2021 recorded 101 Falun Gong practitioners sentenced to prison for their faith, a mind-body practice that has been persecuted by the Chinese communist regime since 1999.
Two of the cases took place in 2020, 16 in the first half of 2021, 5 in July 2021, 28 in August 2021, and 50 in September 2021. Due to strict censorship in China, the persecution can't always be reported in a timely manner, nor is all the information readily available.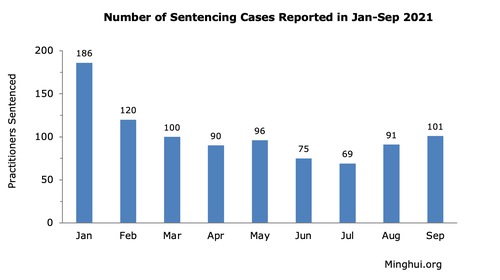 At the time of writing, a total of 928 sentencing cases have been reported between January and September 2021, averaging 103 cases per month.
The reported sentencing cases in September took place in 19 provinces and municipalities.
Shandong (16)
Heilongjiang (14)
Liaoning (14)
Jilin (13)
Hebei (10)
…are the top five provinces with double-digit cases. The remaining fourteen regions had single-digit cases ranging from 1 to 8.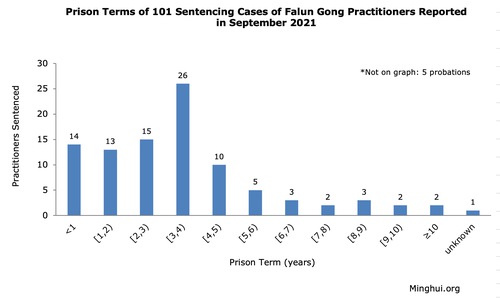 The practitioners' prison terms ranged from 3 months to 12 years, with an average of 3 years and 3 months. The longest term, 12 years, was given to a man in Tianjin. His wife and daughter, who also practice Falun Gong, were sentenced to 10 and 7 years, respectively.
For the 35 practitioners whose ages are known, 4 are in their 40s, 5 in their 50s, 2 in their 60s, 15 in their 70s, and 9 in their 80s. In particular, an 88-year-old man and his 82-year-old wife in Heilongjiang Province were sentenced to three years each.
In addition, 37 practitioners were fined a total of half a million yuan by the court, with an average of 13,514 yuan per person. Nineteen of them were given fines between 1,000 and 8,000 yuan and the other eighteen practitioners were fined between 10,000 and 50,000 yuan.
Below are snapshots of the cases reported in September 2021. The full list of sentenced practitioners can be downloaded here (PDF).
Heavy Terms
Parents and Daughter Sentenced to 7 to 12 Years
Mr. Li Guoqing is a general manager at the local power company in Tianjin. In his spare time, he runs a wedding ceremony company with his wife Ms. Yu Bo and their daughter Ms. Li Lei.
On May 15, 2019, Ms. Yu and Ms. Li were arrested while driving out of their apartment complex. The police ransacked their home and confiscated their printer, fax machine and three private cars. Mr. Li was arrested later in the day. His father was so traumatised by the arrests that he had a stroke and was hospitalised.
Mr. Li suffered from high blood pressure and Ms. Li had stomach pain while being held in the local police station. The family of three was then taken to the Ninghe District Detention Centre.
They were indicted by the Ninghe District Procuratorate in early March 2020. Mr. Li was later sentenced to 12 years, Ms. Yu to 10 years and Ms. Li to 7 years by the Ninghe District Court.
Former Government Employee Sentenced to 8.5 Years for His Faith
Mr. Li Yuandong, of Guangzhou City, Guangdong Province, was reported and arrested on July 9, 2019, for talking to people about Falun Gong.
The police attempted to freeze his bank account and property, only to find the former government employee didn't have much savings or own a home.
Mr. Li's case was submitted to the Haizhu District Procuratorate on September 29. He was indicted and his case was moved to the Haizhu District Court on November 21, 2019.
Mr. Li stood trial on November 4, 2020. No witnesses appeared in court to accept cross-examination. The prosecutor accused him of distributing flash drives containing information about Falun Gong, but failed to provide any evidence to support the allegation.
The court announced through a video conference on August 31, 2021, that Mr. Li was sentenced to 8.5 years in prison and fined 30,000 yuan.
Mr. Li, a native of Huazhou City, Guangdong Province, began practicing Falun Gong in May 1999, two months before the Chinese communist regime ordered the persecution that has continued to this day.
For writing a letter to the Central Appeals Office and going to Beijing three times to appeal for the right to practice Falun Gong, Mr. Li was given a one-year term in the Sanshui Forced Labor Camp in 2000 and another year in 2002.
In order to force him to renounce Falun Gong, the guards once deprived him of sleep for over 20 days. He sometimes collapsed to the ground and fell asleep due to extreme fatigue. The guards then immediately woke him up, beat him, shocked him with electric batons, and inserted toothpicks underneath his fingernails.
While he was serving time, the Maoming City Harbor Superintendency Administration put him on suspension, and he was later forced to resign. His wife also divorced him due to tremendous pressure from the persecution.
Mr. Li moved to Guangzhou City, the capital of Guangdong Province, after he was released, and did odd jobs to support himself.
Violation of Legal Procedures
Valuables Confiscated by the Police, Hebei Man Sentenced to Prison
Mr. Yan Xiuhong, a Xingtai City, Hebei Province resident, was sentenced to 4.5 years in early September 2021 for his faith in Falun Gong.
The police broke into Mr. Yan's home on August 24, 2017. Although Mr. Yan escaped, his Falun Gong books, computer, printer, 30,000 yuan in cash, three debit cards, and a deposit slip were confiscated.
After living away from home for three years, Mr. Yan was arrested on October 29, 2020, after the police located his temporary residence through long-term surveillance.
The police beat him during the arrest, injuring his head and legs. Over 30,000 yuan in cash, his electric bike and motorcycle were confiscated. Yet the police claimed they only took 20,000 yuan from him.
Mr. Yan's family repeatedly went to the local police station to demand the return of the confiscated items. The police returned around 12,000 yuan in cash and withheld 8,000 yuan as a so-called "policing fee." They also refused to explain the 10,000-yuan discrepancy in the cash confiscated.
When Mr. Yan's family demanded that Zheng Mengkan, head of the Guangsong County Domestic Security Office, release him, Zheng demanded 30,000 yuan in exchange and also ordered Mr. Yan to write a statement renouncing Falun Gong.
Mr. Yan's arrest was approved on November 12, 2020, and he was indicted on December 24. Since December 2020, his family and lawyer have been denied visits every time they went to the Guangzong County Detention Centre. The excuse given was that the detention centre's visitation system was broken and they were unable to process visitation requests.
The lawyer went to see Mr. Yan again on May 18, 2021, and was still denied visitation. Only when the lawyer threatened to file a complaint against the detention centre, did the guards approve the visit.
Mr. Yan stood trial at the Guangzong County Court on August 20, 2021. His lawyer was informed on September 7 that he was sentenced to 4.5 years. The lawyer is now appealing the verdict on his client's behalf.
Mr. Yan was recently hospitalised for unknown reasons. His family went to the hospital and called his name from outside of the hospital building, as they were again denied visitation. When Mr. Yan responded to them, several police officers appeared at the window and threatened to arrest his family if they called him again.
Four Sichuan Residents Sentenced to Prison After Two Years of Detention
Four Luzhou City, Sichuan Province residents were sentenced to prison in early August 2021 by the Lu County Court.
Ms. Deng Wanying was sentenced to nine years in prison, Ms. Lei Huanying to five years, Ms. Luo Taihui to three and a half years, and Ms. Gou Zhengqiong to three years.
Ms. Gou was arrested on August 2, 2019, and the other three practitioners, all store owners, were arrested on August 21, 2019.
During the four women's first hearing at Lu County Court on July 13, 2020, the judge didn't allow the practitioners' families to attend the hearing or even watch the live streaming of the hearing in the lobby of the courthouse.
The lawyers pointed out several violations by the police in handling the cases, including their ransacking of the practitioners' homes without wearing the police uniform, failure to have at least two officers taking part in the home-raid as required by law, as well as their failure to show their IDs and search warrant, or provide lists of confiscated items afterward.
Among the over 40 witnesses listed by the police, none of them appeared in court to accept cross-examination or articulated in their written testimonies what the practitioners have done specifically. The photos and video clips used as prosecution evidence also failed to show how the practitioners were involved in alleged "criminal activities."
During the second hearing on September 15, 2020, the prosecutor updated the indictment and added a few more copies of the materials allegedly to have been distributed by the practitioners. He also played a new video clip of the practitioners that was recorded by the surveillance camera. But the lawyers still argued that the video failed to show what illegal activities their clients were doing.
The lawyers repeated their defense argument that the persecution against Falun Gong didn't have any legal basis and none of the evidence presented in court could demonstrate what law their clients had violated or what damage they had caused to others or to society.
When the third hearing was held on February 2, 2021, the court for the first time allowed the practitioners' family members, who hadn't seen their loved ones for one and half years, to attend. Ms. Luo's husband and son, however, were barred from attending the session, after they were deceived by the police into answering questions about other practitioners and then listed as prosecution witnesses without their knowledge.
The judge and prosecutor repeated the procedure of the previous two hearings and didn't present any new "evidence." The four practitioners maintained that they didn't do anything wrongful in practicing their faith. Two of their lawyers demanded their acquittal, but the judge responded that there was no way for him to do that.
Son's Death from Illness Turned Into Propaganda Against Her Faith, Jilin Woman Sentenced for the Third Time
A 75-year-old woman in Changchun City, Jilin Province was sentenced to three years in prison for practicing Falun Gong in August 2021. This is the third time that Ms. Ma Xiurong has been sentenced for her faith.
Ms. Ma was arrested at home on December 18, 2020, by officers from the Sijianfang Police Station and Zhang Guojun and Yang Chengyi from her apartment property management.
When her family called the police to inquire about her case, the police claimed that they were providing physical therapy to Ms. Ma in a hotel. Her family later learned that she was detained in the police hospital following her arrest and that around May 2021 she was transferred to the Changchun City No. 4 Detention Centre, where she has been held since.
The Chaoyang District Court secretly sentenced Ms. Ma in August 2021. The court refused to provide any detail about her case, including the name of the judge that sentenced her.
Ms. Ma is a retired employee of the Changchun Academy of Agricultural Sciences. Before she took up Falun Gong on March 1, 1996, she suffered from severe problems with her heart and liver. She also had asthma and numbness in her thighs. When she went to attend the Falun Gong lectures, she was unable to walk on her own. After the two-hour lecture, she ran to catch up with the bus.
On July 20, 1999, the day when the persecution started, a group of police officers, 610 Office agents, and reporters went to her home. They asked for her deceased son's photo and claimed that he had died from practicing Falun Gong, even though he died of a brain tumor that he was born with. The authorities also collected another 1,400 such cases around the country to demonise Falun Gong and justify the persecution.
Ms. Ma was sentenced to eight years in Jilin Province Women's Prison in October 2008. She was forced to sit on a small stool without moving from 5 a.m. to midnight. Her buttocks festered and bled. She wasn't allowed to talk to anyone. The inmates beat and verbally abused her when she moved. She had to ask for permission when she needed to use the restroom.
At night, she was forced to sleep on the mattress box without any bedding, comforter, or pillow. The guards also forced her to watch propaganda materials slandering Falun Gong and ordered her to write thought reports. She developed severe health problems and was released on medical parole on December 31, 2011.
Ms. Ma was arrested again on October 25, 2016, and sentenced to two years by the Luyuan District Court on July 13, 2017.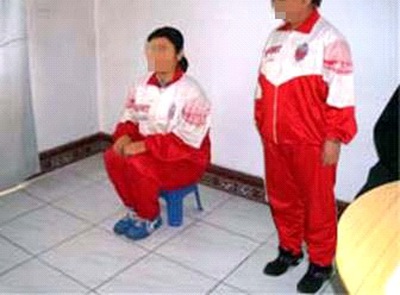 Forced to Sign Interrogation Record, Guangdong Woman Sentenced to 2.5 Years
Ms. Li Yanxia, a Dongguan City, Guangdong Province resident stood trial on August 17, 2021, for her faith in Falun Gong. When Ms. Li and her lawyer argued that no law ever criminalised Falun Gong in China, the judges constantly interrupted them. Ms. Li was sentenced to 2.5 years with a 20,000 yuan fine on September 7, 2021.
Ms. Li was arrested at home on February 8, 2021. The police interrogated her overnight and didn't provide any food or drink to her at the police station. Before allowing her to see her family the next day, Chen forced Ms. Li to sign the interrogation record and took her picture.
Ms. Li was first quarantined at a detention centre facility for over 30 days and then transferred to the Dongguan City No. 2 Detention Centre on March 18, eight days after the police submitted her case to the Dongguan City No. 2 Procuratorate.
On her first night there, the police interrogated her from 8 p.m. to 9 p.m. For the next six days, they interrogated her from 10 a.m. to 6 p.m. every day. The long hours of interrogation and poor living conditions left Ms. Li depressed.
Ms. Li was indicted on June 7 and had her case forwarded to the Dongguan City No. 2 Court. The court informed her lawyer on July 24 that she was scheduled to be tried through a video conference on August 17 and only two of her family members were allowed to attend the session. Ms. Li was given no notice of the hearing herself until right before it took place.
During the hearing on August 17, Ms. Li's lawyer argued that there is no law that says practicing Falun Gong is a crime in China or labels it a cult. The two judges presiding over the hearing immediately accused him of challenging the government's decision about Falun Gong.
While cross-examining the evidence, the lawyer demanded the judges show the original prosecution evidence. One of the judges took out a bag of flash drives and hard drives. The lawyer also asked to see the listed Falun Gong booklets and other literature. The judge asked him, "Do you want to read everything?" The lawyer responded that the judges must show whether the literature had any content that violated the law.
Ms. Li also recounted how the police deceived her into signing the interrogation record on February 9. She said that after the police took her to do a coronavirus test in the morning, they brought her back home to search her place.
After the home ransacking, she was taken back to the police station. At 4 p.m., the police said she could briefly meet with her daughter. The police only allowed her to see her daughter for a second before taking her daughter away. They promised to allow Ms. Li to see her daughter again if she signed the interrogation records and other documents. Having had nothing to eat for a day and feeling hungry and tired, Ms. Li, with a low spirit, gave in and signed the required documents. After that, the police allowed her to talk to her daughter for one minute.
Before the judges adjourned the hearing, prosecutor Lu Mingjun threatened Ms. Li that she would face a heavier sentence if she didn't plead guilty.
Ms. Li maintained that she didn't violate any law in practicing Falun Gong.
Targeted for Speaking Out
Hebei Native Sentenced to Three Years in Prison
Mr. Cai Hengjun, a native of Xinji City, Hebei Province, went to Shenzhen City, Guangdong Province, a few years ago to help take care of his grandchild. The police broke into his son's home in Shenzhen on October 2, 2020, and confiscated a computer, two cellphones, and some miscellaneous items including double-sided tape.
Mr. Cai was put on criminal detention at the Longgang Detention Centre. The police revealed that they arrested him after a surveillance camera recorded him putting up Falun Gong posters in a park. They said they had been following him and monitoring his phone calls for a few years.
Mr. Cai's family learned on January 27, 2021, that the police had submitted his case to the Yantian Procuratorate on January 14. They hired a lawyer to represent him.
Mr. Cai appeared in the Yantian Court on September 10, 2021, and was sentenced to three years.
This is the second time that Mr. Cai has been sentenced for his faith in Falun Gong. He was previously given a three-year term in 2000 at the Baoding City Prison in Hebei Province.
Shandong Woman Sentenced to Two Years for Having a Falun Gong Calendar in Her Photography Studio
Ms. Sun Jinhui, a 47-year-old Taian City, Shandong Province resident, was first arrested on June 12, 2018, after the police saw a calendar with information about Falun Gong in her photography studio. They took away the calendar, searched her studio, and confiscated her four printers, cameras, two cellphones, a computer that she used for her business, as well as some Falun Gong-related materials.
Despite her failing the physical examination, the police kept her at the Taian City Detention Centre for a month before releasing her on a 5,000 yuan bail.
The police submitted Ms. Sun's case to the Feicheng City Procuratorate in late May 2019. To avoid persecution, she left home on June 17 to live somewhere else.
When Ms. Sun returned home in early 2021 to celebrate the Chinese New Year with her family, a dozen officers broke in at around 8 p.m. on February 9 and arrested her. They removed the buttons and zippers on her clothes. When she resisted the body search, officer Wang Xiansheng grabbed her hands and cuffed them behind her back and threw her onto a bed. Her nose was injured and she lost consciousness for a few minutes.
The next day, Ms. Sun was taken to the Xintai Detention Centre but was rejected admission due to her health condition. She was released and placed under house arrest.
Wang Xiansheng broke into Ms. Sun's home at 7 a.m. on July 23, 2021, and took her to the Feicheng City Court for a hearing, which she was never informed of.
The judge sentenced her to two years and two months with a 10,000 yuan fine on September 22. She is now appealing the verdict.
Repeatedly Persecuted
After Serving 11 Years, Jiangxi Man Sentenced Again
A 43-year-old former middle school teacher suffered a mental breakdown and became incapacitated after being imprisoned and tortured for more than 11 years for practicing Falun Gong. Mr. Luo Wenbin's parents had to take care of him because he wasn't able to work.
As he started to recover, Mr. Luo, a resident in Nanchang City, Jiangxi Province, went out to distribute informational materials about the persecution, only to be arrested on September 1, 2020. While he was being held in the Nanchang County Detention Centre, his elderly mother fell in February 2021 and later passed away. His father applied to the authorities for Mr. Luo to attend her funeral, but his request was denied.
Mr. Luo, who was also denied family visits, was secretly sentenced to one year. He was recently released after having served the time.
Prior to his latest one-year prison sentence, Mr. Luo had been detained three times and sentenced to prison twice, first for seven years and then for four and half years. While in custody, he was held in solitary confinement, subjected to brainwashing, and tortured. The school where he worked fired him. His college diploma and teaching license were confiscated.
After Mr. Luo finished serving his second prison term in March 2014, he was plagued with constant headaches, convulsions, tremors, and sometimes uncontrollable shouting. He and his family suspected that the guards had put psychotropic drugs in his food, a form of abuse used on many practitioners.
Having Served Seven Years, Hebei Man Convicted Again
Mr. Sun Jianzhong, of Tangshan City, Hebei Province, was arrested and had his home ransacked on July 22, 2020. After a year at Fengrun District Detention Centre, he appeared in the Zunhua Court on July 19, 2021, and was sentenced to 2.5 years on August 23.
Since the onset of the persecution, Mr. Sun has been arrested multiple times. He was subjected to a variety of torture methods while in detention centres and brainwashing centres, including being locked in a metal cage, shocked with electric batons, handcuffed with his arms behind his back, and tied up in a spread eagle position on a bed. The guards also subjected him to extreme heat or cold and covered his head with plastic bags. His femur was broken from the torture.
Mr. Sun was sentenced to seven years on December 22, 2003, and was taken to the Jidong Prison on April 15, 2004. There, he was held in solitary confinement, force-fed and had his hands cuffed behind his back. Two inmates were assigned to monitor him around the clock and didn't allow him to talk to anyone.
When he was held in solitary confinement on January 8, 2005, Mr. Sun was forced to sit on a small stool. He was often beaten and one of his ribs was broken as a result of a beating.
A guard named Yang Bin shocked Mr. Sun with an electric baton for one and a half hours in January 2006, causing his body to be covered in blisters.
Elderly Sentenced
Husband and Wife in Their 80s Sentenced to Three Years in Prison
Mr. Xu Shujun, 88, and his wife Ms. Wang Chuanyun, 82, of Jixi City, Heilongjiang Province, were arrested on August 30, 2017, after being followed and monitored by the police for hanging up banners about Falun Gong.
Although they were released that day due to their age, the authorities kept harassing them. In August 2021, the police went to their home to collect "evidence" to charge them. The Jidong County Court announced in September 2021 that they were each sentenced to a three-year prison term and fined 10,000 yuan.
Caregiver in Her 70s Sentenced to Prison
Ms. Gao Menghua, a Cao County, Shandong Province resident in her 70s, was arrested on July 30, 2021, while caring for her hospitalized 100-year-old mother and disabled husband in his 70s. The police first took her to the hospital and collected her blood sample. She was taken to the Juancheng County Detention Centre, which rejected her admission due to her advanced age. She was then released on bail.
Ms. Gao was later charged with talking to people about Falun Gong. She was made to stand trial in August and sentenced to four years.
Since early June 2021, the authorities in Cao County have begun to harass local practitioners, with the excuse of maintaining stability during the communist regime's centennial anniversary. Almost all of the practitioners who have been persecuted since 1999 were targeted in this new round of harassment. Most of them were ordered to talk to the police in person, be recorded on camera, and write statements to renounce Falun Gong.
78-year-old Woman Sentenced to Four Years
Ms. Guo Lianqing, a 78-year-old woman in Baiyin City, Gansu Province, was sentenced to 3.5 years by the Baiyin District Court on September 6, 2021. As she refused to renounce her faith in Falun Gong, the judge later added six months to her term.
Ms. Guo was harassed by the police in March 2020 after she was reported for talking to students on the street about the persecution of Falun Gong. The police submitted her case to the Baiyin District Procuratorate. The prosecutor indicted her, accusing her of being a repeat offender, since she has been sentenced three times before for practicing Falun Gong.
Ms. Guo was tried in the Baiyin District Court in May 2021. She pleaded not guilty in raising awareness about the persecution. The judge forced her daughter to sign statements renouncing Falun Gong on her behalf.
Ms. Guo began to practice Falun Gong in 1997, and she credits the practice for curing her heart condition and other ailments. After the persecution began in 1999, she was sentenced three times, in 2000, 2005, and 2014. The last time she was sentenced to 4.5 years in the Gansu Province Women's Prison, she was already 71.
Widowed Woman in Her 70s Given Extended Prison Term
A Zhangjiakou City, Hebei Province resident who refused to serve a previous six-month term for her faith in Falun Gong was recently arrested and had her term extended to one year.
Ms. Liu Shouhui, in her 70s, was first arrested on April 25, 2019, for distributing informational materials about Falun Gong. She was released around midnight and had her home ransacked the next day. The police later took her to the local detention centre, but she was denied admission after being found to have high blood pressure.
The police constantly harassed Ms. Liu after she was released. She was taken to the Qiaoxi District Procuratorate around June 2019 and asked to sign certain case documents. She refused to comply.
The prosecutor indicted Ms. Liu about a year later. She was summoned to the Qiaoxi District Court on May 27, 2020, to pick up her indictment. The court informed her on July 3 that she was scheduled to appear in court a week later.
Insisting that she didn't do anything wrong in speaking out for her faith, Ms. Liu refused to attend the hearing and moved. It only took a few days for the police to find out her new address and forcibly took her to the courthouse. She was sentenced to six months with a 1,000-yuan fine on August 21.
To avoid serving time, Ms. Liu lived away from home. In early 2021, her late husband's workplace, which had been issuing a few hundred yuan in living expenses to her since he died in 2018, suddenly stopped the payment. When she contacted them, she was asked to provide information showing she didn't have any other income.
Ms. Liu went to her residential committee on September 1 to get the letter about her financial situation. When she went to her husband's workplace to submit the letter, she was arrested by the plainclothes officers waiting there.
A day later, Ms. Liu was secretly sentenced to one year.
85-year-old Man Sentenced for Talking to People About His Faith
Mr. Zhang Wanxin, an 85-year-old resident in Tangshan City, Hebei Province, was arrested on April 29, 2019, after being reported for talking to people about the persecution of Falun Gong at a farmers' market. Due to his advanced age of 83, the police didn't detain him and released him in the evening.
Mr. Zhang was arrested again on August 19, 2019, for talking to people about Falun Gong at another local market. After hours of interrogation and intimidation at the local police station, he was released on bail at around 8 p.m.
The authorities subsequently harassed him at home frequently and pressured him to sign statements to renounce Falun Gong, causing him and his family tremendous distress.
The police submitted his case to the Luannan County Procuratorate, which summoned him on December 13, 2019. The prosecutor threatened him to not go out of town and ordered him to report to the Procuratorate whenever summoned again.
On August 20, 2021, Mr. Zhang was taken to the village office, where the Luannan County Court judge announced that he would be tried there. Village chief Zhang Zhanli and director of the women's federation, Zhang Shuying, were also present.
The officials told Mr. Zhang that they were just going through formalities and that if he signed a document to renounce Falun Gong, they would leave him alone and he could freely practice at home. Deceived by the officials, Mr. Zhang signed the document.
At around 11 a.m., Mr. Zhang's daughter, who had not been informed of any "trial," went to the village office to look for him.
After realizing what was happening, she told officials that the trial was illegal and she asked for their names. None of the officers were willing to tell her. One of them replied that they were handling the case according to the law.
Mr. Zhang's daughter disagreed and she criticized the officials for trying her 85-year-old father in secret.
One person then identified himself as Mr. Zhang's lawyer. Mr. Zhang's daughter said that her family had never hired a lawyer for her father and asked for his name. He refused to answer.
Mr. Zhang was informed on September 3, 2021, that he was sentenced to a year and a half with a probation of two years, and a 1,000-yuan fine.
81-year-old Retired Teacher Sentenced to Prison
An 81-year-old woman in Tai'an City, Shandong Province was sentenced to a two-year prison term for practicing Falun Gong. As Ms. Ma Junting was still on probation for an earlier three-year term, the judge in charge of her case suspended the probation and ordered her to serve a combined five-year term.
Since the Chinese communist regime began to persecute Falun Gong in 1999, Ms. Ma, a retired teacher from the Shandong University of Science and Technology, has been repeatedly arrested, harassed, and taken to brainwashing centres.
Ms. Ma was arrested again on June 7, 2018. The police confiscated all of her Falun Gong books, and posters she had on the wall at home. When releasing her on bail, the police forced her family to sign the release document for her, after Ms. Ma refused to sign it.
Ms. Ma was indicted by the Feicheng City Procuratorate on December 29, 2018, and sentenced to three years with four years probation on June 13, 2019. She was also fined 40,000 yuan.
Ms. Ma was arrested again in early November 2020 and had her home ransacked for distributing informational materials about Falun Gong. She was indicted by the Taishan District Procuratorate on July 22, 2021, and sentenced to two years with a 30,000 yuan fine by the Taishan District Court on September 2. The judge for the Taishan District Court also suspended the probation given by the Feicheng City Court in 2019 and ordered her to serve a combined term of five years.
82-year-old Man Sentenced to Three Months for Attending Trial of Fellow Practitioners
Mr. Wu Huaxin, an 82-year-old resident of Suzhou City, Jiangsu Province, went to attend the hearing of the case against two local Falun Gong practitioners, Ms. Xuan Xiaomei and Ms. Zhu Peiqin, at the Wujiang District Court on January 7, 2020. As he went through security screening, the bailiffs found four keepsake cards bearing the words "Truthfulness, Compassion, Forbearance," the principles of Falun Gong, in his pocket.
Mr. Wu was then arrested and taken to the Songling Police Station. The police forced him to sit in an interrogation chair and questioned him about his personal information, where he got the cards, how long he had been practicing Falun Gong and whom he practiced it with. Mr. Wu insisted that he didn't do anything wrong in practicing Falun Gong and refused to provide information about other practitioners.
The police ransacked Mr. Wu's home in the afternoon and confiscated 418 keepsake cards, 14 magazines about quitting the Chinese Communist Party, 11 letters to the public about the persecution, 48 Falun Gong books, as well as DVDs, calendars, and media players. They then took pictures of Mr. Wu with the items. No search warrant was ever presented. Mr. Wu was released on bail the next afternoon.
The police submitted Mr. Wu's case to the Wujiang District Procuratorate in September 2020. The prosecutor Zhou Xingrong summoned him in the same month and ordered him to renounce Falun Gong. He refused to comply.
The Wujiang District Court initially scheduled a hearing of Mr. Wu's case on September 15, 2020, but later postponed it to December 14, 2020. Two lawyers represented Mr. Wu and entered a not guilty plea for him. His family wasn't allowed to attend the session.
The judge indicated that he intended to dismiss the case, saying that "due to an unavoidable cause" he was unable to hear the case for a long time. The prosecutor, however, still recommended a nine-month prison term against Mr. Wu and a fine of 2,000 yuan, on charges of "undermining law enforcement with a cult organisation," the standard pretext used to criminalise Falun Gong in China.
Mr. Wu was ordered to come to court on May 28, 2021. When he went there, the bailiffs barred him from entering but instead asked him to come to the side of the building and handed him a verdict ordering a three-month sentence with a 2,000-yuan fine.
Mr. Wu was then taken to the Wujiang Detention Centre and held there until August 27.
Court Pauses Case Against Falun Gong Practitioner, Reopens It Two Years Later and Sentences Her to Prison
A court in Taiyuan City, Shanxi Province, paused its case against Ms. Wang Lanmei for practicing Falun Gong two years ago. It then reopened the case and sentenced her to two years in prison.
Ms. Wang, 75, was arrested when she went out to discard trash on the afternoon of October 18, 2018. The police had knocked on her door hours earlier. As she refused to let them in, they hid in the apartment building and arrested her when she came out. Without her presence, the police ransacked her home and confiscated her Falun Gong items.
As Ms. Wang was found to have extremely high blood pressure, a heart condition, and a stroke, the Gujiao City Detention Centre twice rejected her admission. She was released and placed under house arrest on October 20.
Upon returning home, Ms. Wang's memory quickly declined. She said she was given an injection at the hospital and she suspected that she was given toxic drugs.
Although Ms. Wang was later indicted by the Yingze District Procuratorate on January 2, 2019, the Yingze District Court decided to pause her case on April 2, 2019. This type of temporary closure of cases simply means that the cases are put on hold without a final decision and may be reopened later.
On August 5, 2021, Guo Xiaoqin, the judge in charge of Ms. Wang's case, summoned her lawyer to the court and announced that a hearing had been scheduled. At the same time, the police went to Ms. Wang's home and connected her to the virtual hearing.
Judge Guo sentenced Ms. Wang to two years with a 10,000-yuan fine on August 19.
Ms. Wang's lawyer said he has never seen such a case, in which the court sentenced a Falun Gong practitioner after pausing the case for years.
Related reports:
All articles, graphics, and content published on Minghui.org are copyrighted. Non-commercial reproduction is allowed but requires attribution with the article title and a link to the original article.
(Clearwisdom)