July 30, 2021 | By a Falun Gong practitioner in Poland

---
Practitioners in Poland held activities July 18 – 22, 2021, to condemn the Chinese Communist Party's (CCP's) 22-year-long persecution of Falun Gong.
They held a peaceful protest in front of the Chinese Embassy in Warsaw on July 18, 2021, to let people know about the persecution and the CCP's live organ harvesting.
On July 22, practitioners held a rally outside of the parliament building. They called on the Polish government to take action to help stop the CCP's persecution.
Across the street from the parliament building, practitioners put up eye-catching banners. The messages on the banners read: "Falun Dafa Is Good," "Stop Persecuting Falun Gong," "Bring Jiang Zemin to Justice," "The Ultimate Goal of Communism is to Destroy Mankind," and "Improving Morality Is the Only Hope for Mankind."
They also set up display boards in Chinese, English, and Polish. Practitioners handed out leaflets and the Nine Commentaries on the Communist Party.
Members of Parliament (MP), staffers, reporters, and passersby paused to listen and voiced their support for ending the persecution of Falun Gong in China. Some signed the petition to call for an end of the persecution. Others were interested in learning the exercises and accepted fliers.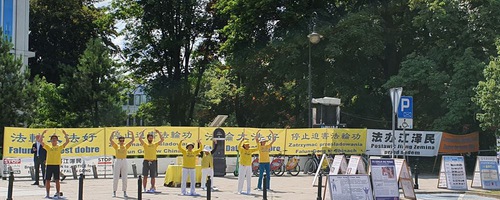 List of Persecutors Submitted to Polish Government
Falun Gong practitioner Andrez spoke at the rally. He said, "July 20 marks exactly 22 years since the Chinese Communist Party initiated the persecution of Falun Gong practitioners. We are here to provide a list of Chinese Communist Party officials who have violated human rights and persecuted Falun Gong practitioners."
"The persecution is appalling. The CCP has tortured and killed those who strive to follow their conscience and defend their right to freedom of belief, freedom of religion, and freedom of speech. Such human rights violations are not subject to jurisdiction in China. It is the CCP's campaign of genocide against Falun Gong practitioners."
Andrez said, "The CCP violated the International Covenant on Civil and Political Rights. The persecution also violated China's own laws. The CCP's genocide against Falun Gong practitioners is a horrible large-scale criminal campaign. This list provides only a small sample of the CCP officials who have persecuted Falun Gong practitioners." He added, "We urge our government to sanction those persecutors such as denying entrance, freezing of their assets, and use all laws that apply."
Practitioners presented the list to the President of Poland, the Polish Ministry of Foreign Affairs, the Polish Ministry of Justice, the Polish Parliamentary Committee on Human Rights, and the Polish-Chinese Parliamentary Group in the Polish Lower House. They hope the Polish government can defend and stand up for the truth to stop the human rights violations in China.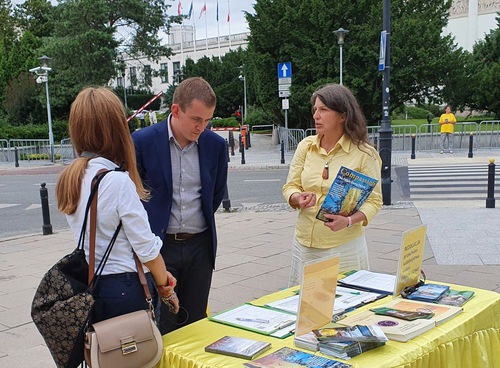 Polish MPs Support Falun Gong and Condemn CCP Crimes
Outside the parliament building, practitioners clarified the truth to more than 40 members of Congress who passed by. Many members of Congress expressed their great appreciation for the practitioners' persistence and efforts.
They said although they were unable to meet with practitioners face-to-face because of the COVID 19 pandemic, they received practitioners' emails about the facts of the persecution. They learned more about Falun Gong than before. Many legislators said, "The persecution of Falun Gong must end immediately!"
Ms. Violetta Porowska, a Polish parliamentarian, sent an email to the rally organiser. She wrote, "I strongly condemn the cruel persecution of Falun Gong, especially the cruel crime of live organ harvesting. This crime is a denial of humanity and should not happen today."
"The CCP must stop the persecution of Falun Gong," she added, "Our parliamentarians and human rights organisations should immediately urge the Beijing authorities to stop the persecution. WOIPFG (The World Organisation to Investigate the Persecution of Falun Gong) should urge all governments to help Falun Gong practitioners to regain freedom of belief."
"It is unacceptable to carry out such brutal extermination of these people who are not at fault in any way. Such a heinous crime is incomprehensible and should never have happened." Ms. Violetta Porowska concluded.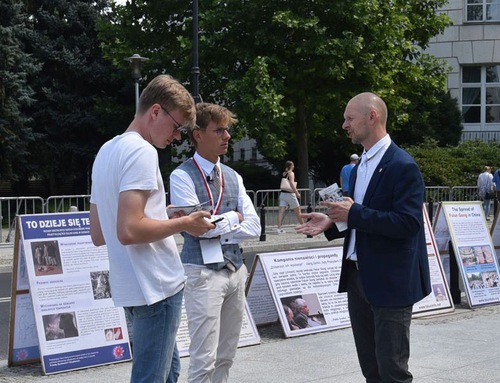 Mr. Dobromir Sośnierz, a Polish MP, came to the event to support practitioners' persistence. He said, "It is a pity that in 2021, more than 30 years after the fall of communism in Europe, the crimes of communism are still not over. The victims of communist regimes are still increasing."
"We should not remain silent about the dark forces in China, about its hidden crimes of all kinds. There should be no murder, kidnapping, and persecution in a civilised country."
"I protest and condemn the persecution of Falun Gong, and I express my support and solidarity with your protests." Mr. Sośnierz said.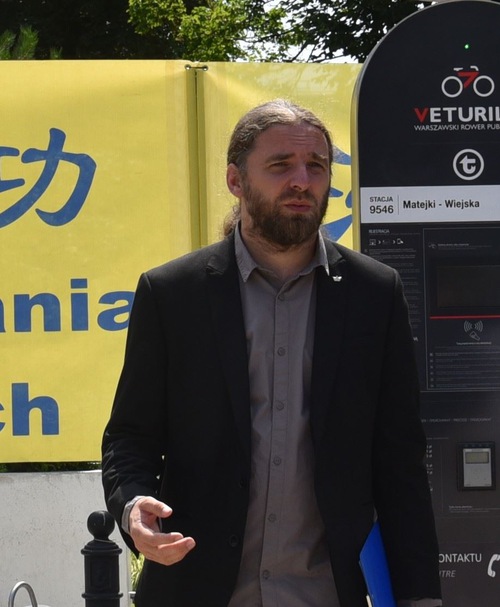 Mr. Krzysztof Łoziński, a Polish freelance activist and journalist, sent his statement to the event: "As a Polish citizen in a country that has suffered more than half a century of communist oppression, and as a journalist who opposes communism, I strongly condemn the Chinese communist regime's persecution of Falun Gong practitioners, which has been going on for 22 years."
He added, "The persecution must end immediately. We cannot remain indifferent to these crimes in China. We cannot ignore the Chinese Communist government's violations of basic human rights, especially the forced live organ harvesting!"
Ms. Jadwiga Chmielowska, a Polish journalist, editor-in-chief, and secretary-general of the Polish Journalists Association, was under an arrest warrant issued by the Polish communist regime for nine years for opposing communism. She also sent a statement to support the rally.
Ms. Chmielowska said, "I strongly condemn the Chinese Communist Party's crimes of repression, torture, brainwashing, and organ harvesting against Falun Gong practitioners. It is shocking that living according to the principles of Truthfulness-Compassion-Forbearance has become the only reason to be killed by the Chinese Communist regime."
She continued, "Communism has been rampant in the world for 100 years, and the evils have been untold. As a freedom activist and as a Pole, we all know the dangers of communist totalitarianism. However, the persecution has been going on for 22 years, and we rarely do anything to stop it. It is time to take immediate action to disintegrate the CCP and stop the persecution."
Practitioners Express Their Gratitude for Falun Gong
At the event, Tomek, a practitioner in Poland, shared his experience of benefiting physically and mentally from practicing Falun Gong. He said, "I used to have food allergies, and I often felt fatigued. I had lots of troubles in life because I could not concentrate on anything."
Tomek learned about Falun Gong in 2017 at the Woodstok Music Festival in Poland. He tried it out of curiosity. To his surprise, Tomek felt great energy when doing the exercises, and the energy lasted for a long time. He then started practicing Falun Gong. His mind became clear. He became energetic, and he was able to concentrate.
"I was delighted. I knew I had found the most precious thing in my life, which had given me peace, happiness, and great joy." Tomek continued, "Falun Dafa is an exercise for improving health and releasing stress. It can also improve human morality extremely quickly. As I practiced, I understood many truths I never knew."
Tomek's wife also became interested in the practice seeing Tomek's positive changes. "We both tried to correct ourselves and be better people. I believe the improvement in people's moral standards and health is welcomed by any country and any government in the world. Who doesn't want more good people? But such a good practice is being persecuted in China," Tomek said.
He stated, "It has been exactly 22 years since the CCP began persecuting Falun Gong on July 20, 1999. The continued illegal deprivation of freedom, imprisonment, and organ harvesting of Falun Gong practitioners in China is unprecedented and cruel, demonstrating the destructive nature of the CCP.
The ultimate goal of communism is to destroy all humankind, and Poland will not be an exception. I came to this rally hoping the Polish government can stay alert to the CCP's erosion and harm being done to humanity behind the economic interests."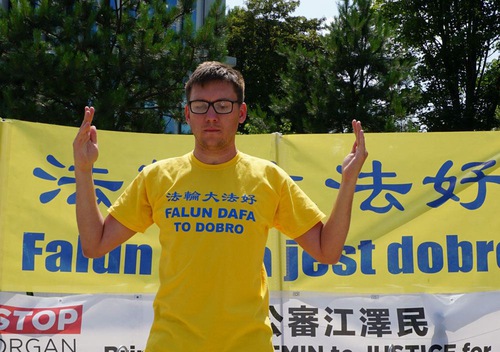 All articles, graphics, and content published on Minghui.org are copyrighted. Non-commercial reproduction is allowed but requires attribution with the article title and a link to the original article.