July 1, 2021 | By Minghui correspondent He Ping in Stockholm
---
Falun Dafa practitioners held activities outside of Stockholm City Hall on June 25-26, 2021. The streets were filled with locals and tourists celebrating the Midsummer Festival, a traditional Swedish holiday that celebrates the summer solstice.
An endless stream of people passed by the practitioners' activity booth and read the posters that exposed the CCP's (Chinese Communist Party) genocide against Falun Dafa practitioners. Many were shocked after learning about the ongoing 22 year-long persecution against people who practice the principles of Truthfulness-Compassion-Forbearance. After learning about the persecution, several people signed the petition to end the persecution and disintegrate the CCP.
"You Make Us See Light at the End of the Tunnel"
It was the first time that Johan, from Hamburg, Germany, and Simone, from Switzerland, had heard about Falun Dafa. They were sad to hear about the persecution in China. They chatted with a practitioner for a long time after signing the petition. Johan said he was angry about the way the CCP launches cyber attacks and tramples on human rights, "Human society and morals are so degenerated that nowadays, people will do anything for money. Humans have no more hope now.
Simone said that she had the utmost respect for practitioners' determination for persisting for more than 20 years in order to raise awareness of Falun Dafa. She said, "You let people see hope. Especially during these troubled times, I think Falun Dafa will bring about a great change in a person spiritually and physically."
Both said that they were interested in practicing Falun Dafa. Before they left, they took some truth-clarification materials in German and said they would go on the website to research more about Falun Dafa.
Sofi, originally from Turkey, now lives in Stockholm. Upon receiving a truth-clarification flyer, she was in tears and said, "Thank you very much. You have been speaking out for a persecuted group for a long time and more people can see clearly as to how evil of the CCP is."
Sofi said she knows some Uyghurs who fled from China to Turkey. By listening to their personal experiences Sofi said she knew how brutal and evil the CCP is, and how it abuses kind people. She has been following those being persecuted by the CCP on social media for a long time, and said, "I was very touched when I saw your activity booth. I hope that we can help them by signing the petition." She also stated that more people need to stand up to face such a shameless dictatorship.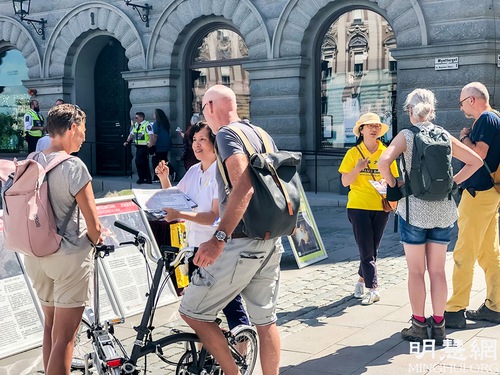 "I Will Do Everything That I Can to Help You"
Mr. Munro and his friend slowly circled around the practitioners' display and read the information attentively. Mr. Munro asked, "Where can I donate money? I would really like to donate some money to this group of people that is being persecuted. I want to help them." A practitioner explained that Falun Dafa practitioners do not accept any donations. He told Mr. Munro that he could sign his name on the petition and spread this information to other people as a way to express his support. The two men thanked the practitioner for everything.
Mr. Munro said, "It is becoming increasingly clear that Marx's socialism and communism are very terrible and evil. They have been lying and deceiving the world. You are telling people the truth and this is very meaningful."
Mr. Munro said that he sympathizes with Chinese people who have been deceived by the communist ideology, which has also affected the whole world, and he is very worried. Mr. Munro encouraged practitioners to keep up the good work and said, "Even if just one more person knows the truth, it is one more hope and strength. Not only will I sign the petition, I will also go to your website and see how I can donate. I will do everything I can to help you."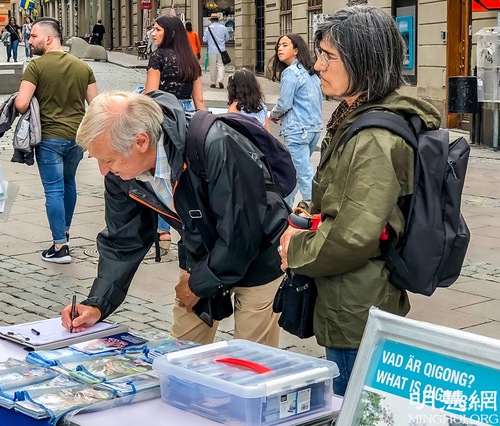 "We Aren't Doing Enough"
Robin and his wife were walking hurriedly until they noticed the poster boards with information about the CCP's forced live organ harvesting which targets Falun Dafa practitioners. They stopped and very carefully read the information, then talked to a practitioner. They said they knew that the CCP did a lot of evil things, but they never thought it would do something as evil as conducting forced live organ harvesting.
Practitioners also told them how the CCP tried to cover up the severity of the CCP virus in China, which resulted in it spreading to the world. Robin and his wife agreed and said that the CCP virus has jeopardised the world's economy and they feel it's also a conspiracy to wipe out humankind. Robin and his wife said, "Silence is dangerous amidst this chaos and a world filled with lies."
Robin said, "You have done well. We aren't doing enough, but we will persist." Robin said that he plans to hold a gathering soon and will contact the practitioner with the details. He invited practitioners to attend the gathering and tell people about the persecution in China. He also wanted more people in Sweden to wake up and learn the truth.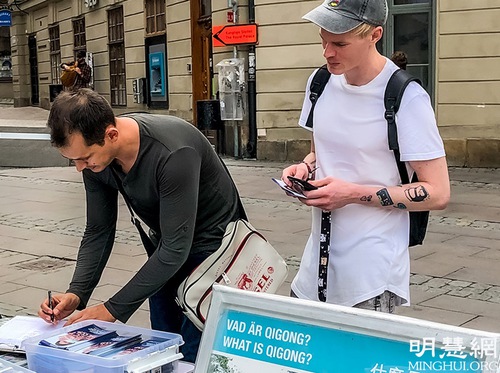 All articles, graphics, and content published on Minghui.org are copyrighted. Non-commercial reproduction is allowed but requires attribution with the article title and a link to the original article.
Chinese version available
(Clearwisdom)