May 23, 2021 | By an Italian Falun Gong practitioner

---
Perito Levi High School in Eboli is a comprehensive high school in the province of Salerno in southern Italy. Its curriculum includes science, liberal arts, fine arts, and singing.
In May 2021, every Chinese class was allotted nearly eight hours of class time on the topic of Falun Dafa. The students were able to see an informational film and explore the ancient self-improvement discipline as well as the persecution of Falun Dafa by the Chinese communist regime.
After more than a year of lockdown due to the coronavirus pandemic, many of the students have become fearful, anxious, and confused. After watching the award-winning animated film "Up We Soar" with subtitles in multiple languages (Chinese, Italian, and English), many were deeply moved.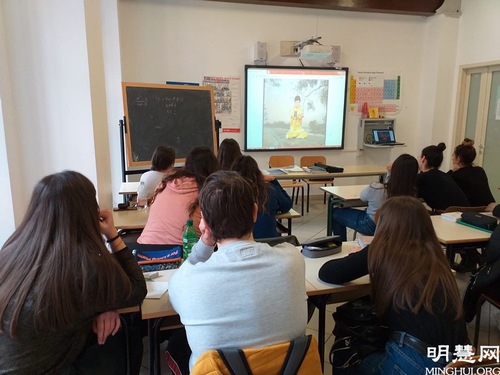 They said the main character Li Fuyao and her mother inspired them. Despite the severe persecution and adversity they faced, they still stood firm in their faith in Falun Dafa and choose to do the right thing. Fuyao's story also set an example for how to choose a future path, as well as how to emerge from difficult situations and still be sunny, healthy, happy, and kind, like the lotus flower that "emerges out of the silt but is not stained." Some students also said they were outraged to hear about the persecution of Falun Dafa practitioners like Fuyao and her mother, and they couldn't understand why the communist regime has to attack such a group of peaceful people.
Carlo High School, another school in the province of Salerno, is a key high school in the local area. Many students there are learning Chinese. After watching videos introducing Falun Dafa, the students were eager to learn the five Falun Dafa exercises.
There are questions on Chinese culture and politics, such as the persecution of Falun Dafa and the Cultural Revolution, on the national high school graduation exam in Italy. Some teachers recommended the book Nine Commentaries on the Communist Party to the students to help them gain a deeper understanding of the evilness and bloody history of the totalitarian Chinese regime.
On May 13, 2021, the 22nd World Falun Dafa Day, the students extended their best wishes to the practice and its founder. They thanked Falun Dafa's founder for teaching the virtuous practice, which so many people have benefited from.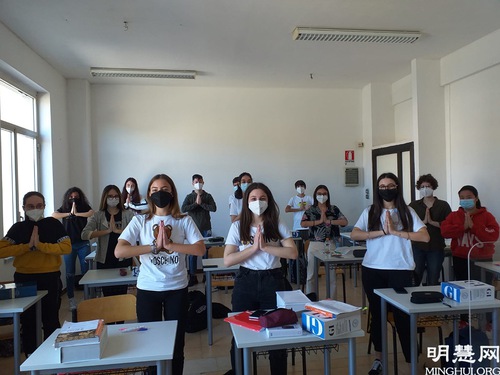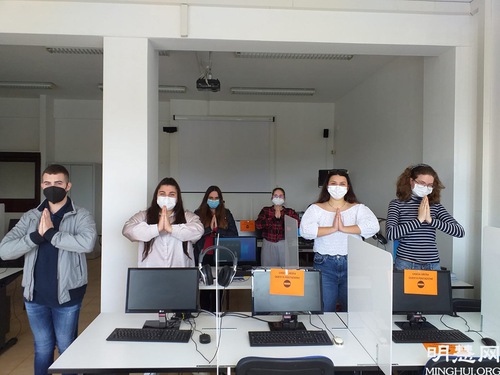 All articles, graphics, and content published on Minghui.org are copyrighted. Non-commercial reproduction is allowed but requires attribution with the article title and a link to the original article.
Chinese version available
(Clearwisdom)
20 total views