Speaking of evil in today's world, nothing can compare to the systematic involuntary organ harvesting sanctioned by the Chinese Communist Party (CCP) regime—both in terms of its scale and the level of corruption involved, remarked Senator Eric Abetz in a forum on February 24, 2021.
Hosted by The International Coalition to End Transplant Abuse in China (ETAC), speakers at the forum ranged from legal experts and an ethics professor to human rights lawyers. Representatives from the Canadian House of Commons and the European Parliament also called on a joint effort from the international community to stop the heinous crime.
One of Many of the CCP's Crimes
As a Senator since 1994, Abetz is currently the Chair of Foreign Affairs, Defense and Trade Legislation Committee. He said victims of forced organ harvesting included Falun Gong practitioners, Christians, Uyghurs, Tibetan Buddhists, and others. Their organs are then used for organ transplant through secret trades.
Although the CCP has vehemently denied the crime and covered it up, more and more evidence has confirmed its existence. This means that the international community needs to take more concrete action to end this criminal activity.
The genocide involved in organ harvesting is only one out of many types of brutality the CCP is responsible for, Abetz added. The list also includes the social credit system, the detention of political dissidents, and the erosion of freedoms in Hong Kong. Such contempt for human rights is a gruesome reality that the Chinese, along with the rest of humanity, are facing.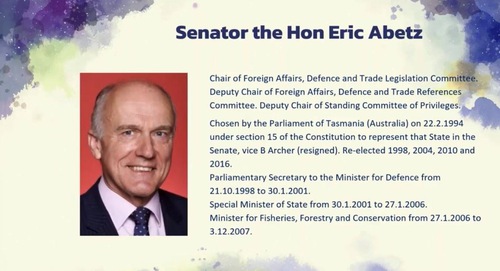 No More Repeating Mistakes
In response to this situation, the CCP has threatened foreign countries—including Australia—to remain silent on this human rights violation. But Abetz said his country would not give in. No economic interests would affect Australia's support for organ harvesting victims. Again and again, shortsighted temporary solutions have been proven ineffective. Plus, foolish actions driven by moral corruption should not be repeated.
Now more than ever, victims of forced organ harvesting need us to speak out for them. Future generations will look back and see who chose to be silent on this issue. Abetz said he was glad to see so many representatives from so many countries participating in the online forum. He said only clear awareness and a solid joint voice could bring about change, which was why the forum was so critical.
Both Canadian and Dutch parliaments passed motions in February of this year, calling the mistreatment of Uyghurs by the CCP a genocide. Senator Rex Patrick proposed a similar motion and called for his government to take legal action to protest the genocide of Uyghurs.
All articles, graphics, and content published on Minghui.org are copyrighted. Non-commercial reproduction is allowed but requires attribution with the article title and a link to the original article.
20 total views