Falun Gong practitioners held a peaceful protest in front of the Chinese Embassy in Helsinki, Finland, from 9 to 11 a.m. on January 23, followed by a candlelight vigil at a downtown shopping center from 3 to 6 p.m.
The events were held to mark International Holocaust Remembrance Day on January 27. At this time each year, the United Nations Educational, Scientific and Cultural Organisation (UNESCO) commemorates victims of the Holocaust, reiterating its resolve against racism and any intolerance that may lead to violence targeting a group of people.
Falun Gong practitioners held activities on this day to raise awareness of the Chinese Communist Party's (CCP) ongoing persecution of the spiritual practice. Many passersby who learned about the persecution in China signed a petition condeming the brutality.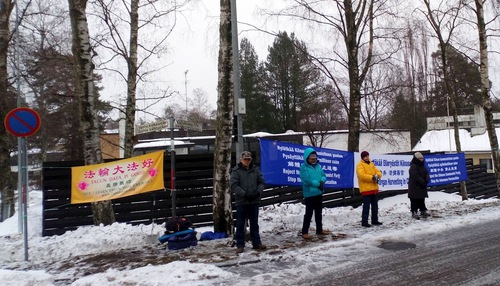 Hannele Lohiniva, a Helsinki resident, told practitioners that people should have freedom of expression and that one's culture and belief should not be suppressed. She felt it was her responsibility to stand on the side of justice. "Everyone should sign it. As a Finland resident, I didn't realise how precious the freedom we have is. For me, China's human rights plight is hard to understand," she said.
Hannelle said the CCP is a threat as it uses propaganda organisations to achieve its own goals. "We must pay attention to the threat from the powerful CCP," she said.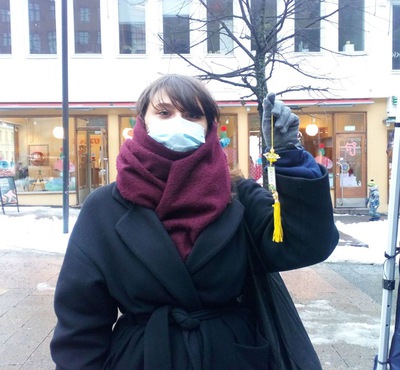 Linda Aura, who works at Amnesty International, and her sister, Lotta Aura, went to sign the petition. Linda said she met with an Amnesty International representative in Sweden and worked to initiate the rescue of practitioner Chen Zhenping. She said she understood the harsh conditions Falun Gong practitioners in China are living in.
Linda said, "We fight outside of China. We must do this. People should know the information. Outside of China, personal information collection is used for commercial purposes. People don't feel any danger. But in China they are used for politics."
She said human rights activities, including signature drives, are very important. She pointed to the rescue of Chen Zhenping as a success story of a signature collection effort.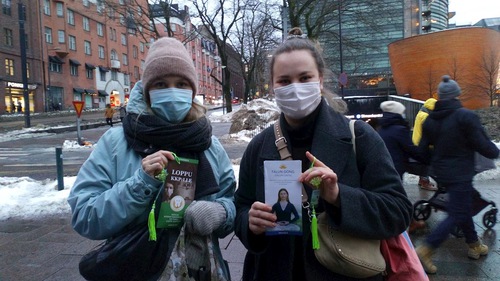 A student named Oona said, "I wish we lived in a better world. I want to help. This persecution is terrible. People should be treated better."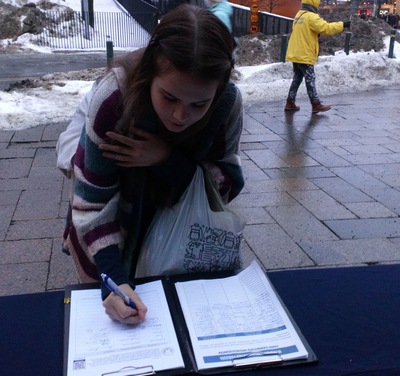 "I want to support human rights events," said Teija Vallius, another passerby. "Persecution is wrong. Live organ harvesting makes me feel sad and indignant. This is horrible."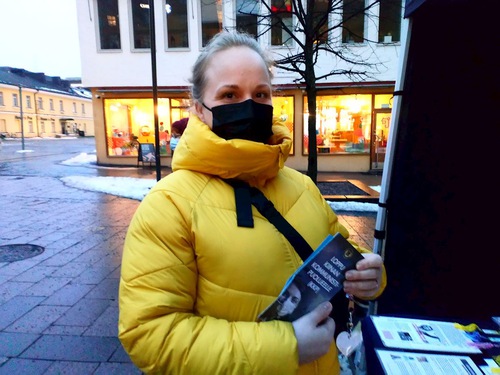 Another Helsinki resident named Lotta is a member of Amnesty International. She learned about the CCP's persecution of Falun Gong through Amnesty International and said she supported practitioners' efforts. "The live organ harvesting is terrible and disgusting," she said, adding that the international community should do more to improve China's human rights situation.
A man named Niko went to sign the petition towards the end of the event. He said, "The CCP is an authoritarian regime. One person [makes decisions for] the whole country. This is unacceptable."
He thanked the practitioners and asked them when they would return. He said he would bring his friends to learn more.
35 total views