It has been over two months since the Hong Kong branch of the Tianti bookstore opened its doors to the public on September 19, 2020.
According to Liang Zhen, president of the Hong Kong Falun Dafa Association and manager of the store, the bookstore has received much positive feedback. Many locals said they feel encouraged and touched that Falun Dafa practitioners are still clarifying the truth about the practice, despite the Chinese Communist Party's (CCP) tightening control.
Bringing the Beauty of Dafa to Hong Kong
Tianti opened its first bookstore in Hong Kong on September 19, 2020. Liang Zhen said that it has not been smooth sailing. For instance, it was forced to move less than a month after the store opened for business. Unexpectedly, they found a new location quickly, and the rent was cheaper. The new landlord was glad to offer a place for the bookstore. The bookstore hopes to bring the beauty of Dafa to Hong Kong residents.
Liang Zhen said that, although the bookstore is small, they have gotten good news almost daily. Many locals came out of admiration, and practitioners in China told family members living in Hong Kong to buy Dafa books and, most importantly, to learn the exercises. There were also people who came to the store after seeing the bookstore's advertisement in the newspaper.
People Come to the Bookstore in Search of Falun Dafa
Several volunteers working at the bookstore shared stories of customers who came to purchase Dafa books.
A customer had seen Falun Dafa documentaries on Youtube and wanted to learn more about it. He came to the bookstore to buy two books.
A man dropped by after seeing the ad in the Epoch Times newspaper. He wanted to learn another school of cultivation and often meditates. He ended up buying Zhuan Falun, the main book of Falun Dafa (also called Falun Gong) and two more books for a friend. He also said that he knows that Master Li, the founder of Falun Gong, is here to awaken people's consciences.
Another customer came to the new location a few days after the move, having found the new address in the Epoch Times.
Falun Dafa is currently practiced in over 100 countries and regions. Mr. Li Hongzhi has published 46 books and his teachings are translated into over 40 languages.
Liang Zhen said that, besides Chinese, people of many different races are practicing Falun Gong.
"Practitioners from other countries have contacted us and asked if we can mail Dafa books to them," he said.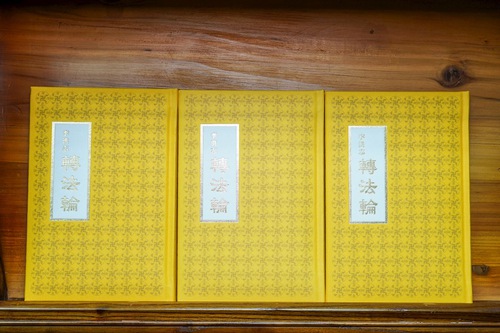 Becoming a Practitioner after Attending the Free Nine-Day Seminar
Liang Zhen said that the bookstore recently held a free nine-day seminar on Falun Dafa, playing video lectures given by Master Li. Throughout the world, many new practitioners have been introduced to the spiritual discipline through such seminars and then taken up the practice.
Mr. Cai, who works in the apparel industry, first heard about Falun Gong 20 years ago when he was in China. He began to practice it after attending a nine-day seminar in June this year. He participated in another nine-day seminar recently.
He said that he experienced great changes physically and mentally after he started to practice. Things that used to annoy him in the past now seem like small issues. He also experienced a big improvement in his health after doing the exercises for four months.
"Some people say this is good," he said, "while others say it is bad. What's most important is that you give it a try." He said he would keep practicing Falun Gong.
Liang Zhen spoke about a couple who'd immigrated from China and attended the recent nine-day seminar. The husband had gotten the main book Zhuan Falun in Hong Kong three years ago. Recently, he persuaded his wife to attend the seminar with him. They are grateful for the opportunity to practice Falun Gong and bought all of Master Li's 46 published books.
Liang Zhen said that, besides reading Zhuan Falun, practitioners also read Master Li's lectures given at different locations. Through studying these writings, new practitioners gain a better understanding of cultivation. So many of them buy all the other books and read them soon after becoming serious about practicing Falun Dafa.
More and more people are looking for a form of spiritual practice to relieve stress and understand the purpose of one's existence in this chaotic world. Liang Zhen hopes people can visit Tianti bookstore to find out more about Falun Dafa. If they are interested in the nine-day seminar, they can contact the bookstore for information.
Practice Sites All Over the Island
Liang Zhen said that, in the past, many Hong Kong residents had misconceptions about Falun Gong due to the CCP's propaganda. After living through the movement to protest the extradition law, people's opinion of Dafa and its practitioners has changed 180 degrees. There is a growing interest in learning the exercises and teachings. Many truth-clarification sites have reported that people ask practitioners about learning Falun Gong.
"Practice sites have been established all over the island," said Liang Zhen. "Currently there are around 30 such sites, and newcomers have joined many of them for the morning exercises. Their numbers are increasing.
"As Hong Kong gets closer to China day by day, it is very meaningful to launch a Tianti bookstore on the island. Many practitioners in China hope to purchase Dafa books through the bookstore. I hope that in the future we can send Dafa books to China," said Liang Zhen.
Location
Store address:
RM 1428A, 14/F, Star Hse 3, Salisbury Road, TST, Kowloon, Hong Kong
Hours of operation: Monday-Saturday 2 p.m-6 p.m, closed on public holidays
Telephone: (852) 2558-8933, (852) 9557-2600 (WhatsApp)
Website: https://TiantiBooks.org