Falun Dafa practitioners in New Zealand participated in five Christmas parades in Whanganui, Fielding, Papamoa in Tauranga, and the Auckland suburbs of Birkenhead and Howick on December 12 and 13, 2020.
New Zealand has been praised as one of the few countries globally that have successfully dealt with the coronavirus pandemic. With no new infections, New Zealanders were able to go ahead with Christmas parades around the country as planned.
From November through December, the New Zealand Falun Dafa group received a total of 23 invitations to participate in Christmas parades from cities and suburbs in both the North Island and South Island.
New Zealand residents warmly welcomed the Falun Dafa parade group, which included the Tian Guo Marching Band with their costumes as pure as white clouds and blue sky, and the waist drum group with their sunny yellow costumes, and the dragon dance group. Falun Dafa's universal principles of Truthfulness-Compassion-Forbearance also impressed many spectators.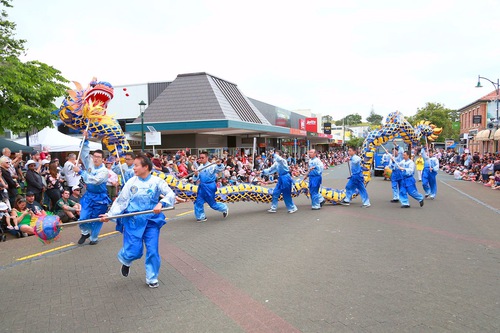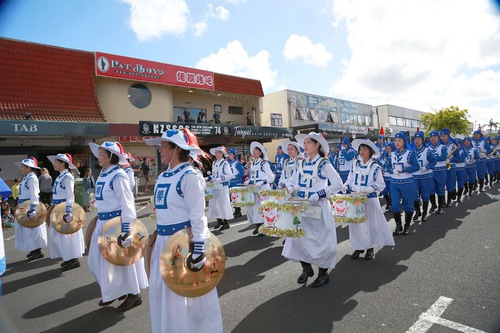 New Zealand National Party Member: "Truthfulness, Compassion and Forbearance" Are Strong and Powerful Values
Mr. Dan Bidois graduated from Harvard University and is a member of the New Zealand National Party. He said that he was very happy to see Falun Dafa practitioners participate in Christmas parades every year.
"They [Falun Dafa practitioners] are the testimony of the Chinese community in New Zealand, and it is really great! Today, while we celebrate Christmas, we are also celebrating the multiculturalism of the different ethnic groups, and the Falun Dafa group is a part of our community. I feel that their values of 'Truthfulness, Compassion and Forbearance' are very good," he said.
The reporter spoke with Mr. Bidois about the coronavirus pandemic and how humankind needs now more than ever to return to traditional values. Mr. Bidois said, "The values that the Falun Dafa practitioners adhere to is very strong and powerful. This is really good and is great values."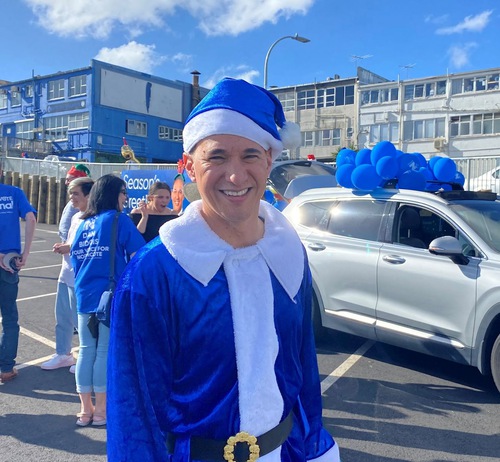 New Zealand Labor Party Member: Share Values, This is the Purpose of Christmas
Mr. Shana Halbert is a member of the New Zealand Labor Party. "Today, I see so many rich and colorful costumes, and I see so many people are celebrating Christmas here as a member of the community. I am very happy to see that. Obviously, this year is a difficult year and they [Falun Dafa practitioners] made people feel the festive spirit of Christmas and they wore their own traditional costumes. They make people feel the positive energy and they filled our festival with the Christmas spirit," he said.
When he learned that Falun Dafa practitioners adhere to the principles of "Truthfulness, Compassion and Forbearance," Mr. Halbert replied, "I came from a Maori ethnic family where values are very important and sharing one's values is the purpose of Christmas. 'Truthfulness' is also a value that we the Maori people adhere to. Truth and integrity are our most important values."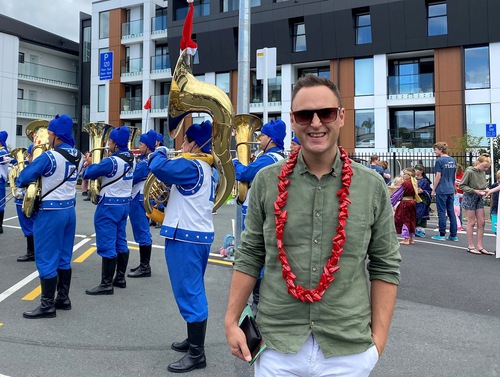 Former South African Reporter: I Also Want to Adhere to the Principles of "Truthfulness, Compassion, and Forbearance"
Mr. Dave Van Der Merwe was a reporter in South Africa before he moved to New Zealand. "I like the Tian Guo Marching Band's blue and white costumes, especially the little cloak behind their hats, which makes them look so suave! This is too beautiful! Therefore, I kept recording a video of the parade just now."
When he heard that the Tian Guo Marching Band is made up of Falun Dafa practitioners and they all adhere to the values of Truthfulness, Compassion, and Forbearance, Mr. Merwe sincerely said, "I also want to do so, I also want to adhere to the values of Truthfulness, Compassion, and Forbearance and I want to know more information about Falun Dafa."
When Mr. Merwe learned about the CCP's persecution of Falun Dafa practitioners, he said that it was really unbelievable. "Falun Dafa practitioners are so peaceful, what did they do to harm the CCP? They even carry out live organ harvesting on them to gain benefits. This is really unbelievable to me. Hearing that makes me anxious and distressed."
He said countries around the world should put the persecution of Falun Dafa in the public eye and engage in some important negotiations with the CCP. They should ask the CCP to let go of the power that they have in their hands, as this power has been used for killing and to implement a dictatorship. "People go crazy for power and cause everyone to fight for power and gains. On the contrary, Falun Dafa practitioners' benevolence, peacefulness, and humble attitude in treating others is what I like the most and hope to see the most," he said.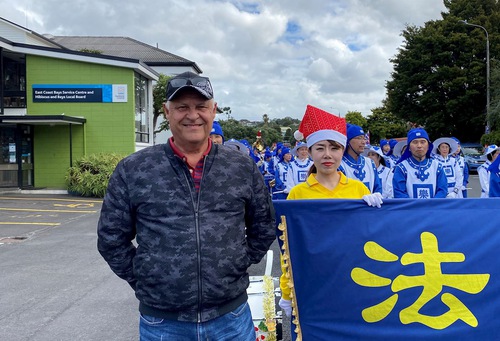 New Zealand Residents: Hope For More Groups Like Falun Dafa
Ms. Trisha Mathew and her son John had full admiration for Falun Dafa practitioners' performances in the parade. "For us, the Tian Guo Marching Band is definitely one of the greatest highlights of today's parade. This is a very high-quality performance and their blue and white costumes are very beautiful," Ms. Mathew said.
When they learned that the people in the band are all Falun Dafa practitioners, Ms. Trisha said happily, "They have infused their inner peace into their music, this is really great! I totally agree with the values of Truthfulness, Compassion, and Forbearance that they have brought to everyone and I wish that there will be more groups like them."