People smiled and waved as the Western Australia Service Centre for Quitting the CCP car parade passed through Perth's Chinatown on September 19, 2020. The messages on top of the cars advised people to quit the Chinese Communist Party (CCP).
Mr. Shen, one of the drivers, said that he hopes more people realise that the CCP is not China. "The CCP has poisoned the minds of its people. It promotes a competitive mentality, which has been extended overseas. Its aggressive diplomacy has created a backlash against the Chinese people in other countries. Some people don't realise that the CCP is not China. The CCP's ideology is evil, but Chinese people are kind."
Ms. Eirini Comino, another parade participant, said, "We are sending the message to the Chinese people before the CCP collapses. We are telling them not to trust the CCP's propaganda and to take this opportunity to quit all the Communist organisations they ever joined."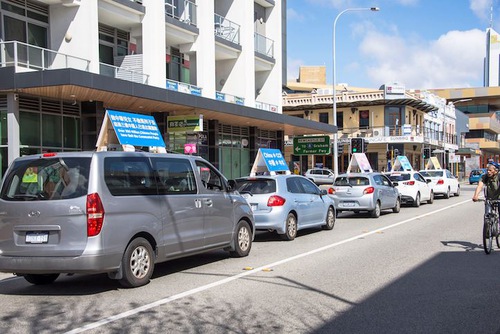 Linda, who recently moved to Australia from China, said the CCP was composed of individual members. If all of them quit, the CCP would naturally dissolve and the persecution would end.
The two-hour parade attracted many spectators. One young Chinese woman smiled broadly and exclaimed, "This is the first time I've seen it in Perth!" As the parade of cars drove by, several bystanders talked about the messages on top of the cars. Some waved at the drivers. Others took photos and videos.