Falun Gong practitioners in Sweden held activities at Mynttorget, a public square in Stockholm, on August 11, 2020, to expose the Chinese Communist Party's (CCP) persecution of the practice and call for international society to help bring it to an end.
Many people stopped to learn about Falun Gong and the persecution. They condemned the CCP's atrocities and said they admired the practitioners' efforts. Many asked what they could do to help.
"I like China as a country with its ancient civilisation, but I don't like the Chinese government. It has done many terrible things," said a man from Gothenburg Sweden. He talked in fluent Chinese with a practitioner. He had visited Shanghai and Hong Kong, and was saddened by the current situation in Hong Kong. He admired Falun Gong practitioners' courage in the face of persecution. He signed the petition and planned to write an article about it.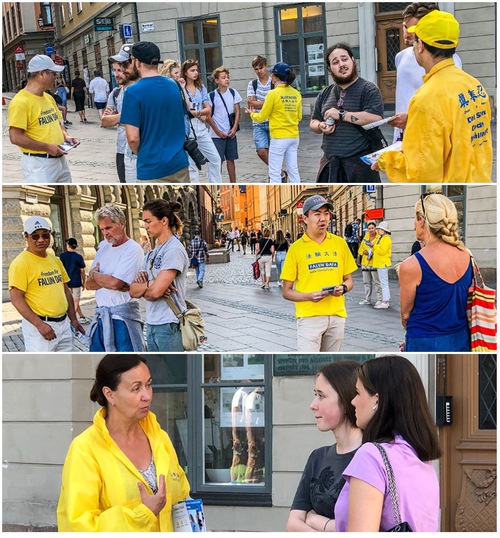 Local resident Monika signed the petition and thanked the practitioners for spreading the word. She said, "I know the Communist Party pretty well because I came from Poland. I hate the Communist Party and stay away from it. I admire your great work to stop the persecution! You always have my support!"
A man from the Swedish city of Jönköping told a practitioner, "I have visited Southeast Asia several times and met many Chinese people. They are kind and hard-working, but the people living under the communist government are deprived of freedom, and even their dignity and privacy. The Chinese government [CCP] is a tumor. It must be eliminated."