Ms. Wang Chunrong, a Falun Gong practitioner from China who now lives in the U.S, received an award from the Montgomery County Council in Maryland recently. The council thanked her for eight years of positive contribution to the Montgomery Chinese community, especially the care and help she gave to elderly residents during the coronavirus outbreak.
Ms. Wang Chunrong, 74, lives in Gaithersburg, Maryland. There are over 100 Chinese immigrants and older people of various ethnic groups living in her apartment building. During the CCP virus, Ms. Wang helped her neighbors by giving them haircuts free of charge, driving those without a car to the bank, shopping for those in their 90s, and much more.
Her selfless actions won the respect of her neighbors and the building maintenance staff. When the Montgomery County Council learned of her admirable deeds, they gave her an award.
Ms. Wang said she was "overjoyed" to receive the award. It makes her feel she should help others, especially fellow compatriots from China, while living in this free society.
Kindness Overcomes Misconceptions
In the beginning, Chinese people around her kept a distance when they learned that she was a Falun Gong practitioner, because they were misled by the negative reports publicised by the Chinese Communist Party (CCP).
Ms. Wang said, as a practitioner, she follows the principles of Truthfulness, Compassion, Forbearance and strives to be a better person. She did not take her neighbors' aloofness to heart; instead she continued to show them that she cared. A neighbour from China in her 80s said she admires practitioners' unwavering persistence, despite facing the terrible persecution for over two decades.
Before the pandemic, Wang Chunrong went to tourist attractions in Washington DC four days a week to clarify the truth about Falun Gong to Chinese tourists. During the virus outbreak, she often shared the benefits she gained in practicing Falun Gong with Chinese friends living in the US, hoping they would understand the evil nature of the communist regime and renounce their membership in the CCP and its affiliated organisations.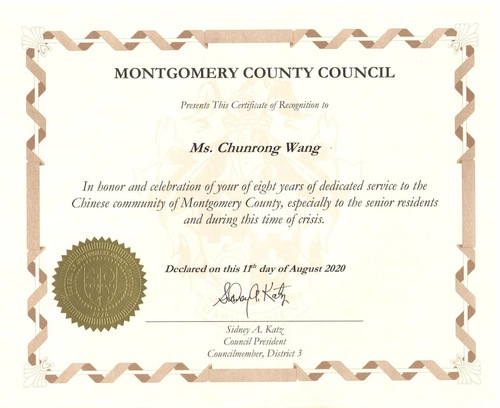 Persecuted in China
Wang Chunrong was formerly a director of the Xincheng Accounting firm in Dalian City, Liaoning Province. After she took up Falun Gong in 1998, she managed her business by following the principles of Truthfulness, Compassion, Forbearance. She did not manipulate the figures, nor accept bribes. She won the trust of her clients and her business grew. She was eventually hired as a consultant for companies such as Dalian Pingan Insurance and Huarong Asset Management.
Police ransacked her office and arrested two dozen employees in 2007, claiming that she offered financial assistance to Falun Gong practitioners. Her company was audited for over two months, but no evidence of wrongdoing was found. Yet she was sentenced to three years and four months in prison. Her company was unable to continue trading because her accounting license expired, resulting in losses of at least 5 million yuan [$183,600].
A year after her release from prison, Ms. Wang discovered that police were still monitoring her and that she could be arrested again at any time. So she moved overseas in pursuit of freedom of belief. She was in her 60s then.
Ms. Wang had visited the US in 2000 for business purposes. She never thought she would one day live in this country. She couldn't drive or speak English when she first arrived. Hence, she understands how elderly immigrants feel.
Affected by the CCP virus, many people are stuck at home. For elderly people it has brought even more inconveniences. Having practiced Falun Gong for over two decades, Ms. Wang is fit and healthy. She is even more energetic than when she was young (before practicing Falun Gong, she suffered from a number of ailments, including rheumatoid fever and inflammation of the synovial membrane). Ms. Wang phoned her neighbours and asked if they had problems or needs, and she tried her best to take care of those around her.
The management staff at the apartment building was touched by her kind acts. One employee said, "Ms. Wang is one who continues to inspire others. Because she has such a kind heart, God will always protect her. We are extremely glad for her to live here – such a good person, in our community. We are very grateful for the things she has done for our residents especially during such troubled times."
Ms. Wang said that she is happy to contribute to American society. "I was persecuted in China for practicing Falun Gong, but America has offered me protection." She hopes that China will be rid of the CCP soon, so that Chinese citizens can enjoy freedom.