The Senate of Belgium passed Resolution 7-162 on June 12, 2020. The resolution condemns the Chinese Communist Party (CCP)'s state-sanctioned organ harvesting from living prisoners of conscience, especially Falun Gong practitioners and Uighurs.
The resolution was sponsored by 10 senators and introduced on May 12. It was discussed in the Senate on June 8 and passed on June 12. Several senators spoke on behalf of their respective political parties and condemned the CCP's live organ harvesting.
"I often see Falun Gong practitioners holding activities on Luxembourg Square [in front of the European Parliament]," Senator Mark Demesmaeker said. "They specifically call for an end to the terrifying and appalling criminal acts of organ harvesting from live Falun Gong practitioners."
He said that China, under the autocracy of the CCP, has a strictly closed political system. This repressive system targets religious and minority groups, such as Falun Gong, as well as Christians and ethnic minorities. These groups have been turned into a live organ donor bank under this totalitarian political system.
Demesmaeker also said that forced organ harvesting is a crime and these illegal acts must be punished by the criminal law passed on May 22, 2019, "Van Peel," which prohibits Belgians from accepting illegal organ transplants in foreign countries.
Senator Gaëtan Van Goidsenhoven, the representative of the resolution proposal, said, "[We] have reason to worry about a large number of organ transplants, and the organs mainly come from Falun Gong practitioners and Uighurs.
"Whether it is from the general number of executions [by the CCP] or the total number of special transplants, we doubt the authenticity of the organ transplant figures published by the CCP. Our resolution is to expose and continue to help stop these illegal and inhumane practices," Goidsenhoven said.
Senator Karin Brouwers said, "I thank Senator Van Goidsenhoven for the initiative to condemn this inhumane practice. This practice violates all possible human rights treaties. But this practice has existed for a long time. In China, it mainly happens to Falun Gong practitioners and Uighurs. This must be stopped."
Senator Hélène Ryckmans said that based on the available evidence, the CCP's official statements claiming that all transplanted organs were taken from death-row prisoners are not credible.
"The actual organ transplant volume is unbelievably high," she said, "If China has nothing to hide, it should be investigated by an independent international mediator and regularly reported in detail."
Senator Fatima Ahallouch noted, "In 2019, the CCP regime sentenced at least 774 Falun Gong practitioners. The persecution of the Uighur community has been happening for a while." She said that in 2006, the Belgian Transplantation Association (BTS) noticed that China's Transplant Assistance Center website became active on the Internet with the purpose of promoting rapid organ availability in China.
The China Tribunal pointed out that the extremely short waiting times for transplantation in Chinese hospitals suggests that the CCP obtains organs illegally. Formerly imprisoned Falun Gong practitioners and Uighurs have testified that they were repeatedly forced to undergo medical examinations while in prison.
The senators who co-sponsored Resolution 7-162 were:
Gaëtan Van Goidsenhoven
Georges-Louis Bouchez
Jean Paul
Sabine Laruelle
Véronique Durenne
Philippe Dodrimont
Alexander Miesen
Willem-Frederik Schiltz
Bert Anciaux
Karin Brouwers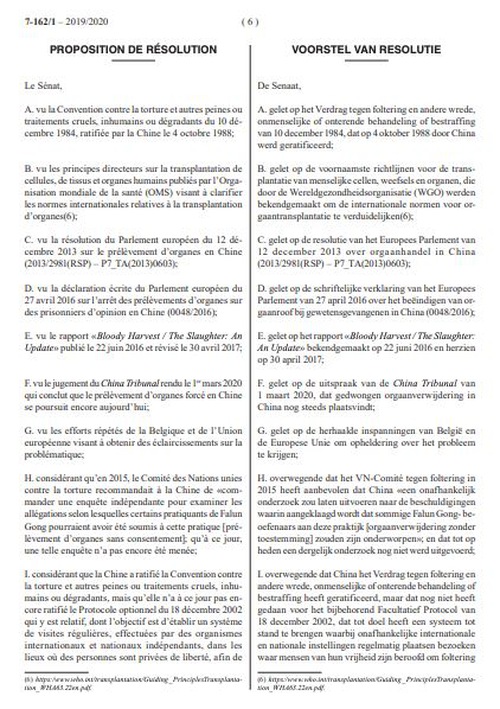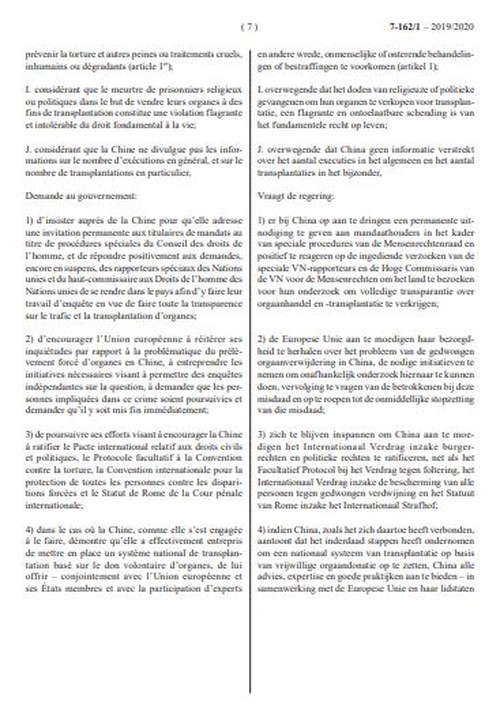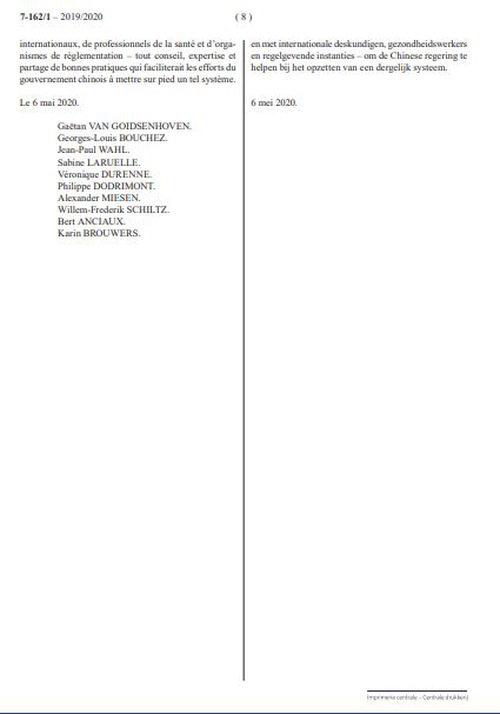 (Clearwisdom)
28 total views