Michael Cooper, member of parliament in Canada, recently said in an interview that an independent investigation should be conducted into the Chinese Communist Party (CCP) and WHO for their liabilities related to the coronavirus pandemic.
Irwin Cotler, former Liberal justice minister, urged Canada to impose Magnitsky-style sanctions on Chinese officials who mistreated or silenced whistle blowers, including medical staff and citizens, during the initial outbreak.
"The Chinese Communist Party has to be held accountable through naming and shaming, in the court of public opinion, in actual courts of law through international tort actions, and through Magnitsky sanctions," citing Cotler in an article on April 14, 2020, from The Globe and Mail with the title of "Former Liberal justice minister urges sanctions against Chinese officials who covered up early COVID-19 outbreak."
Rethinking Relationship with the CCP
Mr. Cooper said China knew about the epidemic very early, but their officials did not take action. Instead, they covered it up and downplayed its seriousness, leaving the world unprepared for this major disaster. He encouraged independent investigations, like those proposed by the U.S. and Australia, to identify the CCP's liability.
Similarly, the World Health Organisation (WHO) solely relied on information from the CCP and failed in its mission to safeguard public safety. Its role in downplaying the global damage caused by the coronavirus pandemic is also very serious. 
For these reasons Cooper said he asked the Canadian government to take action and obtain information on how the CCP has been suppressing information and misleading the public. He reiterated the urgency of reconsidering Canada's relationship with China, since the CCP should be held accountable.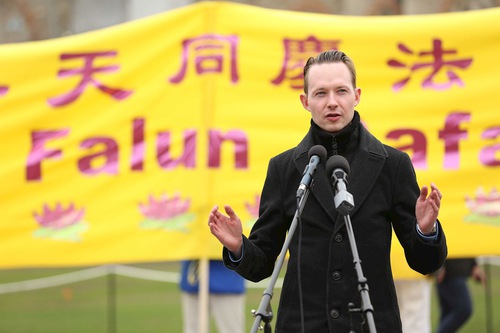 A Chernobyl Moment
Mr. Cotler is a strong advocate for human rights, and said he believes the virus spread could have been significantly reduced had China taken action sooner. "We can target those who have been responsible for the disappearances of the doctors, such as Dr. Ai Fen, director of the emergency department at the Central Hospital of Wuhan, who has now disappeared," he explained.
Dr. Fen shared her early concerns about the virus with colleagues through social media. As the information was circulated, however, eight doctors were disciplined by police, including Li Wenliang, another whistle blower who later contracted the virus and died.
"Mr. Cotler said China kept information from the public at a crucial early period and cited a British study by the University of Southampton which suggested that 95 percent of infections could have been avoided if China had acted three weeks earlier," according to the article.
He called this outbreak China's "Chernobyl moment," referring to how authorities in the former Soviet Union covered up the full extent of a 1986 nuclear accident in the Ukraine.
Cotler said that he expected lawsuits would be filed against the CCP. He wrote, in addition, "The Sergei Magnitsky Law allows Canada to impose asset freezes and travel bans on human rights abusers around the world."
(Clearwisdom)