Falun Dafa practitioners in Auckland were invited to participate in the annual Kumeu Show on Saturday, March 14, and Sunday, March 15, 2020. 
Held in the affluent rural community of Kumeu about 30 minutes' drive northwest of Central Auckland, the event boasts a variety of interesting entertainment and attracts many local residents every year.
The practitioners had a booth and also participated in the entertainment with their waist drums and a dragon dance, which were well received by event attendees.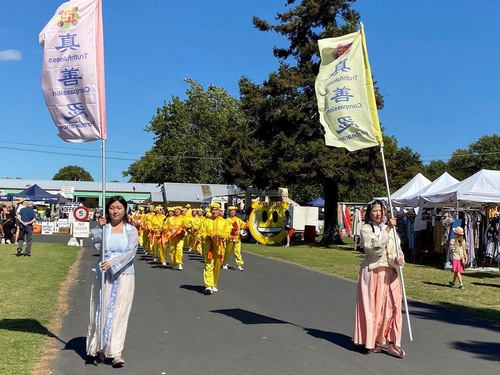 Everyone Should Follow Truthfulness, Compassion, and Forbearance
Lizelle Wesman was responsible for organising the 2020 show. She said around 300 businesses participated this year.
"This is the 98th Kumeu show. Because there is a huge Chinese community in the region, we hoped that representatives from the community would take part in the show. The locals loved the performances by Falun Dafa practitioners in prior years. I even put the Falun Dafa entry in the front position at yesterday's parade. I admire the efforts put in by practitioners. I think this is an interaction between different cultures and it is excellent. In New Zealand, we embrace different religions, beliefs, and so on," she said.
Practitioners told Lizelle they hoped to share the Falun Dafa values—Truthfulness, Compassion, and Forbearance—with the community.
"This is what everyone should follow," she said. "You have done a great job every year and brought a lot of joy. I thank you for participating in the show every year."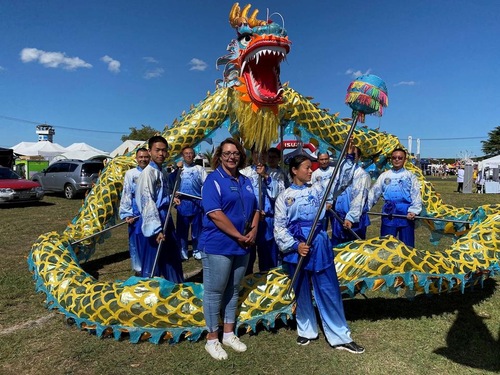 New Zealand Social Credit Party Representative: Get Them to Stop the Persecution
The New Zealand Social Credit Party had a booth next to Falun Dafa. Gloria Bruni, who is a local representative of the party, loved the dragon dance and took many photos.
"Our party has been paying attention to the communist regime's persecution of the meditation practice. It even tries to persecute people who live in New Zealand," she said.
She cited the case of Anne Marie Brady, a political researcher and professor at the University of Canterbury. Her house and office were broken into, her car was damaged, and her life was threatened, because she kept writing articles exposing the communist regime's influence in New Zealand.
Gloria feels that the New Zealand government should stand up for Falun Dafa. "Although we trade with China, we must uphold our values. Only then will we be respected," she said.
She also expressed anger at the removal of organs from living Falun Dafa practitioners, saying, "This is completely wrong and immoral."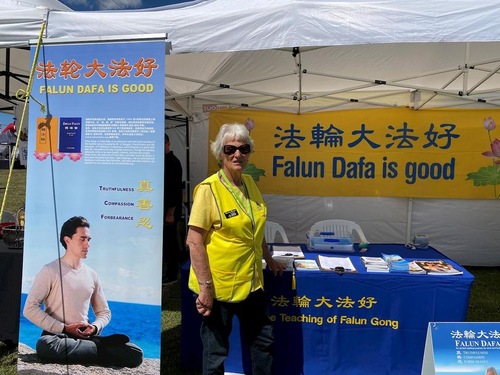 The Coronavirus Outbreak in China Is a Warning 
Virginia Woolf, an English teacher, started to learn the Falun Dafa exercises at the event.
"I'm under a lot of pressure and tire easily," she said. "I want to do something to increase my physical and mental well being. I read the introduction on Falun Dafa but thought it would be better to come and experience it for myself in person."
She told practitioners she knew about the CCP's organ harvesting from Falun Gong practitioners, and she signed their petition to stop it.
She asked what else she could do to help change the situation. She suggested putting information on social media platforms such as Facebook, Twitter, and Instagram, so that more people would pay attention to news reports about the persecution.
In light of the current coronavirus outbreak, she thinks it is an excellent opportunity for the New Zealand Government to see how the regime treats its citizens.
"I don't believe the figures reported by the Chinese government," she said. "Neither do I believe they have got it under control. This epidemic is a warning to people, we cannot continue like this anymore."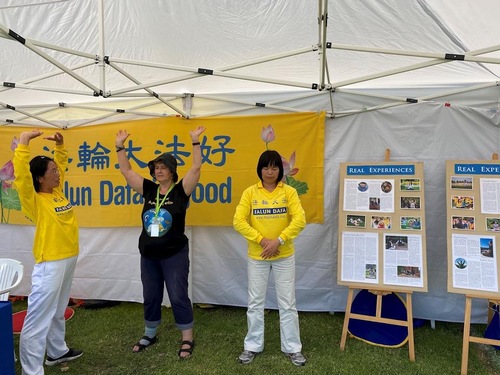 Everyone Should Be Treated with Respect
Gus Giomore and his daughter's family stopped to watch the practitioners' dragon dance and waist drums. He is the regional manager for Hong Kong and China for Air New Zealand.
He said he loved the dragon dance, because he used to live in Hong Kong. He and his family watch dragon dances wherever they can.
He knows about the persecution of practitioners in China and said, "I respect Falun Dafa practitioners' faith. I think this kind of meditation practice is good for people. Everyone should be treated with respect."
He had also been following the recent protests by Hong Kong citizens against the Chinese Communist Party's encroachment on their freedoms and rule of law. "I don't want to see such things happening. The communist regime should learn to respect people's views," he said.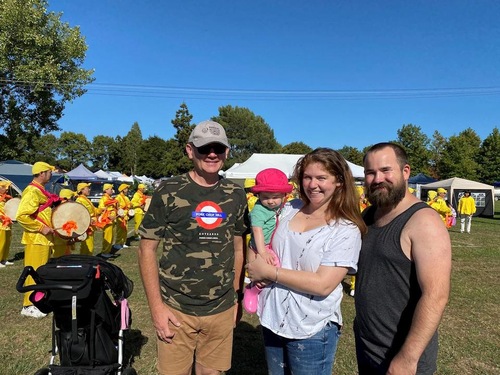 (Clearwisdom)