Orientation was held at Macquarie University from February 17 to 24, 2020.
Many faculty, staff, and students were interested in learning about Falun Dafa and more than 80 people joined the Falun Dafa Club on campus.
Members of the Falun Dafa Club demonstrated the five sets of exercises and introduced the ancient spiritual practice to visitors.
People also learned about the Chinese Communist Party's (CCP) persecution, including the state-sanctioned live organ harvesting. Many condemned the brutality.
Truthfulness-Compassion-Forbearance Is Important for Everyone
Vijey from India said this was the first time he'd heard about Falun Dafa, and he signed up to join the Club.
After learning about the persecution in China, he said the CCP was too cruel and that he would let more people know about it.
Vijey said that Truthfulness-Compassion-Forbearance is important for everyone, and if people followed the principles the world would be a beautiful place.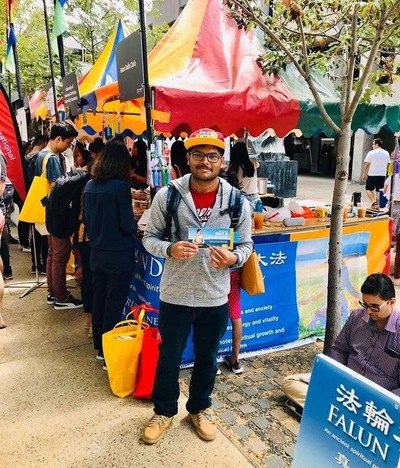 Jack said he heard about Falun Dafa and knew about the persecution. He said that the CCP didn't want people to know how good Truthfulness-Compassion-Forbearance is.
He felt people should spread the word about the persecution on social media. He encouraged practitioners to keep up their efforts.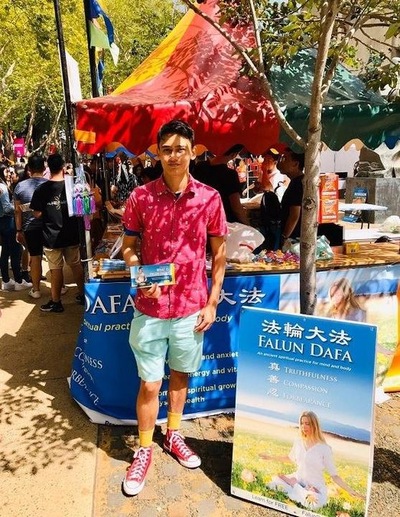 The Persecution Is Wrong
"Last week I saw some people practicing Falun Dafa on campus," Hurbert Hartan said. "I'm also interested in meditation and so I joined the Falun Dafa Club."
"Even though Falun Dafa is beneficial to one's health, the Chinese regime is persecuting practitioners. This isn't right."