Falun Gong practitioners from Quebec City held a grand parade on Saturday, June 8, 2019, to celebrate the 27th anniversary of the practice's public introduction.
Led by a gigantic "Falun Dafa" blue banner and the Tian Guo Marching Band, the procession set off at noon from the provincial parliament building and traversed the major streets in the city's downtown area, including René Lévesque Boulevard, Grande Allée Ouest, and into Old Quebec.
Renée Noël lives along the parade route and watches the procession every year.
"You've brought us beauty. Thank you. The parade is really nice," she said.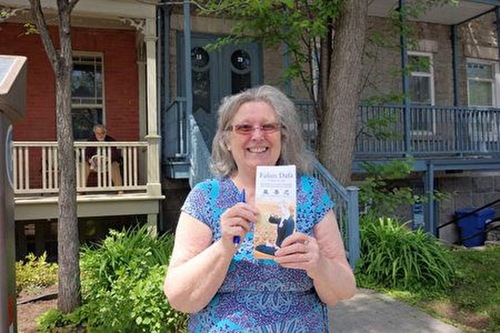 The hour-long parade ended at the Place d'Armes, a famous tourist destination in Old Quebec, where crowds of visitors applauded the Tian Guo Marching Band's performance.
Practitioners also demonstrated the exercises, introduced the practice to bystanders, and told tourists and locals about the 20-year-long persecution in China in three languages: Chinese, English, and French.
Many Chinese tourists were surprised and happy to see a large-scale Falun Gong activity. Many gladly accepted flyers from practitioners and praised them for their peaceful resistance.
"I almost cried, when I heard them play," a Chinese lady said. "It is great to see them doing their exercises together. You cannot see that in China."
Many tourists expressed their support for Falun Gong's peaceful resistance and encouraged practitioners to continue to tell more people about the persecution.
Catherine Farez had never heard of Falun Gong before. She said the march and the practitioners' performances were a great way to let people know about it. "It seems to be a wonderful practice," she said.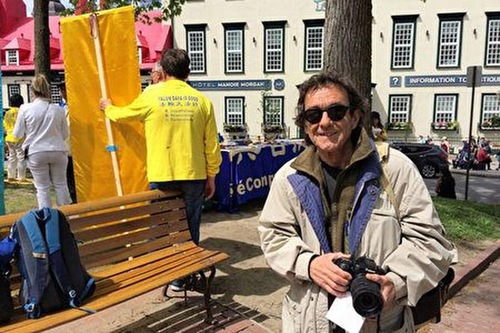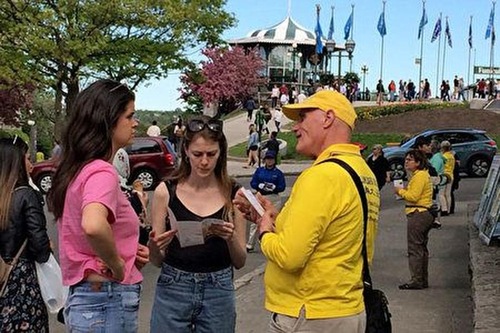 (Clearwisdom)