Falun Dafa practitioners from Melbourne gathered at Box Hill, Melbourne's largest Chinese community, on May 4.
They celebrated World Falun Dafa Day and the birthday of it's founder, Master Li Hongzhi, with colorful performances.
The practitioners expressed their deep gratitude to Master Li and showcased the beauty of Falun Dafa as a gift to the community.
May 13, 2019 marks the 20th World Falun Dafa Day, when Dafa practitioners and supporters around the world celebrate the introduction of Falun Dafa (also known as Falun Gong) by Master Li Hongzhi 20 years ago.
With Truthfulness-Compassion-Forbearance as the fundamental guiding principles, the main Falun Dafa book Zhuan Falun has been translated into 39 languages and is practiced by over 100 million people worldwide.
Throughout the years, governments have issued proclamations and sent congratulatory letters for Falun Dafa, recognising the benefits that the ancient spiritual practice has brought people and expressing appreciation of Master Li's outstanding contribution.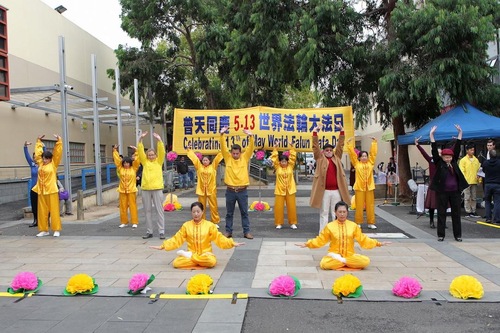 Cindy McLeish MP, State Member of Eildon and Deputy Leader of the Liberal Party, wrote a congratulatory letter to the Falun Dafa Day 2019.
In her letter, she stated, "Falun Dafa has helped many people around the world to obtain a greater understanding of the values of truthfulness, compassion, and forbearance…On behalf of the Victorian Liberal Party I offer my best wishes to all taking part in Falun Dafa Day 2019."
Mark, who owns an architectural coating company, said this was the second time he watched the World Falun Dafa Day celebrations.
He said it was a great way to let people know about Falun Dafa. He feels the principles of Falun Dafa, Truthfulness-Compassion-Forbearance, are important values for today's society.
He further mentions, "Our society definitely needs these values. Today's world isn't healthy. We must do something to bring a change. We need to return to traditional values."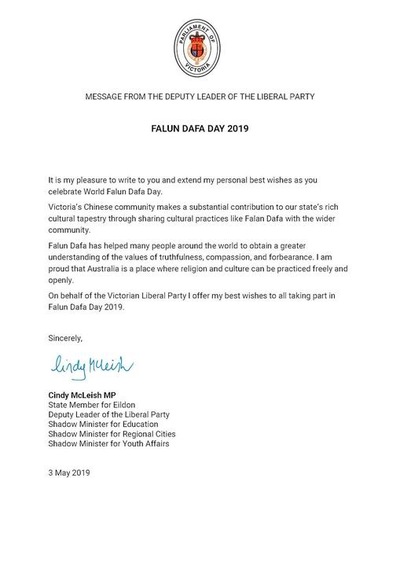 Another local resident, Mr. Marco Petrolo, watched the celebration until the end despite the wind and drizzle.
He told a practitioner, "I forgot all about the cold weather while I was watching the performances. It's great!" He recalled the first time he met practitioners, "My father was seriously ill. I was sad, nervous, and worried about my father. One day, I saw a group of people meditating when I passed the park. I learned that they were Falun Dafa practitioners. I felt relaxed while I watched them. I was truly mesmerised! I just sat and watched. I didn't want to leave. It was so soothing and comforting. I was able to visit my father with a calm mind that day. He has now recovered."
As he watched practitioners doing the exercises, Marco said, "The energy is very strong. I would like to learn it. Falun Dafa's principles are absolutely the right guide for people's behavior. Truthfulness-Compassion-Forbearance. It's the way life should be."
Marco was saddened to hear how the Chinese Communist Party (CCP) has persecuted practitioners in the past 20 years.
He was touched by practitioners' strong faith and said, "I appreciate all you have done. This is a beautiful way to introduce Falun Dafa and unite people from different ethnic groups in our community."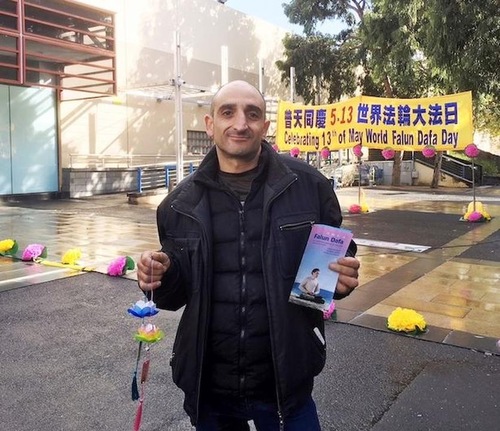 Mr. Li from China praised the performances and said, "It's great! I know practitioners are being wrongly persecuted. This is a great way to have people learn about Falun Dafa."
Mr. Li agreed with the principles of Truthfulness-Compassion-Forbearance and admired practitioners for following these principles in their everyday lives and improving their morality.
Mr. Chen from China had been living in Australia for 3 years. He said he knew that a former head of the CCP had corrupted China, but he still felt the Party wasn't bad. After talking with a practitioner, he learned many facts he did not know and he decided to quit all the Communist organisations he'd joined.
22 total views