UCANews.com, a Catholic news source serving the Asian region, carried a commentary article titled "China's genocide unlike any other" by Benedict Rogers on April 4, 2019.
Benedict Rodgers is deputy chair of the U.K.'s Conservative Party Human Rights Commission, East Asia team leader at human rights organisation CSW, and an adviser to the International Coalition to End Transplant Abuse in China (ETAC).
He opened his article with the following statements:
"China may be committing what one expert, journalist Ethan Gutmann, author of The Slaughter, describes as 'a form of genocide cloaked in medical scrubs.' Or what British MP Fiona Bruce, chair of the Conservative Party Human Rights Commission, described in a debate in parliament last week as 'a crime against humanity and … potentially nothing less than a 21st century genocide.' A crime unlike any other — the forcible extraction of organs from prisoners of conscience."
The article continued by introducing the important work of The China Tribunal, which has been holding hearings in London about the organ harvesting abuses in China.
"The China Tribunal panel, which includes lawyers, an academic, a senior medical expert and a businessman, will hold further hearings on April 6-7 in London, and will publish its final judgment in June."
The China Tribunal panel entered an interim judgment, following hearings in December, that they are "certain, unanimously, and sure beyond reasonable doubt that in China forced organ harvesting from prisoners of conscience has been practiced for a substantial period of time, involving a very substantial number of victims …. by state-organied or approved organisations and individuals."
Mr. Rodgers wrote that forced organ harvesting in China had been difficult to prove because the only living witnesses are the perpetrators: the doctors, the police and the prison officers involved.
Any evidence left in a surgery room is quickly cleaned away after an operation. It has been called an "almost a perfect crime" because no victims have survived to testify.
He wrote that former Miss World Canada Anastasia Lin told a hearing in the British Parliament: "On the street, if someone assaults you, you can scream for help. Tied to a hospital bed in the surgical room of a labor camp, no one can hear your screams. In China, it is the state itself that is involved in organ stealing."
The forced organ harvesting is not only from death-row criminals but also prisoners of conscience, particularly Falun Gong practitioners.
Mr. Rodgers referred to a report published three years ago by Canadian former secretary of state for Asia-Pacific David Kilgour, human rights attorney David Matas and journalist Gutmann titled, "Bloody Harvest/The Slaughter: An Update." Building on their previous investigations, the researchers analyzed public records from 712 hospitals in China that had been carrying out liver and kidney transplants.
Based on available information, they estimated that between 60,000 and 100,000 organs are transplanted each year in Chinese hospitals, and the source of the organs is questionable, as China has not had a tradition of voluntary organ donation.
"Death-row prisoners may account for some, but as Chinese law requires that prisoners sentenced to death must be executed within seven days, it makes the availability of organs on demand from that source limited," Mr. Rodgers wrote.
"Furthermore, in China patients, including foreigners, are promised matching healthy organs within days, in contrast to most advanced Western countries where a patient waits many months, sometimes years, for a transplant. Researchers posing as patients made telephone calls to Chinese hospitals and had this confirmed," Mr. Rodgers relayed.
"That has led investigators to the conclusion that prisoners of conscience are the source. 'The end of this crime against humanity is not in sight,' they conclude. 'The ultimate conclusion is that the Communist Party of China has engaged the state in the mass killings of innocents … in order to obtain organs for transplants,'" Mr. Rodgers wrote.
The article described what a former surgeon from Xinjiang had witnessed more than two decades ago. "Dr. Enver Tohti, has testified to having forcibly removed organs from a prisoner in 1995 at an execution ground. After being instructed by his hospital's chief surgeons, he prepared the equipment and was taken to the site.
"'We had been told to wait behind a hill and come into the field as soon as we heard the gun shot,' he recalls. 'A moment later there were gun shots. Not one but many. We rushed into the field. An armed police officer told me where to go. He led us closer, then pointed to a corpse, saying 'this is the one.' By then our chief surgeon appeared from nowhere and told me to remove the liver and two kidneys. He urged me to hurry up … Then our chief surgeons put those organs in a box and got into the car. They told me to go back to the hospital and never to speak of what had happened.'"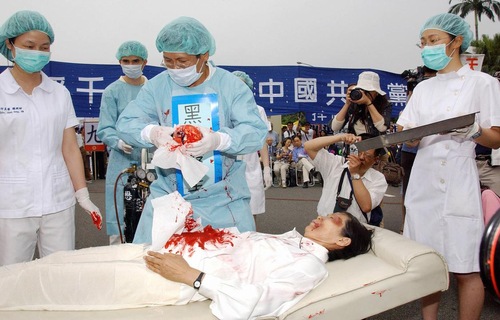 Mr. Rodgers wrote, "Some countries, particularly Israel, Italy, Spain and Taiwan, have banned 'organ tourism' to China, and Canada's Senate has legislated to do the same.
U.N. rapporteurs have called China to account for the sources of organs, but received no response, and one of the world's most respected voices on organ transplant ethics, Dr. Annika Tibell, has called for an international inquiry."
The author calls for action, "If the China Tribunal's interim judgment casts light on truth, then it compels that justice be done and those responsible be held accountable. If true, it requires a re-evaluation of relations with those responsible.
"Other countries should follow those that have already legislated to ban organ tourism to China. The United Nations should appoint a special rapporteur for human rights in China and hold a commission of inquiry. And if true, it requires urgent action to stop the murder of further innocents."
He rounded out the article by again quoting British MP Fiona Bruce:
"As Bruce concluded: "Will we once again hear the phrase 'never again' spoken with regret when eventually the truth comes out? It is not the case that nothing can be done … It cries out to be addressed. Those who fail to do so will one day be held to account."
(Clearwisdom)