According to information collected by Minghui, 931 Falun Gong practitioners were sentenced to prison for their faith in 2018.
These sentenced practitioners come from 27 provinces and centrally-controlled municipalities. Liaoning Province led the list with 116 sentences, followed by 107 convictions in Shandong Province. Both provinces also topped the list of sentencing cases in 2017, with 179 and 108 cases, respectively.
Twenty-one other provinces reported double-digit sentencing cases, ranging from 11 to 73. Four provinces reported between 6 and 8 sentenced.
The prison terms of these practitioners range from 4 months to 14 years, with an average of 3.22 years.
The 14-year-sentence was given to Mr. Song Zhigang, a resident of Liaoning Province, in April 2018, after the police found Falun Gong-related information in his lost cellphone.
Another practitioner, Mr. Liao Dawu from Guangxi Province, was sentenced to two years on December 28, 2018, for accompanying the husband of a detained practitioner to visit her.
Ninety-five of the practitioners are 65 or over. Ten in their 70s were sentenced to 7 years, and four in their 80s were sentenced to 4 years.
In addition to the prison sentences, 258 practitioners were either fined by the court or the police extorted funds from them for a total of 2,880,577 yuan, with an average of 11,165 yuan per practitioner.
Due to the Chinese communist regime's information blockade, the number of Falun Gong practitioners sentenced cannot always be reported in a timely manner, nor is detailed information readily available. The actual number of practitioners sentenced may be higher.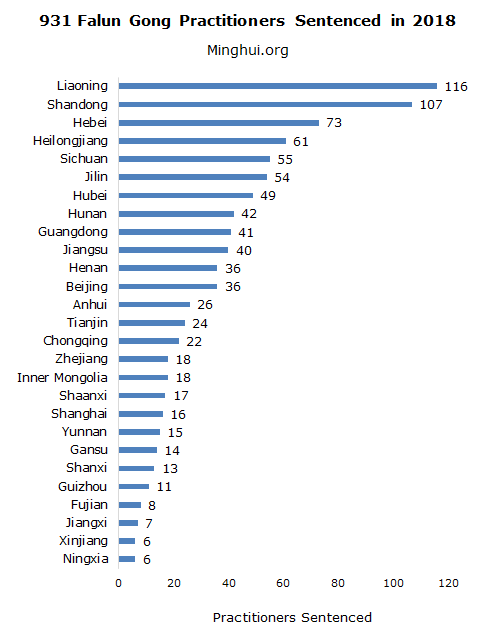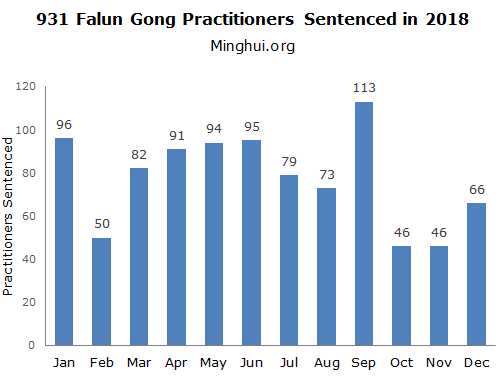 Professionals Sentenced for Their Faith
The practitioners sentenced in 2018 include college professors, engineers, IT specialists, and entrepreneurs. While they enjoyed successful careers, they were still given prison sentences for not renouncing their faith. Many of them credit Falun Gong for giving them more energy and wisdom to do their work better.
Mr. Ma Zhenyu, a radar design engineer in Nanjing City, Jiangsu Province, was sentenced to 3 years in prison on June 28 for writing letters to government officials to appeal for Falun Gong. He is currently serving time in Suzhou Prison.
The authorities retaliated against Mr. Ma's appeals lawyer for representing him and other Falun Gong practitioners by threatening not to renew his license. Another lawyer also received a warning and was threatened with having his license revoked should he continue to represent Mr. Ma.
The third lawyer who continued to represent him was prevented by the authorities from meeting with him.
Mr. Ma's wife, Ms. Zhang Yuhua, also a Falun Gong practitioner, fled to the U.S. three years ago to escape the persecution and is unable to return to China. She is now very worried about him, as no lawyer has been allowed to meet with him since he was incarcerated in June 2018.
Mr. Xu Yongqing, an engineer in Shanghai, was sentenced to two years in prison and fined 5,000 yuan on September 18, 2018, for not giving up his faith in Falun Gong by a court in Yangzhou City, Jiangsu Province.
Mr. Xu's ordeal began on August 22, 2016, when he was arrested for requesting the removal of a bulletin board with messages defaming Falun Gong near a subway station in Shanghai.
After he was released, he filed complaints against the officers who arrested him and the Ministry of Public Security for supporting the persecution of Falun Gong.
The Ministry of Public Security ordered Shanghai police to make Mr. Xu drop his lawsuit. He refused to comply and later faced retaliation by the police, who accused him of mailing letters about Falun Gong.
Dr. Li Changxing, 59, a physician in Guangzhou City, was sentenced to four years via video conferencing in a detention centre on September 6, 2018.