Falun Gong practitioners in various parts of China were arrested and recently detained. Some of them are friends and relatives of Australian citizens.
Falun Gong practitioners held a press conference outside the Sydney Chinese Consulate office on the afternoon of December 17, 2018, calling for the unconditional release of all Falun Gong practitioners illegally detained in China, including Australia's citizen Liu Ling's older sister Liu Chunxia, Lily Liu's older sister Liu Rehan, and Australia's resident Luan Yuanxin's mother Zhang Shurong.
Appeal to Urge China to Release Detained Falun Gong Practitioners
Professor Lucy Zhao who is president of the Falun Dafa Association in Australia spoke at the rally.
"We are here today," she said, "because family members of Australia's citizens and residents were arrested for practicing Falun Gong. Practitioners in China have been persecuted for their belief since July 20, 1999. In the past few years, much evidence has been gathered regarding the harvesting of organs from detained practitioners, which are sold for profit."
She continued: "A few weeks ago the Australian parliament produced a report and several recommendations. They expressed their deep concern for the harvesting of organs from prisoners of conscience. They hope the Australian government will let the public know about organ harvesting and warn Australians not to go to China for organ transplants.
She urged the Chinese Communist regime to stop the persecution of Falun Gong practitioners and unconditionally release all detained practitioners as well as prisoners of conscience. She also appealed to the Australian government to urge the Chinese government to release the detained family members of Australian citizens and residents. She hopes all media and public present at the rally will let more Australians know what's happening in China.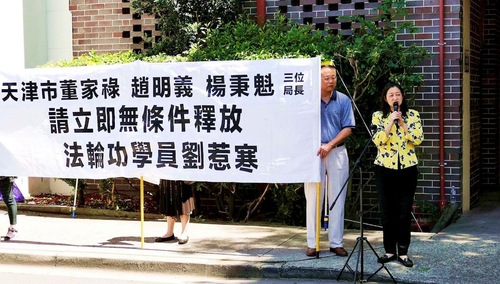 Australian Citizen: "I hope the persecution will end soon"
Liu Ling, an Australian citizen, said at the rally: "I urge the authorities in Shaanxi Province to immediately release my sister Liu Chunxia. She was arrested at home on March 22, 2017 for practicing Falun Gong and since then she has been imprisoned at the Xincheng District Detention Center in Xi'an City.
This year she was sentenced to four years in prison by the Xincheng District Court and was transferred to the Shaanxi Women's Prison in September. The prison has denied visitation rights. Our family is very worried about her. We don't know if she is safe or hurt."
She continued: "Since my sister started to practice Falun Gong in 1997, she became a good employee and treated her colleagues kindly. At home she is a good mother and wife and is considerate of others. She has been arrested and tortured several times for refusing to give up her faith."
She was sentenced to five years in prison in 2000. She lost her family and job as a result of the persecution. Her son was also traumatised by her arrest.
Friends once asked her why don't you just give up the practice?
She told them that she has benefited tremendously from Falun Gong. She wants to give her son and all children in the world an environment where there are no lies and deceit."
Liu Ling ended her speech expressing her wish that the persecution will end soon.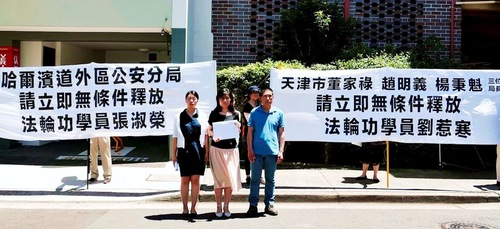 Australian Citizen Hopes to Be Reunited with His Wife and Mother
Australian citizen Luan Yuanxin said in his speech: "I suffered from many illnesses at a young age. In August 1994, my mother, brother and I began to practice Falun Gong. I recovered from my illnesses. Just as things were going smoothly for me in 1999, the Chinese government started the persecution of Falun Gong. My brother and I went to Tiananmen Square to seek justice for Falun Gong and were consequently arrested and detained."
He continued: "I was arrested again in May 2002 for giving out information on Falun Gong. I was sentenced to three-and-a-half years in prison. I was beaten and subjected to all kinds of torture in prison."
"I immigrated to Australia in 2014. Unfortunately, my wife and son cannot join me. My wife was denied a passport. Last year my seven-year-old son planned to come to Australia. However, his passport was torn up and canceled at the customs in Shen Zhen."
"I contacted my mother Zhang Shurong in November this year, but could not get ahold of her. A week later I learned that she had been arrested on November 9. She is now detained at the No 2 Detention Center in Harbin City. My mother is a very traditional Chinese housewife. Since she started to practice Falun Gong in 1994, she has enjoyed good health. I'm very worried for her safety after learning of her arrest."
Seventy-nine Year Old Mother Waiting for Daughter to Take Care of Her
Australian citizen Lily Liu said: "I stand here today as an Australian citizen calling for the immediate release of my sister Liu Rehan who has been arrested for practicing Falun Gong. She is now detained at the North District Detention Center in Tianjin."
She continued: "My sister, father and I were arrested on the same day in July 2001 for practicing Falun Gong. During our imprisonment, my mother had to go to three different places to give us money from her meager earnings.
She also had to take care of my sister's young son. My sister and I were released from the labor camp in 2004. My father was sentenced to eight years in prison. He was released after his third stroke. He passed away in September 2004."
"I wanted to go home to see my mother," she said, "with my Australian passport. However I was told many Falun Gong practitioners holding foreign passports were harassed and even arrested while visiting their relatives in China. I decided not to return and it has been 11 years. Thus, my sister has shouldered the responsibility for taking care of my mother."
"In recent years, my mother has had many health problems due to old age. She relies on my sister to make her meals. As I am not around, my sister is her only dependent. As my sister has been arrested, it is a huge blow to my mother. At the moment, neighbors are taking turns to take care of her. My sister's son, a 21-year-old university student comes home from school every 2 weeks to help out. I urge the Chinese government to immediately release my sister, as well as all detained Falun Gong practitioners."