Members of the Business Network International (BNI) in the Swedish city of Linköping participated in a Falun Gong exercise class on September 20, 2018.
BNI is an American referral organisation with over 240,000 members in 8,500-plus chapters worldwide.
As part of the BNI monthly activities in Linköping, they invited local volunteers to give a class and presentation on the traditional Chinese meditation practice Falun Gong, also known as Falun Dafa.
Some of them shared they felt strong energy and peace while doing the meditation. After teaching the exercises, the volunteer instructors gave a brief presentation on the background of the practice.
They explained that Falun Dafa emphasises the improvement of one's moral character according to the principles of Truthfulness, Compassion, and Forbearance. The complete philosophy of Falun Dafa can be read in the book Zhuan Falun which is translated into more than 40 languages, and freely accessible online.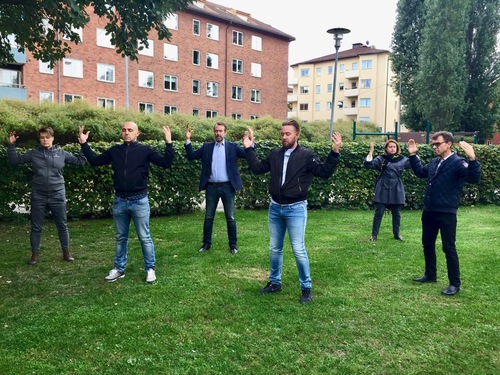 BNI members asked why Falun Gong supporters are persecuted in China. The presenters explained that despite receiving numerous awards by the Chinese government in the early 1990s, Falun Gong was targeted for elimination by the former communist party and state leader Jiang Zemin in 1999.
It was at this time that he discovered through a nationwide survey that the number of Falun Gong adherents had grown to 70-100 million, while the number of official communist party members was only around 60 million. This sparked his jealousy and fear for the supreme power of the party.
Up to now, supporters of Falun Gong in China have been subjected to arbitrary arrests, torture, killing and even violent organ harvesting (for sale to transplant patients).
To help stop the persecution in China, Falun Gong practitioners around the world raise awareness, expose the crimes of the communist party, and appeal to the international community to help stop these atrocities.
Despite the persecution, the practice, with its outstanding benefits of physical health and spiritual well-being, continues to flourish around the world and millions of practitioners in China continue to uphold their faith.
(Clearwisdom)