About 50 people attended the Falun Gong exercise teaching session on September 1, 2018, at the Enfield Community Centre in Adelaide, South Australia.
Many participants expressed that they felt a strong energy field while doing the exercises. They also watched a video where Master Li Hongzhi, founder of Falun Gong, taught the Fa and afterward they shared their experiences and understandings.
The participants watched Master Li demonstrate the five exercises on video and followed along to do the movements three times. Practitioners helped correct their movements.
Twin sisters Barbara and Marjorie, from the Northern and Southern Districts of Adelaide, will celebrate their 90th birthday in two weeks. They were very happy to participate in this event and said that they will continue to do the exercises in their community.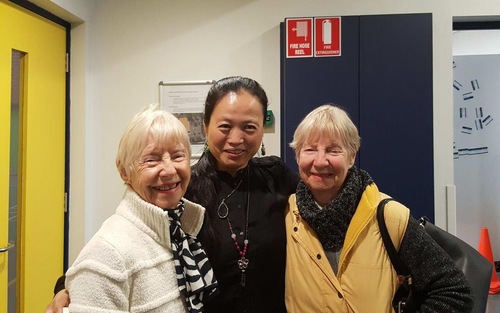 Linda Osborn did not understand the Chinese Communist Party's (CCP) persecution of Falun Gong. She felt sad that people [in China] are not allowed to do such a good practice. She is very concerned about China's human rights issues and said that she will come to the Enfield community centre every Tuesday night to participate in group practice.
Nathasha told local practitioners that she had learned about Falun Gong and the CCP persecution after watching the film "In the Name of Confucius" in Fullarton.
She read a few pages of Zhuan Falun and said that she thought the book teaches people to be kind, so she was puzzled. She condemned the atrocities the CCP carries out against Falun Gong practitioners.
Sean and his wife, Alana, did the exercises at the Westlake practice site in 2011 and later had to quit because of a busy work schedule. Alana said that, every time she managed to squeeze in the exercises, she would feel that her whole body was light and very comfortable. She said she would try her best to do the exercises more in the future and hoped that she would benefit even more from it.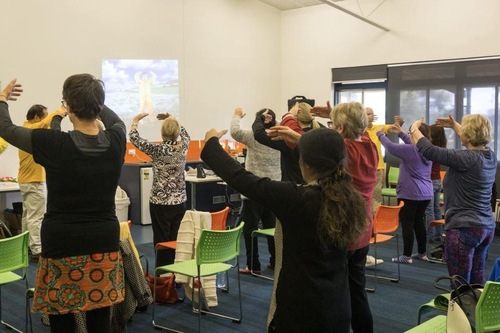 Among those who participated in the group practice were people from India, Vietnam, and other countries. Everyone–men, women, and children–seemed very fond of learning Falun Gong. They felt that this event was very meaningful and two hours passed quickly.
When they heard that there were local practice sites in different locations and at different times and that Falun Gong practitioners teach it for free, many said they would continue to learn and would go to the Falun Dafa website for more information.