According to information received by Minghui.org, the month of August 2018 recorded 86 new cases of Falun Gong practitioners sentenced to prison by the Chinese Communist Party's (CCP) court system. Among the 86 new cases, 58 practitioners were sentenced in August 2018, and 28 were sentenced earlier in 2018.
Due to the CCP's information blockade, the number of Falun Gong practitioners who were sentenced cannot always be reported in a timely manner, nor is all the information readily available.
The 28 newly reported cases that occurred before August 2018 include 1 in January, 3 in March, 2 in April, 4 in May, 2 in June, and 16 in July, bringing the running total for the year to 610.
Many of these cases did not follow legal procedures. Mr. Gong Peiqi, a retired colonel, was sentenced by the Beiqu District Court in Qingdao City to 7 years of imprisonment with a fine of 20,000 yuan.
Officers confiscated more than 120,000 yuan from Mr. Gong, but only about 70,000 yuan were recorded in the verdict. Ms. Zhang Shuxiang, 81, was sentenced to four years of imprisonment without an open trial or her family being notified.
Among these practitioners are highly educated professionals. For example, the Longgang District Court in Shenzhen City sentenced two computer professionals, Dr. Feng Shaoyong and engineer Chen Zeqi, to 8 years of imprisonment each.
The Changping District Court in Beijing sentenced Dr. Wang Liangqing, a former researcher at China Academy of Launch Vehicle Technology, to two years of imprisonment with a fine of 2,000 yuan. The Liwan District Court sentenced Wang Jiafang, Associate Professor in mathematics at Guangzhou University, to 3.5 years.
Among the 58 practitioners who were illegally sentenced, the terms range from 6 months to 8 years and average 3.6 years. Some of the practitioners are in their 70s or 80s. These 58 practitioners received fines totaling 261,000 yuan, or 4,500 per practitioner on average. The median fine was 6,000 yuan, and the maximum was 60,000 yuan.
The illegal sentences and trials covered 14 provinces, autonomous regions, and provincial-level cities. Shandong Province tops the list with 12 practitioners sentenced to prison, while the rest of the regions recorded single-digit sentencing cases.
Below are details of several of the cases.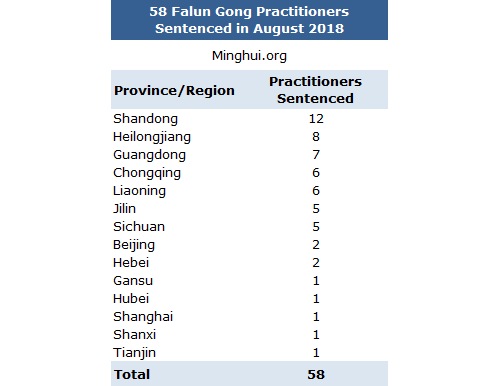 Woman on Bail Given 8 Years and Taken to Prison Despite Leg Injury
Ms. Yu Guirong lives in Nenjiang County, Heilongjiang Province. She was arrested on April 17, 2018, after being reported to police for distributing Falun Gong informational materials. Her leg was broken in May while she was detained at Qiqihar Second Detention Centre; the cause of the injury is unclear.
She was released after her daughter paid a 10,000-yuan bail. Doctors installed a metal plate in Ms. Yu's leg to help her heal. While recuperating at home, she received news in August that she had been sentenced to three years in prison.
With the metal plate still in her leg, Ms. Yu was taken back into custody and taken to prison shortly afterward.
A 54-year-old former college professor from Guangdong was recently sentenced to 3.5 years in prison for talking to people about Falun Gong and the persecution of the practice by the communist regime. The sentencing took place less than two years after she was released from a nine-year prison term, also for refusing to give up her faith.
Ms. Wang Jiafang's latest arrest occurred after a conversation she had with a local resident while walking in a park near her home on September 8, 2017. Because she mentioned Falun Gong in the conversation, she was reported to the park security office. Five officers forcibly threw her out of the park.
After Ms. Wang further contacted officials to explain Falun Gong and the persecution to them, officials reported her to the police, leading to her arrest on October 27, 2017. The police detained her at the Yuexiu District Detention Centre. There, a guard kicked her, and she had acute pain in her liver. After several months of detention, her hair had turned gray.
The Liwan District Court tried Ms. Wang on April 9, 2018. She was charged with "undermining law enforcement," a standard pretext used to criminalize Falun Gong practitioners. She was brought back to the Liwan District Court for the sentencing hearing on August 24, 2018 and was given a 3.5-year term. She said that she would appeal the sentence.
Two weeks after a court sentenced a Falun Gong practitioner to three years with four years' probation, it revoked the sentence and gave the practitioner a one-year prison term.
Ms. Cui Jianxiu, 57, from Rizhao City, Shandong Province, received the new verdict from the Ji County Court on August 8, 2018, just 14 days after the same court announced her original sentence.
Ms. Cui's family was informed by the court on July 25 that she was sentenced to three years with four years' probation. She was also required to attend brainwashing sessions twice and do community service once a month.
The authorities did not immediately release Ms. Cui upon the announcement of the sentence. A lawyer and a staff member from the Ji County Justice Bureau visited Ms. Cui at the Rizhao Detention Centre in early August. They asked her whether she still practiced Falun Gong. She told them that she still did the exercises to alleviate her headaches.
As a result, a staff member from the Justice Bureau brought the case back to the court and ordered the judge to increase her sentence.
Ms. Cui's in-laws, both 86, have been asking about her after not seeing their daughter-in-law for nearly five months. Her family has not told them about her sentencing, fearing that the news would cause them too much distress.
Two residents of Shenzhen City were recently each sentenced to eight years in prison. Dr. Feng Shaoyong, a telecommunications expert, and Mr. Chen Zeqi, a software engineer, were arrested with two dozen Falun Gong practitioners on September 24, 2016, for distributing information about the persecution of their faith.
Dr. Feng and Mr. Chen were tried on December 1, 2017, by the Longgang Court. Their lawyers argued that the persecution of Falun Gong was illegal, that the computers and other electronic devices confiscated from the two men were their personal or employers' lawful possessions, and that there was no evidence that they had caused any harm.
Former Rocket Researcher Sentenced to Two Years of Imprisonment
The Changping District Court in Beijing sentenced Mr. Wang Liangqing on July 10, 2018, to two years of imprisonment with a fine of 2,000 yuan. The local appeals court deceived his family into believing that he could be released if he revealed the source of a piece of prosecution evidence. He and his family complied, only to see his original sentence upheld.
Mr. Wang, a practitioner in his 50s, began to practice Falun Gong in 1995. At the time, he was working at the China Academy of Launch Vehicle Technology, the premier space launch vehicle manufacturer in China.
After the persecution of Falun Gong began, his employer fired him. Mr. Wang later pursued a Ph.D. at Beijing University of Aeronautics and Astronautics. After graduation, he worked for a research institute working on heavy machinery and made breakthroughs in many key national projects.
Mr. Wang was arrested at his workplace on October 15, 2017. Because of insufficient evidence, his case was rejected twice, once on February 10, 2018, and another on April 20, 2018, and returned to the police.
After the sentence from the Changping District Court on July 10, 2018, Mr. Wang filed an appeal, and his family hired an attorney. The Beijing Intermediate Court told his family members that, as long as Mr. Wang revealed the source of confiscated bank notes with messages about Falun Gong written on them, his case would be reviewed and he could be released.
Under pressure from family members, Mr. Wang told officials where he obtained the bank notes. His family was notified by his attorney on September 4 that the original verdict was sustained.
A retired colonel was recently sentenced by a Chinese court to 7.5 years in prison for not giving up his faith in Falun Gong. His daughter, a San Francisco resident, has appealed to the Chinese communist regime for her father's release.
Mr. Gong Piqi, 63, is a retired colonel and former deputy chief of staff at Shandong Province Reserve Artillery Brigade. He and his wife were seized by police during a group arrest of more than 20 Falun Gong practitioners between October 16 and 17, 2017, in Qingdao, Shandong Province.
The police ransacked his home and confiscated many of his personal belongings related to Falun Gong, as well as 150,000 yuan in cash (roughly $20,000 USD). The Shibei District Court in Qingdao tried Mr. Gong in a makeshift courtroom inside the detention centre on May 24, 2018.
His lawyer argued that the prosecutor did not have solid evidence with which to charge his client, who was arrested while visiting a friend who had been arrested the day before. The lawyer also said that the prosecutor failed to respond to his request for medical parole for Mr. Gong, who began to show symptoms of serious illness and high blood pressure in March. When the lawyer asked that the prosecutor be recused for neglecting his duty, the judge adjourned the trial.
Despite his lawyer's defense and his daughter's tireless efforts to free him, the judge handed down the 7.5-year sentence on July 20, 2018, and fined Mr. Gong 20,000 yuan.
Download full list of 86 practitioners whose sentences were reported in August 2018
Related Reports:
33 total views