With the persecution of Falun Gong by the communist regime entering its 19th year, Minghui.org confirms that 3,628 Falun Gong practitioners were targeted for their faith in China in the first half of 2018.
Among them, 2,392 practitioners were arrested, and 1,236 were harassed. In addition, 71 practitioners were sent to brainwashing centres, and 1,097 had their homes ransacked by police.
Over 930,302 yuan in cash was confiscated during the home raids or through court fines. One practitioner, Ms. Liu Lanchun from Shandong Province, had 190,000 yuan in cash and many other valuable personal items taken by police when they ransacked her home.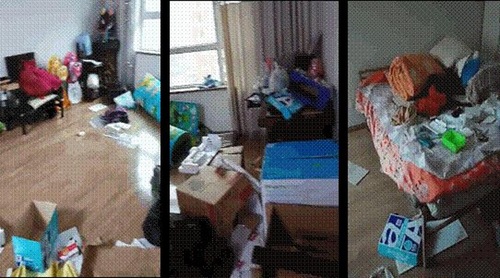 In particular, 244 practitioners aged 65 or over were targeted. Fifty-two of them were in their 80s. The most elderly practitioner harassed was Ms. Cao Limei's 89-year-old mother, who was arrested with 68-year-old Ms. Cao while distributing informational flyers about Falun Gong in Jinan, Shandong Province, on January 17, 2018.
Although the elderly mother was released that evening, the police kept Ms. Cao in the detention centre for another ten days before allowing her to go home.
The targeted practitioners come from all walks of life, including many professionals, including doctors, engineers, accountants, teachers and managers.
Compared to the heightened persecution and 10,869 cases of arrests and harassment in the first half of 2017 as part of the "Knocking on Doors" campaign, the number of cases decreased in the first half in 2018. However, the persecution remained intensive in certain regions where the government officials closely follow the persecution policy.
The provinces of Shandong, Hebei, Liaoning, Heilongjiang and Jilin remained the top five provinces with most arrests and harassment in 2018; Shandong had twice the number of cases as other provinces.
Ms. Cai Ying, a translator from Qingdao, was arrested on April 26, 2018, and taken to Pudong Detention Centre. She held a hunger strike to protest the persecution and was force-fed. She was sent to the hospital on May 8, but it was reported that she had already passed away before the ambulance arrived. The detention centre denied torture, but they also refused to provide an explanation of her death. Her death took place 12 days after she was arrested. She was 48.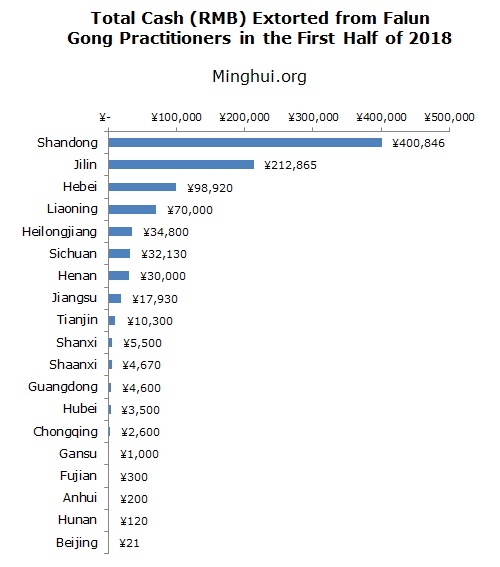 Top-Down Persecution Policy and Mass Arrests
When the suppression of Falun Gong first started, Jiang Zemin, then-head of the Chinese Communist Party, issued directives to "destroy the practitioners physically, break them financially, and ruin their reputation."
With Jiang's backing and his top-down persecution policies, many officials were motivated to carry out the campaign for monetary rewards or promotions.
After years of peaceful efforts to resist the persecution by Falun Gong practitioners both inside and outside of China, some officials stopped taking part in the persecution, resulting in reduced persecution in some regions.
However, the persecution policy has not been abolished, and officials in some regions continue to maintain the intensity of the suppression campaign. In the first half in 2018, mass arrests of practitioners occurred in several such provinces.
In Shandong Province, 163 practitioners in Weifang were arrested in April and May ahead of the SCO Summit. Sun Qisheng, the head of Political and Legal Affairs Committee in Weifang attacked and slandered Falun Gong on local TV programs on March 27, 2018, before the mass arrests and harassment of the practitioners.
The police also heightened the monitoring and harassment of Falun Gong practitioners throughout Shandong Province in the name of "maintaining stability" before and during the Summit. At the same time, authorities in Jilin Province arrested 203 Falun Gong practitioners to prevent them from traveling to Qingdao to appeal during the event.
In Heilongjiang Province, 175 practitioners were arrested in the first half of 2018. In particular, 17 practitioners in Harbin were arrested on April 19, 2018.
The police broke into the practitioners' homes and confiscated all of their Falun Gong-related materials. One of the officers told practitioners that the new Governor of Heilongjiang Province, Wang Wentao, ordered the mass arrests, fearing that they would go to Beijing to demonstrate during the anniversary of the historic April 25 Appeal.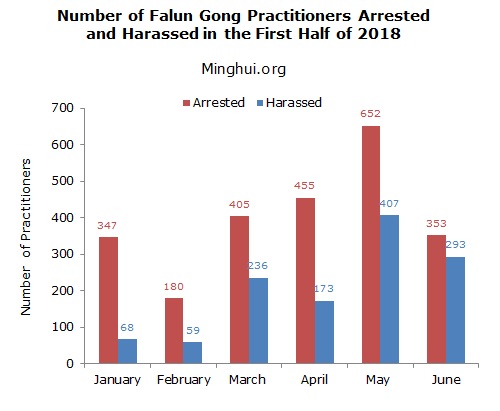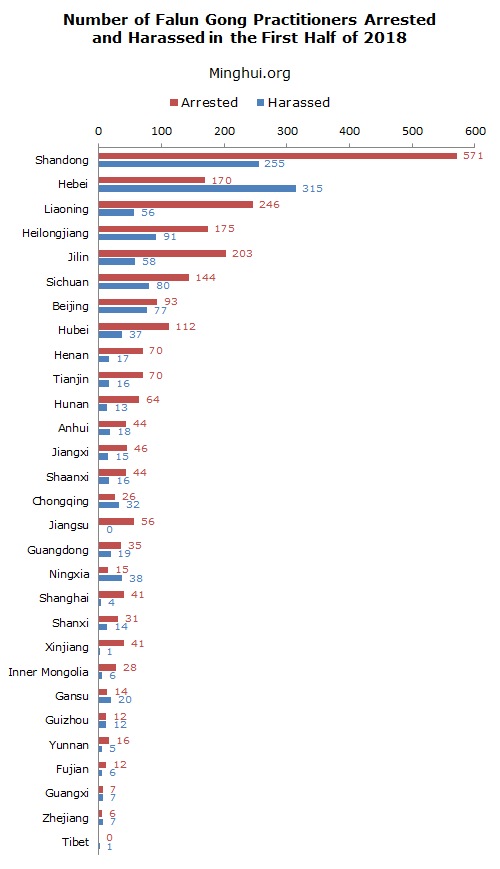 Ongoing Persecution
Many practitioners who were arrested or harassed during the first half of 2018 are on a government blacklist and have been subjected to repeated persecution over the past 19 years.
Mr. Song Guoli imprisoned after being wanted for one and a half years
Mr. Song Guoli, a Falun Gong practitioner from Jingyuan County, Gansu Province, had been wanted by the police since January 2017 for putting up Falun Gong banners and posters. The police offered a reward of 10,000 yuan for information on Mr. Song.
After hiding for nearly 16 months, Mr. Song was arrested at Baiyin City in Gansu Province on May 2, 2018. The procuratorate approved his arrest on June 17. He is currently detained at Jingyuan County Detention Centre and faces further persecution.
Prior to his latest arrest, Mr. Song had been sentenced to 18 months of forced labor. He was subjected to constant torture, including savage beatings, starvation, being hung up by cuffs from the back, etc.
Police: "We can arrest you anytime, anywhere"
Ms. Li Yushu, 69, from Mohe County, Heilongjiang Province, was posting information about Falun Gong on the street when the police approached and arrested her. One officer punched her in the head. Officers then broke into her home and confiscated her Falun Gong books and related materials.
Ms. Li was frequently arrested and had her home ransacked by police after she was released from a 12-year prison sentence in 2014.
For 10 consecutive years out of her 12-year detention, she was brutally force-fed three times a day. She was also subjected to other torture, such as sleep deprivation, being hung up, and beatings. She was constantly on the verge of death.
An officer from the Domestic Security Division once said to her, "We can arrest you anytime, anywhere."
Related report: Former Board of Education Director's Home Ransacked Over and Over
78-year-old man sent to prison without trial
Mr. Liu Xiyong, 78, from Dalian, Liaoning Province, was arrested on March 18, 2018, while distributing Falun Gong flyers to the public. The police attempted to send him to a detention centre, but he was not admitted due to a high blood pressure of 200 mmHg.
After Mr. Liu was released, his condition continued to deteriorate. He experienced discomfort in his heart, felt dizzy, had difficulty breathing, and often vomited.
Despite his physical condition, the police arrested him again on April 9, 2018 and forced the detention centre to accept him. The procuratorate approved his case the next day. Without a court trial, Mr. Liu was sent to Benxi No. 4 Prison in May 2018.
While Mr. Liu's wife desperately sought his release at the police station, an officer said to her, "We will let him die inside [the prison] this time!"
For talking to people about the persecution of Falun Gong, Mr. Liu had previously been imprisoned for 3.5 years. Guards savagely beat him and kicked him with leather boots. They once locked him on a bed for more than 40 days and forbade him from moving or turning over.
His health quickly declined, and he almost became blind. A prison doctor force-fed him unknown drugs. His abdomen swelled, and he was unable to walk.
Related report: 78-Year-Old Man from Dalian City Detained for His Faith, His Wife Threatened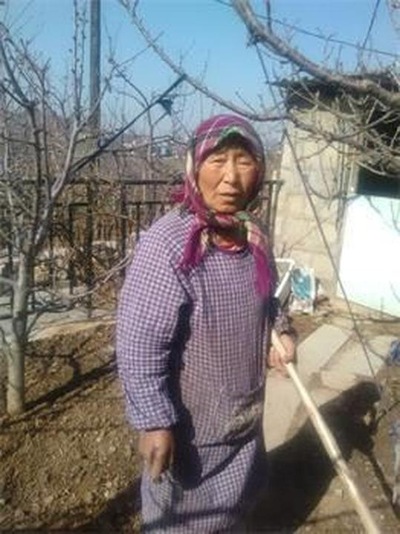 No Channels to Seek Justice
Wife arrested for filing complaint for wrongfully sentenced husband
Ms. Cao Liping was arrested and held in a brainwashing centre in Chenzhou City, Hunan Province, since her arrest on April 12, 2018.
Ms. Cao, 42, is a Chenzhou native, but she lived in Lechang City, Guangdong Province, at the time of her arrest. She was targeted because she had been persistently seeking the release of her husband, Mr. Liang Jianjun.
Mr. Liang was arrested on May 25, 2017 and sentenced to five years in prison on December 26 for refusing to renounce his belief in Falun Gong. His appeal was rejected around February 2018, and he was transferred to Bietou Prison on March 21.
Related report: Wife Arrested for Seeking Justice for Imprisoned Husband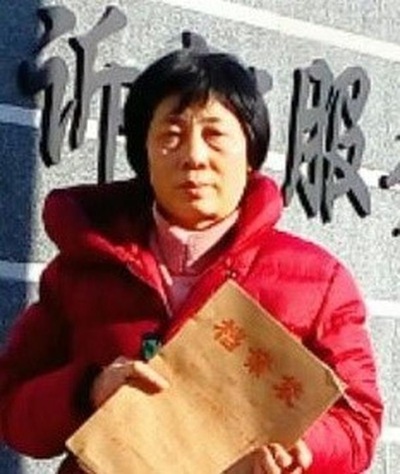 Wife arrested for seeking justice for husband who suffered mental collapse in prison
Ms. Zhang Liqin, from Tianjin, was arrested for the second time on March 15, 2018, for seeking the release of her husband, Mr. Ren Dongsheng, who had a mental collapse while imprisoned for his faith in Falun Gong.
Ms. Zhang filed a complaint against the perpetrators to the Supreme People's Procuratorate and the Tianjin City Procuratorate on June 20, 2017. She also submitted a request to Binhai Prison, where her husband was tortured, demanding compensation for his medical expenses and lost income.
In response to her efforts, Ms. Zhang was constantly harassed by police. She had to live away from home to avoid arrest for a period of time. She was arrested and detained for 35 days in October 2016.
71 Practitioners Sent to Brainwashing Centres
In the first half of 2018, 26 cities in 14 provinces and municipalities held Falun Gong practitioners in brainwashing sessions to force them to renounce their faith.
In Xinjiang, where the Chinese regime experiments with cutting-edge surveillance technology, nine Falun Gong practitioners have been taken to local brainwashing centres since March.
Mr. Li Wensheng and his wife, Ms. Xu Liyan, from Kashgar, Zepu County in Xinjiang, were taken to the "National Education School" on April 18, 2018. Thousands of Uighurs are also detained there and subjected to daily brainwashing sessions.
In Wuhan, Hubei Province, eight practitioners have been taken to brainwashing sessions. At Yusun Mountain Brainwashing Centre, practitioners are routinely starved and poisoned. Many practitioners experienced apathy and bloating as aftereffects.
Related reports: